The Burlington Arcade. By an Octogenerian. William S. Brunton (fl. 1859-71), artist. Fun (21 March 1868): 24. Click on image to enlarge it. [You may use this image without prior permission for any scholarly or educational purpose as long as you (1) credit the Hathi Digital Library Trust and the University of Minnesota library and (2) link your document to this URL in a web document or cite the Victorian Web in a print one. —  George P. Landow]
The speaker here is an aged Regency Buck, a wealthy, once rowdy, reactionary fellow, glorying in memories of the old days before Robert Peel's police force when he roamed London streets, stealing door knockers and knocking out teeth. The adds a touch of psychological realism when the "Octogenerian" begins to reminisce, not about himself but about a long retired (and probably dead) beadle of the sort well known to Fun's readers by way of the various illustrators of Oliver Twist.
Time was Sir, by George, when in the society of wits and men of tho world the very mention of the Arcade would call up reminiscences. I speak of the time when men lived in the Albany, Sir, and when they went to listen to songs, by George — I don't mean Julia St. George, but Madams Vestris; I suppose, Sir, that's what you'd call a joke, but what in our time used to be known as a bong mear —to songs that no more resembled your abominable music-hall vulgar disgusting performances than the stable boy costume of the present day is like the dignified and gentlemanly apparel that want out, I take it, with Sir Jonah Barrington and Almack's, or at all a vents with Field Marshal the Duke of Wellington. Why, Sir, thare's nobody now has tbe decency to wear straps to his trainers except the young gentleman who is, I take it, an Artist, and who may be seen sometimes walking along Pall Mall with legs that should strike shame into modern society, and remind me, by George, of my own when I was one of the company of bloods who might have been seen any night about Saint James's-steet or on their way to "The Finish" after the theatres. The Burlington Arcade was a favourite lounge of ours at that time, Sir, and some of the finest women in England, Sir, would be seen there at the jewellers' shops or the knick-knack places, and there was a beadle who upon my sacred honour was more after the pattern of a gentleman than your bucks of to-day. A gorgoous creature, Sir, who might be useful as a moral lesson, by George, against the levelling tendencies of the age, and with a manner that was copied, Sir, from the Prince Regent, and, egad, not badly copied, neither; with a brown wig and small-clothes, and a way of waving his hand that survives only in the portraits of His Gracious Majesty George the Fourth, of which I have one now hanging up in my library, just over my little book-case of French novels, and a curious collection of knockers and front teeth, that I made in my wild days, when a sordid democracy had not succeeded in controlling the evening amusements of officers and gentlemen, or of curbing the eccentricities of genius. I should like to know, Sir, what has become of that beadle, and whether he has retired into private life with a testimonial. Perhaps he has been accommodated with apartments at Hampton Court, where he waits on the ladies of my time who may have found an asylum there. There is no beadle now, Sir; at all events, not at the time I make my daily rounds from the front of the National Gallery, along Pall Mall, and so by Webb's Hotel, where I have my morning dash of "pick mo up," and down Piccadilly to the fruiterer's to look at the French pears at two guineas a dozen, and at the hampers at Fortnum and Mason's, which remind me of the daya, Sir, when, by George, I tooled a four-in-hand down to Epsom, and called at the Burlington, to take up a batch of beauties who have given place to ———— but there, I'm too fond of the sex still to say a word, by George, against them, and I'll say this, Sir, for some of your modern women of fashion, that they are beginning to appreciate tbe modes that made them irresistible in my day, and are getting back as fast as possible to the killing costume of ——— never mind how many years ago.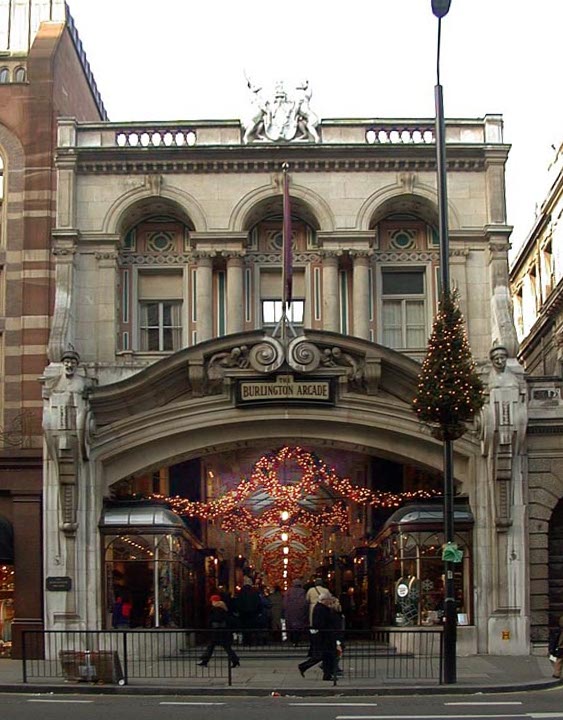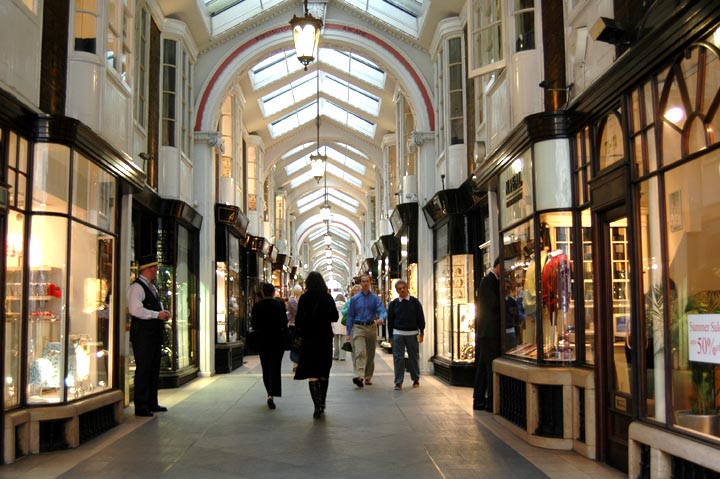 The Burlington Arcade today. [Click on images to enlarge them.]
---
Last modified 1 June 2018