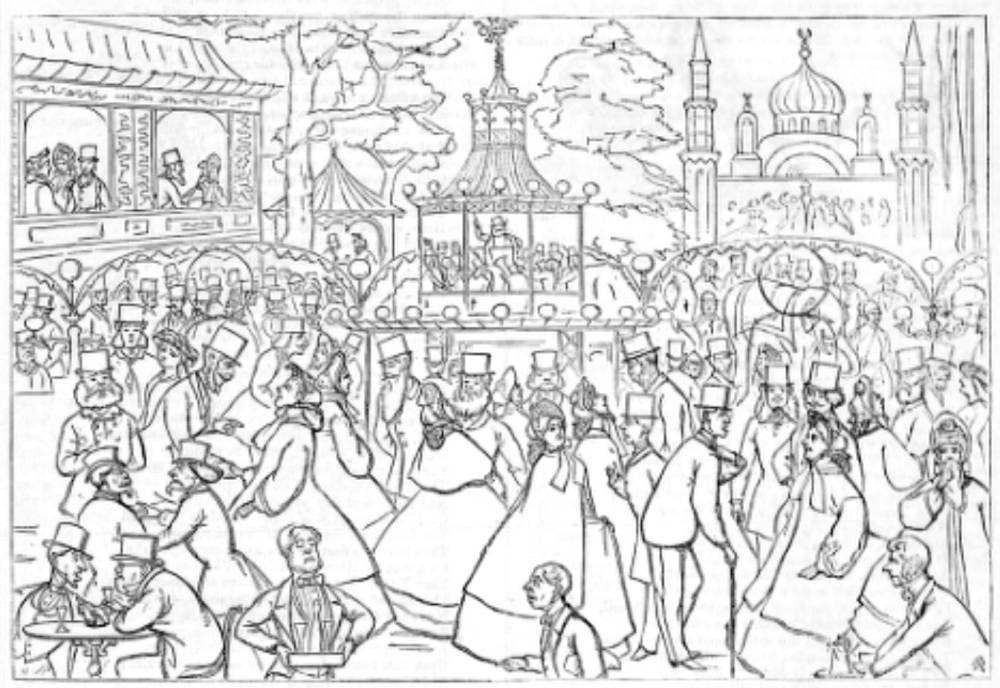 Letters from the High Latitudes.— No. 15. A Visit to Cremone. William S. Brunton (fl. 1859-71), artist. Fun. Click on image to enlarge it.
Fun
2 (14 June 1862): 121. Click on image to enlarge it. [You may use this image without prior permission for any scholarly or educational purpose as long as you (1) credit the
Hathi Digital Library Trust
and the University of Minnesota library and (2) link your document to this URL in a web document or cite the
Victorian Web
in a print one.]
The accompanying text, unlike, say, the one for the British Museum, which contains an editorial voice, here takes the form of a letter from the redoubtable if fictional Mary Anne Hodgkinson and is filled with her characteristic malapropisms and confusions. Her dummy mund for demimonde does work rather well. — George P. Landow
Dear Anne, —
The weather being very fine and warm, I have been naturally anxious to be as much in the open air as possible, so, having made up a party, we went to Cremone Gardens.
The gardens are open to the public, and close to the river. The property belongs to some noblemen, Heard something about good morning poor at Chelsea. When I call them Gardens, you mustn't imagine that they are orderly Gardens in the country; there's no distinct view to form a landslip, copses prettily or anything of that sort; but it's all trees and lamps. There is a magnificently lighted postilion in the sentry where the band play, and all around this, on what they call a monstrous platform, people dance. Ladies don't dance here, Mr. H. tells me, at least only those who belong to the dummy mund whatever that may be. There's horse riding also to be seen and wonderful people who exocute chimney sticks as easily as Mr. Leotard every did; but I really can't look at these performances, and even Mr. H. Said that every one of their somerset's quite "Turned him up," as he expressed it. And when they repeated the leap I felt that it was too revaulting. At the theatre – for there is one on the promises – we saw a coede bully, which imitated of a young woman in dresses which I can only subscribe to you as being low where they ought to have been high, and hi where they ought to have been low. Mr. Cormack danced as if all his brains were in his legs; I am told that he is in the spring time of his youth. A bell is rung whenever anything new is going to take place, and then everybody, preceded by the band, all hoorayed in a partial costume, rush off to see what it is. If you want to be comfortable, you must pay extra at every sight, which, though the entrance to the garden is only a shilling, makes the amusement, come somewhat heavy, – in fact, this is the only heavy part about it; as we all agreed that, what with the lamps and the fireworks, it was the latest style of entertainment in London.
The fireworks! Dear me, I quite forgot those! They are wonderful! I never did see anything like them; I don't remember anything of the sort before, except where the old Parish engine was brought to put out our chimney on fire. But that was nothing to this. There were sky-raggods going up in the air with a "whish, which made us wish that we were not so near; then, when they got up in the air, they burst into little gobbles of fire of all sorts of colours, like a chemist and drunkard's sleep at night. There were Caroline wheels wheels going round and round, and sending out regular streams of flame. When ever the sky-ruggeds went bang we all said,"Oh! I don't know why, but I felt that I must say something. And how some of the young girls tittled, and got quite close to their male detesters, pretending that they were afraid of the sparks. Sparks indeed! I must say it didn't look like it. These fireworks all seem to come from splendid palisades and royal evidences, but no one seems to know what those edifications are meant for. Matters are so arranged that we were able to leave soon after 11 o'clock, though Mr. H. Tells me that the gardens are open until 2 o'clock in the morning.
I must say I like this sort of thing, and wonder why ladies don't patternize it more, for times of the year the Duke of Wellington and Royal Dutch cheeses in plenty used to dissemble in Vauxhall Gardens; but I suppose that, as I said before, the dummy mund is the great defection. What with the music, crowds, sights, and dances, it has a pretty defect, and the gay bonnets and splendidly retired females would warm even the heart of the merriest ermine in his convict sell, or the pale monk in his monstrosity. It wouldn't for Sealegs in search of a wife to come here. Well! well! it isn't for me to modernize in this matter. So, lest I should turn my letters into a serious of summons, I shall include, and remain affectionate sister,
Mary Anne Hodgkinson
---
Last modified 28 April 2016