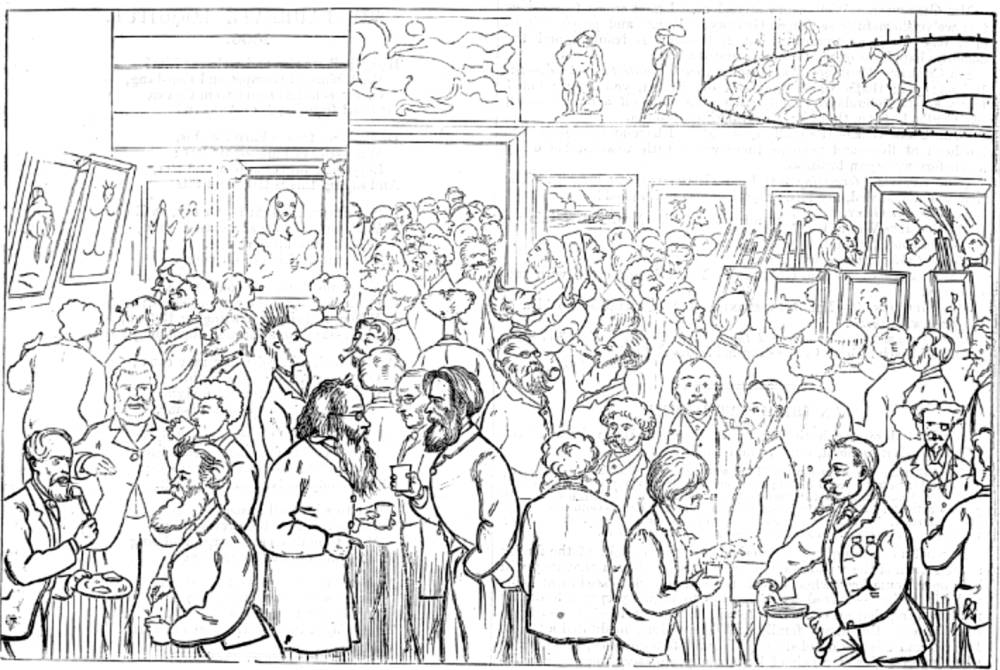 An Artistic Conversazione. William S. Brunton (fl. 1859-71), artist. Fun (20 January 1866): 170. Courtesy of the Suzy Covey Comic Book Collection in the George A. Smathers Libraries, University of Florida. Click on image to enlarge it. I don't know how many of the figures represent actual painters, but the bearded many at the bottom center of the image certainly looks like Holman Hunt, and the man with a long, straight beard half a dozen figures to his right in the second row looks like Burne-Jones. How is the person who looks like he's wearing his hair in a mohawk? —  George P. Landow]
A conversazione, is a rule, is a dismal gathoring of gentlemen very uncomfortable in evening suits, and high-boned dames of forbidding exterior. These wretched people appear doomed to groan internally over portfolios of pictures or glass cases of curiosities, and to move about in a melancholy meandering, taking occasional refreshment (?) in the form of flannelly lemonade and tertiary-formation cake. But a conversazione at the Hang'em Chambers (so styled in honour of the hanging committees at the various exhibitions) is nothing of that sort. High-bonod females there ore none, the only ladies present being the Venus de Medici, very black with smoke on a high shelf, and one or two pretty faces in the pictures. The gentleman are not condemned to sable and swallow-tail. As they are artists, they dress very much how they like, and the designer of costumes for Mr. May, when exhausted by a run of new pieces, might come here to refresh himself with some novel ideas in that line. Of rake and lemonade, thank goodness, there is none, but there art huge flagons of ale and lots of bread and cheese, and a very garden of salad, mixed by in artist with an eye for colour.
But the real treat — always excepting the jolly art-gossip with men who are not ashamed of their art, and won't pretend to be is to be found on the walls and on the semicircle of easels under the horseshoe of gas-jets round the model-throne. These are the oil paintings in this room — hazes at sea, by a marine painter; fanciful fairy pictures that send you into fits of admiration; landscapes; figures; — all going to the British Institution these are. In the inner-room there are water-colours — they are going to the Dudley Gallery; — some capital ones by Beginwell, and sunsets, and some bits of color, and more figures. It is no use to attempt to go through them in detail, for your mind is a kaleidoscope after the struggle you have had to get round the room. And then there art the portfolios of sketches to turn over — and then more art-gossip — and, yes  — no! Yes, that certainly was the odour of the herb. Will I have a cigar? Won't I have a cigar?
Yes, these conversaziones are a decided improvement on the ordinary inflictions that go in that go by that name And when you meet them again in the exhibitions, the pictures you have seen here will be like old friends, and remind you of the pleasant evening you spent together. When you see those pretty stall-girls sitting in the sun in the British Institution, you will feel quite proud of being on a nodding acquaintance with, them, and you'll say to Brown, who is with you, "Jolly girls, aint they? I saw them at tho Hang'em before they were quite finished. Very sunny and nice?" And Brown will envy you, and he will have reason to do so, for you have spent a jolly ovening in the pleasant society of clever men — and that's a treat not to be had every day.
Come in! what? "The editor's compliments, and he'd be glad of that copy for the last page." Hang editors — confound copy! And I could have gone on gossipping about art — there, take it! Literature's a bore. Why isn't life all studios, and easels, and lay figures, and Hang'em Conversaziones, and beer, and bread, and cheese, and celery, stud cigars? Well, I really can't say.
[You may use the image above without prior permission for any scholarly or educational purpose as long as you (1) credit the University of Florida library and (2) link your document to this URL in a web document or cite the Victorian Web in a print one.]
---
Last modified 9 March 2016