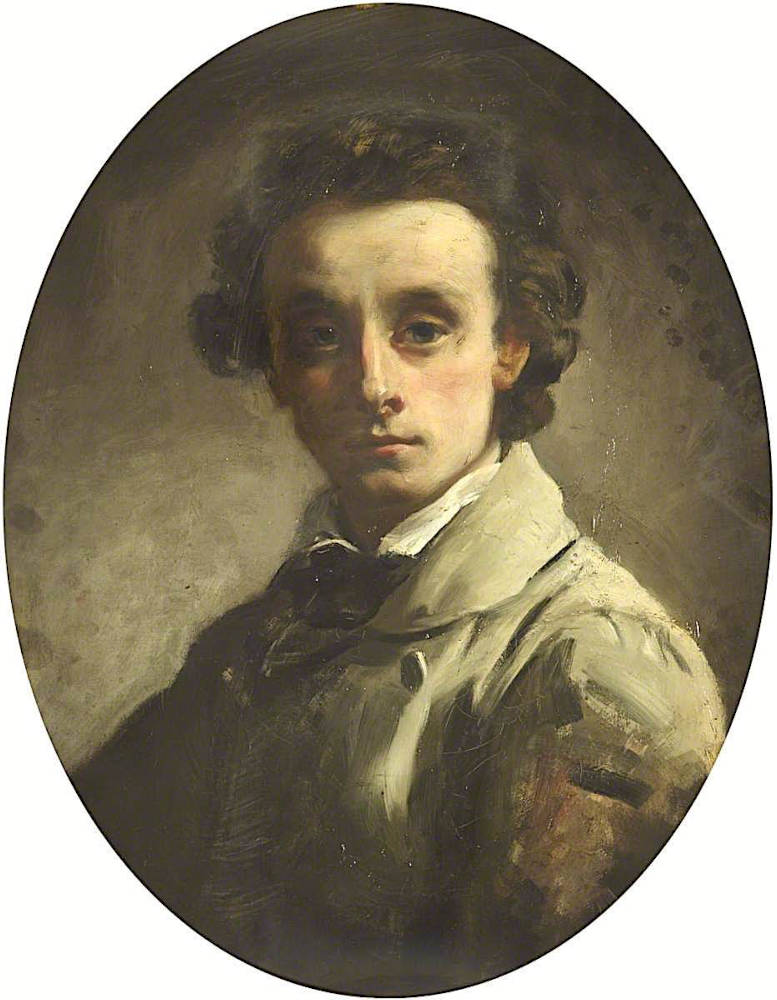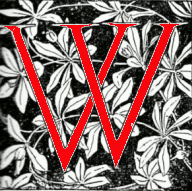 illiam Lindsay Windus was one of the principal members of the Liverpool School of Painters associated with the Pre-Raphaelites. He was born on July 8, 1822 in Liverpool, the son of John Windus and Agnes Meek, a Scotswoman. He began his artistic training at age sixteen with the local Liverpool artist William Daniels who taught him draughtsmanship. Windus later trained at the Liverpool Academy Schools where he was admitted as a probationer in February 1846. He also attended a life school that was established by the brother of the artist John Rogers Herbert, who kept a colour shop in Liverpool. This brought Windus in contact with other young Liverpool artists as well as the prominent collector John Miller. Windus exhibited at the Liverpool Academy from 1845, and was elected an associate in 1847 and a member in 1848.
His early works were primarily romantic historical paintings or based on the work of British authors such as Shakespeare or Sir Walter Scott. In 1850 Windus became one of the first provincial artists to be influenced by Pre-Raphaelitism. His patron John Miller had persuaded him to go to London to view the Royal Academy exhibition to see what other young progressive artists were painting. After he saw John Everett Millais's Christ in the House of his Parents his enthusiasm for Pre-Raphaelitism was instrumental in converting several of his Liverpool associates. Windus also persuaded Pre-Raphaelite artists to exhibit at the Liverpool Academy, where between 1851-59 they were awarded the £50 first prize a total of six times. Windus served as a member of the Liverpool Academy Council, which helped their cause. Controversies over the Liverpool Academy's support of the Pre-Raphaelites, however, led to violent opposition from conservative factions within the Academy resulting in financial losses and led to its eventual dissolution.
Burd Helen by William Windus. 1856. Oil on canvas. 33 ¼ x 26 ¼inches (84.4 x 66.6 cm). Collection of Walker Art Gallery, Liverpool, accession no. WAG 158. Click on images to enlarge them.
In 1856 Windus exhibited Burd Helen at the Royal Academy, his initial painting showing Pre-Raphaelite influences, and one of his two masterpieces of the first phase of Pre-Raphaelitism. Burd Helen was based on a Scottish border ballad and portrays the pregnant Burd Helen, disguised as a male page, who is forced to run by the side of her heartless lover on horseback so that he does not abandon her. The landscape background was apparently painted in the North Sannox Glen on the Scottish Isle of Arran. Dante Gabriel Rossetti greatly admired this work when he saw it hanging at the Royal Academy and in May 1856 wrote to his friend William Allingham: "The finest thing of all in the place, to my feeling, is a picture by one Windus (of Liverpool), from the old ballad of 'Burd Helen,' another version of 'Childe Waters.' It belongs, I hear, to your friend Miller" (Fredeman, Rossetti Correspondence, 127). Rossetti also made John Ruskin go back and look at the painting. Ruskin then added a postscript to his Academy Notes where he stated: "I passed this 'Burd Helen' by, as one of the quaint efforts of some younger member of the rising school, neither deserving praise nor warranting discouragement. Further examination of it leads me to class it as the second picture of the year; its aim being higher and its reserved strength greater, than those of any other work except the 'Autumn Leaves'" (85-86).
The success of this picture led to introductions to Ford Madox Brown, William Holman Hunt, and Rossetti. Windus was obviously delighted with this support and wrote to Rossetti: "I assure you that you and Mr. Ruskin were the two persons in the world whose approbation I most ardently wished and scarcely dared to hope for, and that I felt the most inexpressible delight when the extract of your letter [to McCracken] was read to me, being at the time in a wretched state of despondency" (Rossetti, Pre-Raphaelitism Papers, 138). Windus's friendship with the Pre-Raphaelites led him to become a member of the Hogarth Club.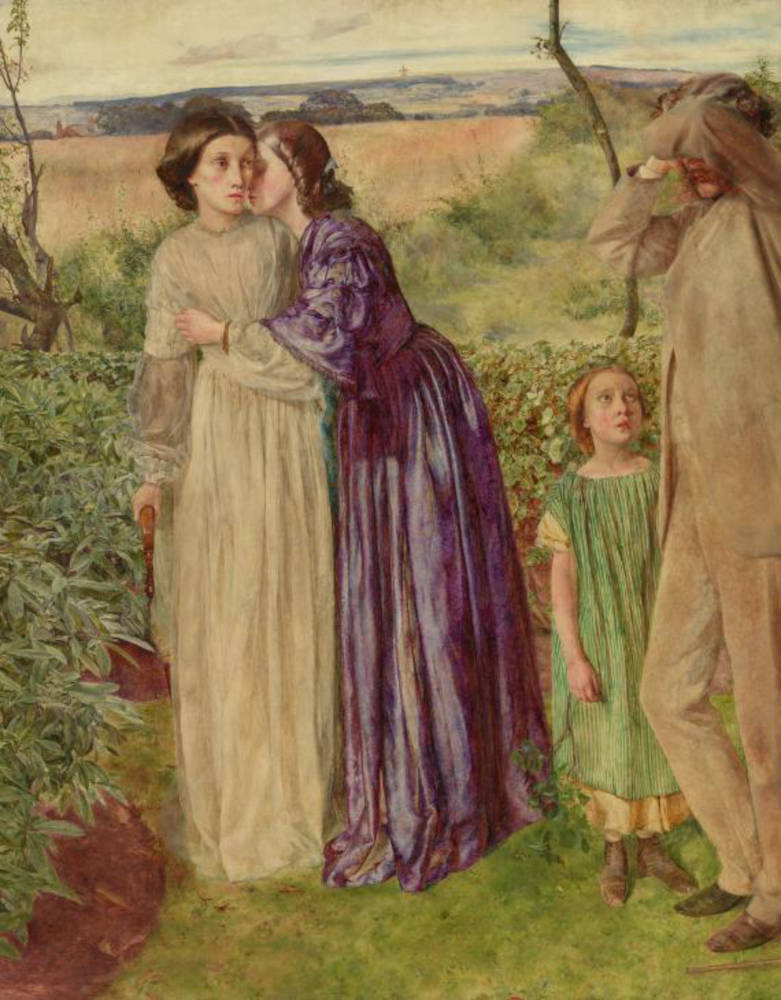 Left: Too Late. 1858. Oil on canvas, 37 ½ x 30 inches (95.2 x 76.2 cm). Collection of Tate Britain, accession no. NO3597. Photo credit Tate Britain. Right: Oil sketch for the painting. 1857. Oil on board, 4 ⅝ X 3⅝ inches (11.8 X 9.3 cm). Private collection.
Windus's next Pre-Raphaelite masterpiece Too Late was begun in 1857. Windus was a very methodical and meticulous worker and the painting progressed only slowly. The painting showed a young woman in the late stages of consumption, who having been deserted by her affianced lover, has sunk into a fatal decline. The man now at last 'too late' remorseful finds her in this hopeless condition and hides his face from this tragic sight. The background was a view from the garden of one of Windus's fellow artists at Liscard, near Birkenhead on the Wirral, with a view looking southwest towards Bidstron Hill and with the Welsh hills seen on the horizon. T. E. Welby considered Too Late to be Windus' most important painting: "'Too Late', with the consummately rendered face of the consumption-stricken girl and the admirable gawk of a younger sister gazing up, in an incomplete comprehension of tragedy, at the man who covers his face, that is his masterpiece" (85). The theme of the picture came from an untitled poem by Alfred Lord Tennyson that begins with the line "Come not, when I am dead." When the finished painting was shown at the Royal Academy, a quotation from the second verse of Tennyson's poem was included in the catalogue:
Windus finally felt the painting was finished enough to send to the Royal Academy in 1859, although he remained doubtful of its merits, which was characteristic of his personality. Although he came ultimately to consider Too Late as his best work, in April 1859 he wrote to Madox Brown that he thought the picture "unbelievably bad" and he had "made up my mind to be slaughtered" by the critics. It certainly did not help Windus' abnormally sensitive temperament or his self-confidence when Ruskin savaged the painting in one of his all-too-common petulant outbursts in his Academy Notes: "Something wrong here: either this painter has been ill; or his picture has been sent in to the Academy in a hurry; or he has sickened his temper and dimmed his sight by reading melancholy ballads. There is great grandeur in the work; but it cannot for a moment be compared with 'Burd Helen'" (233). The fact that the picture was so thinly painted that it looked unfinished may have partially led to Ruskin's remarks but more likely they were primarily prompted by his detestation of the melancholy nature of the subject.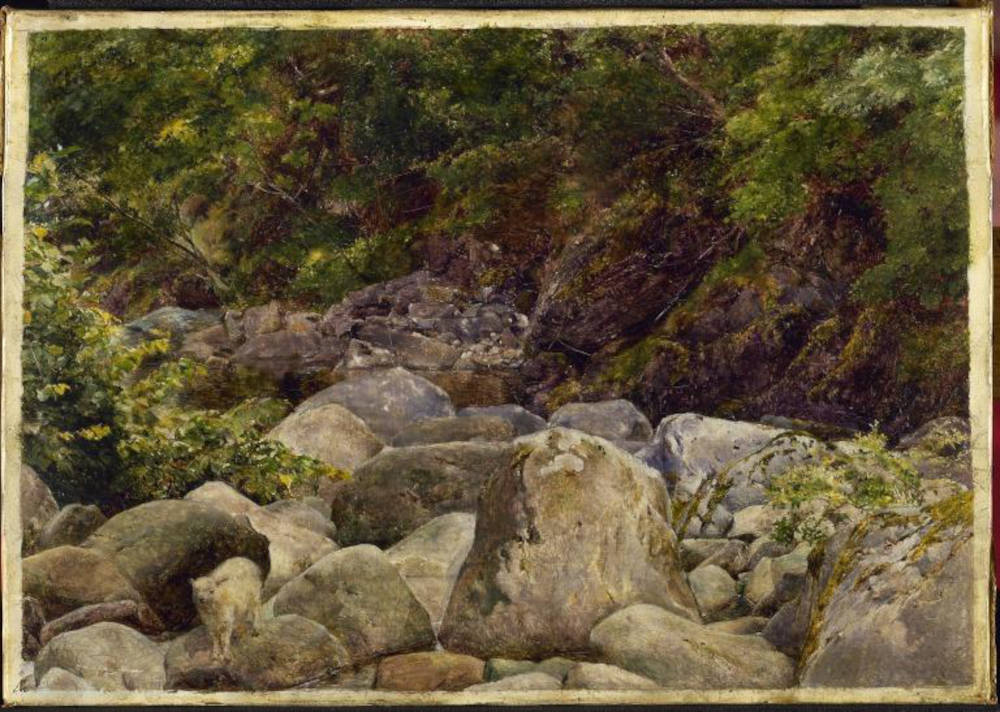 The Baa Lamb: View on a Tributary of the River Duddon. 1864. Oil on board, 8 ¾ x 12 ½inches (22.2 x 31.6 cm). Collection of Walker Art Gallery, Liverpool, accession no. WAG 863. Photo credit Walker Art Gallery.
After Ruskin's disparaging criticism Windus largely stopped painting major figurative subjects but he did produce several remarkable landscape paintings in an early Pre-Raphaelite manner, particularly The Baa Lamb: View on a Tributary of the River Duddon of 1864. During the early 1860s Windus spent summers painting in the Lake District with his friend and fellow artist Daniel Alexander Williamson who may have encouraged his turn to landscape painting. Windus's painting of the stray lamb shows a Ruskinian meticulous approach to the painting of rocks and the foliage in the background. Windus's The Outlaw of 1861, although a subject picture, is most remarkable for its green woodland landscape background and its foreground of brambles and underbrush.
Ruskin's discouraging comments, combined with Windus's personal tragedy of the death of his wife in 1862, led him to virtually cease to exhibit after 1861 and to largely abandon painting except for his own pleasure. William Michael Rossetti wrote in his diary for May 14, 1867: "Windus lives in a village near Preston. He says that he promised his late wife that he would never part from their daughter, which prevents his entering into any arrangement that would allow of his pursuing his profession advantageously – as in London. He has lost all power of setting to work, or of resolving to do so; yet, whenever he does attempt anything, he finds he paints better than of old" (Rossetti Papers, 232). Fortunately Windus was of independent means and did not have to paint to earn a living. In the 1860s he had moved with his daughter to Walton-le-Dale, near Preston in Lancashire, to live with his late wife's parents.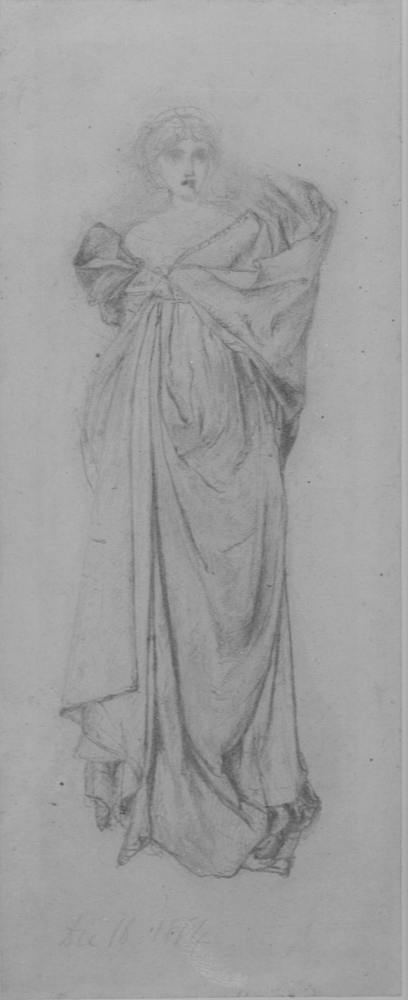 Study of a draped female figure for A Lady bound, her Lover slain. 1864. Graphite on off-white paper, 8 X 31/2 inches (20.3 x 8.9 cm). Private collection.
The remaining known works by Windus are mostly small oil sketches. While Windus's early Pre-Raphaelite works were influenced by Millais, his works from the 1860s onwards were largely influenced by D. G. Rossetti and Edward Burne-Jones including A Lady bound, her Lover slain of c.1864-65 and The Young Knight. Windus's work from the 1860s, like many artists associated with the second phase of Pre-Raphaelitism, was also influenced by Venetian High Renaissance art in works like The Second Duchess completed prior to 1866.
In around 1880 Windus moved to London where he lived at Highgate in Hampstead for almost twenty years. He later moved to 13 Champion Park in Denmark Hill where he died on October 9, 1907. When Windus moved to London in 1880 he burnt most of his studies and sketches, so that surviving works by him are rare. The only preliminary drawing for a painting known to survive is a pencil drawing for A Lady bound, her Lover slain. Likely the only reason this drawing escaped destruction was that it had belonged to the major collector Andrew Bain of Glasgow who also owned the painting. During the time Windus lived in London he surprisingly exhibited a number of oil sketches at the New English Art Club in 1896 and 1899. The year following Windus's death forty-five of his pictures were shown at the Historical Exhibition of Liverpool Art at the Walker Art Gallery in May-July 1908.
Links to Related Material
Bibliography
Marillier, Henry Currie. The Liverpool School of Painters. London: John Murray, 1904.
Newall, Christopher. Pre-Raphaelites Beauty and Rebellion. Liverpool: Liverpool University Press, 2016.
Rossetti, Dante Gabriel. The Correspondence of Dante Gabriel Rossetti. The Formative years 1855-1862. Ed. William E. Fredeman. Volume 2. Cambridge: D. S. Brewer, 2002.
Ruskin, John. "Academy Notes". The Works of John Ruskin. Eds. Cook, E.T. and Alexander Wedderburn. Volume 14. Library Edition. London: George Allen & Co. Ltd., 1904.
Rossetti, William Michael. Rossetti Papers 1862 to 1870, London: Sands & Co., 1903.
Rossetti, William Michael. Ruskin: Rossetti: Pre-Raphaelitism. Papers 1854 to 1862. London: George Allen & Co. Ltd., 1899.
Welby, T. Earle: The Victorian Romantics 1850-70. London: Gerald Howe Ltd., 1929.
---
Last modified 4 November 2021