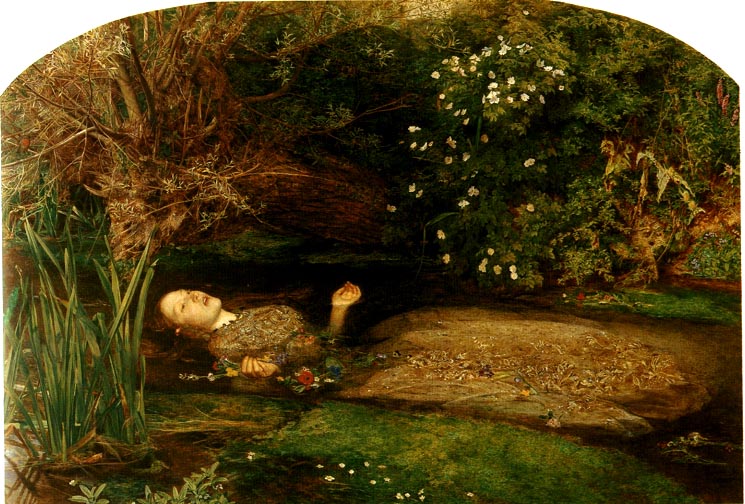 Ophelia by Sir John Everett Millais Bt PRA (1829-96). 1851-52. 30 x 44 inches. Oil on canvas. Tate Gallery, London. [Detail of vegetaion.]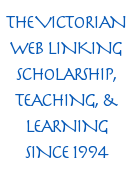 The Tate catalogue, which contains much valuable information about this picture's creation and reception, points out that this is the second time Millais painted a subject from Shakespeare in his short career, the first being Ferdinand Lured by Ariel. As if in agreement with Edgar Allan Poe's assertion that the death of a beautiful young woman provided one of the most poetic of themes, Victorian painters and sculptors made Ophelia a most popular subject, though few other artists depicted her in the water. Other artists who depicted Ophelia include H. Le Jeune, Arthur Hughes (two versions), and Richard Redgrave. Millais's dying Ophelia is thematically related two other extremely popular subjects -- the dying Elaine and the dying Lady of Shalott, both of which employ the horizontal arrangement of the figure [GPL].
"A new art was born": W. Holman Hunt's praise of the painting
The landscape of "The Woodman's Daughter," painted in 1850, might not be so conclusive in the testimony it offers of a new evangel, but the charms throughout the background of the " Ophelia," and the pathetic grace of the love-wrapt maiden, are enough to proclaim that not in one feature alone, but in the whole picture, a new art was born. [Pre-Raphaelitism and the Pre-Raphaelite Brotherhood, II, 399
Bibliography
Hunt, William Holman. Pre-Raphaelitism and the Pre-Raphaelite Brotherhood. 2 vols. New York: Macmillan, 1905.
The Pre-Raphaelites. London: Tate Gallery/Allen Lane, 1984. No. 40. Pp. 96-97.
---
Last modified 26 October 2012