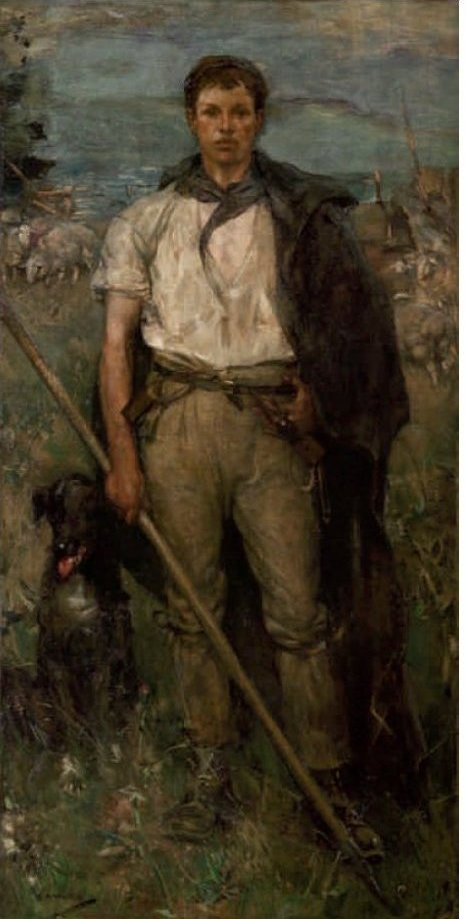 The Shepherd
Edward Arthur Walton RSA PRSW (1860–1922)
Oil on canvas
76½ x 38½ inches; 194.4 x 97.7 cm.
Exhibited: Pittsburgh, Carnegie Institute, International Exhibition, 1898
Provenance: Private Collection, USA, by descent, until 2008
Commentary by Kenneth McConkey
As one of the first west of Scotland painters to adopt the rural naturalism of Bastien-Lepage, Walton's shepherds and cowherds were among his earliest motifs. In The Daydream, 1885 and The Herd Boy, 1886 (both National Galleries of Scotland) it was clear that he had taken this subject matter to its extreme and like Guthrie and Lavery, sought to develop what for him were new genres in portraiture and in the representation of modern life in suburban settings.
Walton never completely abandoned the pastoral and after his move to London in 1896, he continued to paint landscapes in Galloway and in East Anglia (see no.24). The full-length Shepherd is however an unusual foray into what at first seems like an earlier theme. In its scale it anticipates the monumentality of the artist's fifteenth century horse traders in Glasgow Fair, his contribution to the mural sequence for the Banqueting Hall of the City Chambers in Glasgow. [Continued below]