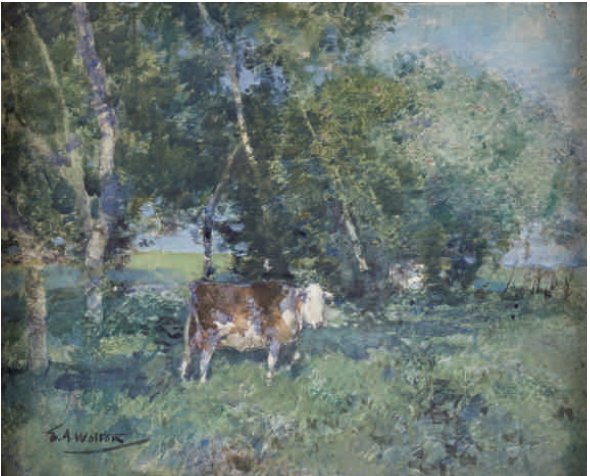 Pastoral. Edward Arthur Walton RSA PRSW (1860–1922). Watercolour, 8 x 10 inches; 20.3 x 25.4 cm. Signed. [Click on image to enlarge it.]
'Walton was arguably at his most inventive as a landscape painter. In oil and watercolour sketches he achieved a freedom not seen elsewhere in commissioned portraits. Here, he was capable of almost infinite variations suggested by trees, bridges and ponds, by cattle grazing and a lone woman feeding ducks. The first of these calls to mind Walton's early works such as Autumn Sunshine, 1884 (Hunterian Art Gallery, Glasgow University), but while the motifs are similar, Dutch and Barbizon School influences have been banished from the later watercolour' (Kenneth McConkey).
The Fine Art Society, London, has most generously given its permission to use information, images, and text from its catalogues in the Victorian Web, and this generosity has led to the creation of hundreds and hundreds of the site's most valuable documents on painting, drawing, sculpture, furniture, textiles, ceramics, glass, metalwork, and the people who created them. The copyright on text and images from their catalogues remains, of course, with the Fine Art Society. [GPL]
References
McConkey, Kenneth. Lavery and the Glasgow Boys. Exhibition Catalogue. Clandeboye, County Down: The Ava Gallery; Edinburgh: Bourne Fine Art; London: The Fine Art Society, 2010. No. 24.
---
Last modified 5 October 2011