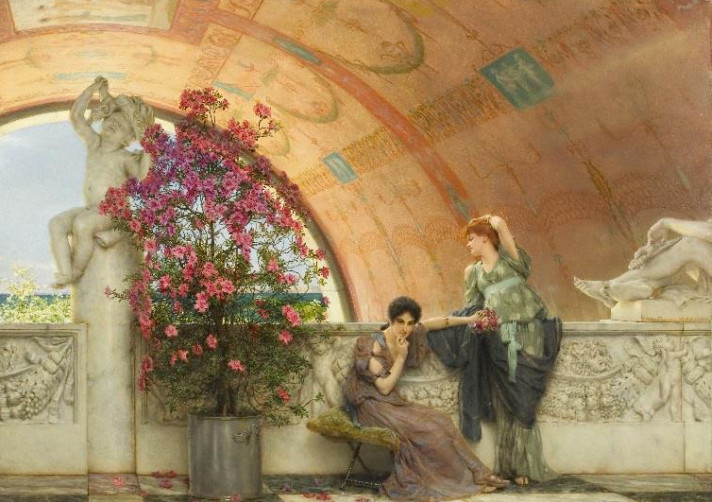 Unconscious Rivals. Sir Lawrence Alma-Tadema OM RA (1836-1912). 1893, © Bristol Museums & Art Gallery,1891. Image provided by the Leighton House Museum for the purpose of reviewing their exhibition, "Alma-Tadema: At Home in Antiquity" (7 July 2017 - 29 October 2017).
An example of Alma-Tadema's meticulous painting style, which, as the exhibition shows, improved with age, [this painting] depicts a scene bathed in an orange light. This is set off by pink flowers, and falls on two Patrician women lounging in a villa whilst perhaps awaiting the return of a (shared?) male lover: the Cupid sculpture here further reflects love and dalliance. But the expressions of the women are hard to decipher. The reason for their rivalry is only hinted at by the sculpted gladiator foot which breaks through from the right-hand edge of the frame. The full sculpture remains out of sight, like the true reason for their rivalry.
Alma-Tadema and [his second wife] Laura spent much time travelling and many of his works, including Unconscious Rivals, draw upon examples of colour and sculpture which he had seen in Roman museums, photos of which were in his collection. The couple also travelled to Pompeii in the 1890s and Alma-Tadema saw the progress of excavations there and took great interest in them, visiting the site daily. Prettejohn argues that this particular painting's legibility is fragmented, with the fragment of the large sculpture making it more so — as Joanna Paul suggests (116). Such fragmentation and consequent lack of comprehensibility is part of what makes Alma-Tadema's works easy to skip past, but it is also part of what brings the viewer back to them. There is something intriguing and inviting, something within the paintings which is unsaid and cannot ever be resolved.
Text by Madeleine Emerald Thiele, largely excerpted from her review of the exhibition. Caption material and formatting by Jacqueline Banerjee. [Click on the image to enlarge it.]
Related Material
Bibliography
Paul, Joanna."Rome Ruined and Fragmented: The Cinematic City in Fellini-Satyricon and Roma." In R. Wrigley, ed., Cinematic Rome. Troubadour: Leicester, 2008: 109-120.
Prettejohn, Elizabeth. "Lawrence Alma-Tadema and the Modern City of Ancient Rome." Art Bulletin XXXIV.1 (March 2002): 115–129.
---
Created 4 September 2017