Many thanks to the various galleries that have allowed their paintings to be reproduced on our website, and especially to the City of London Corporation for letting us reproduce photographs taken when visiting the Guildhall Art Gallery on this and earlier occasions. Thanks, too, to our chief editor George Landow for his useful comments on an earlier version of the review. [Click on the images to enlarge them, and for more detailed discussions of the paintings. Links will also take you to information elsewhere on our website.]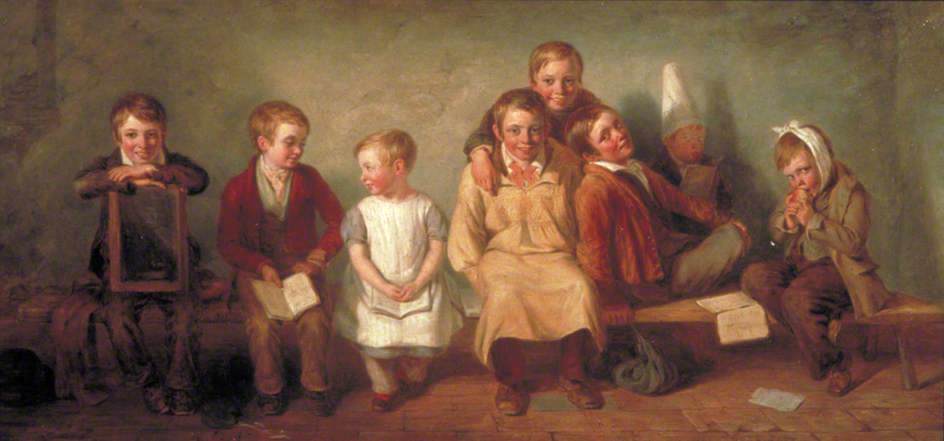 The Smile, by Thomas George Webster (1842).
When invited to hang the annual Liverpool exhibition in 1891, James McNeill Whistler made fun of his contemporaries' penchant for depicting tiny tots by displaying all such pictures in one room. The result was a surfeit of infants bloomimg, sickening, dying and going to heaven (see Lambourne 169-70). Fortunately, Katty Pearce, curator of the new exhibition at the Guildhall Art Gallery, "Seen & Heard: Victorian Children in the Frame," has spread the focus to include childhood at various stages and in all its aspects: "Children at School," "Children at Work," "Children at Play," "Children and Animals," and so on. Individual paintings may still be affecting, indeed powerfully so, showing how often young lives were blighted in one way or another. But childhood, as a distinct stage of life, was more fully appreciated now, and many other paintings give evidence of this development. Captured in the context of family, playmates, pets and so on, as the signage indicates, children are rendered with a new naturalness that leaves visitors smiling.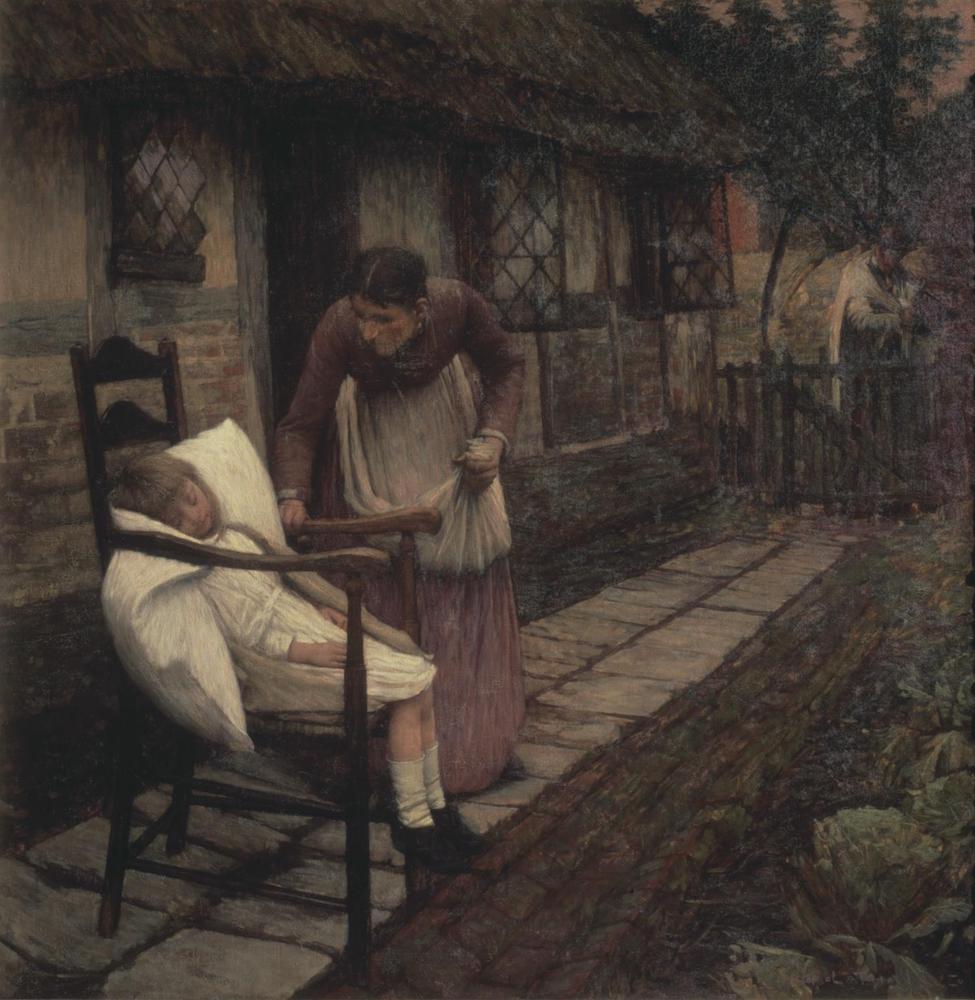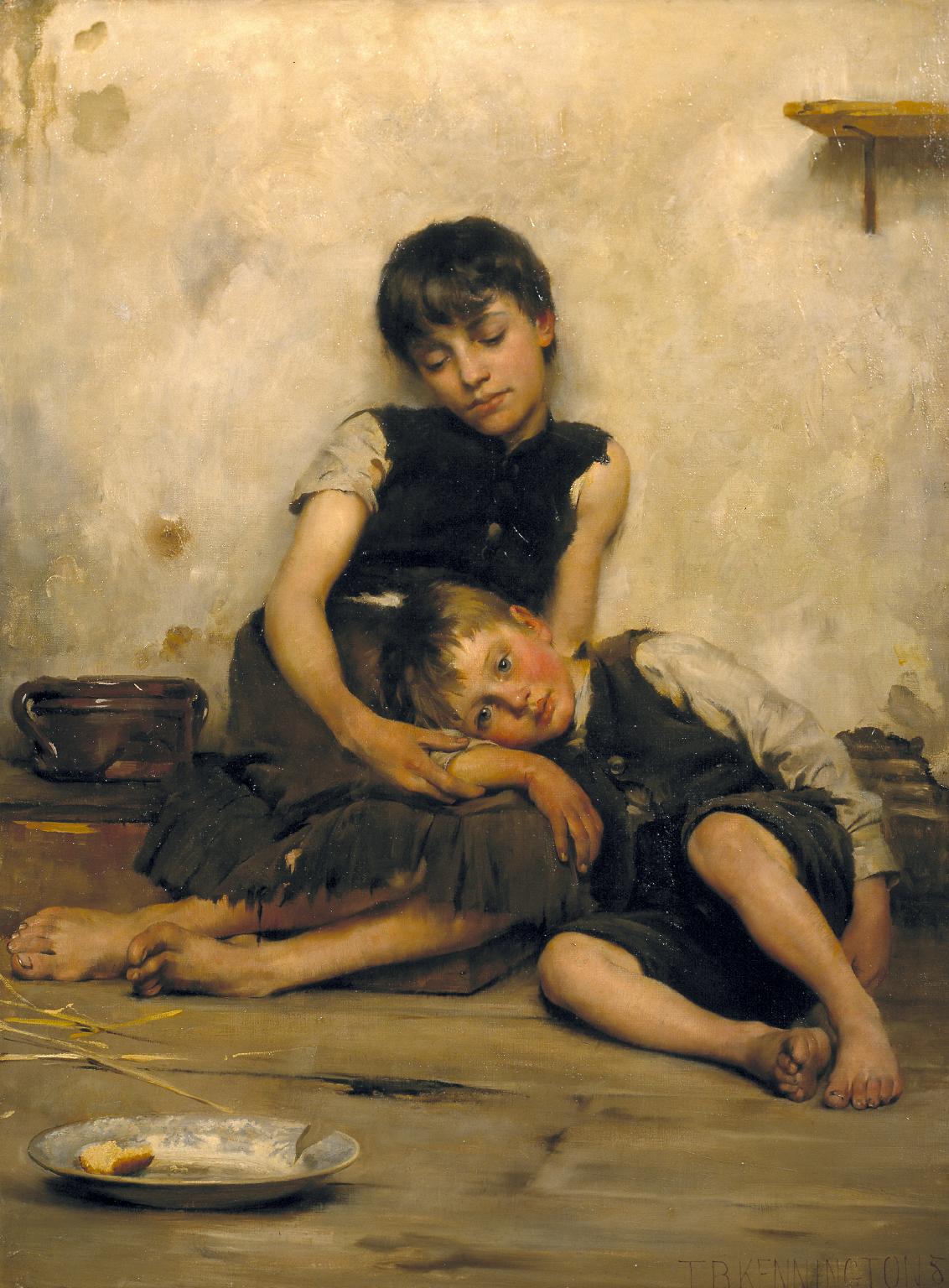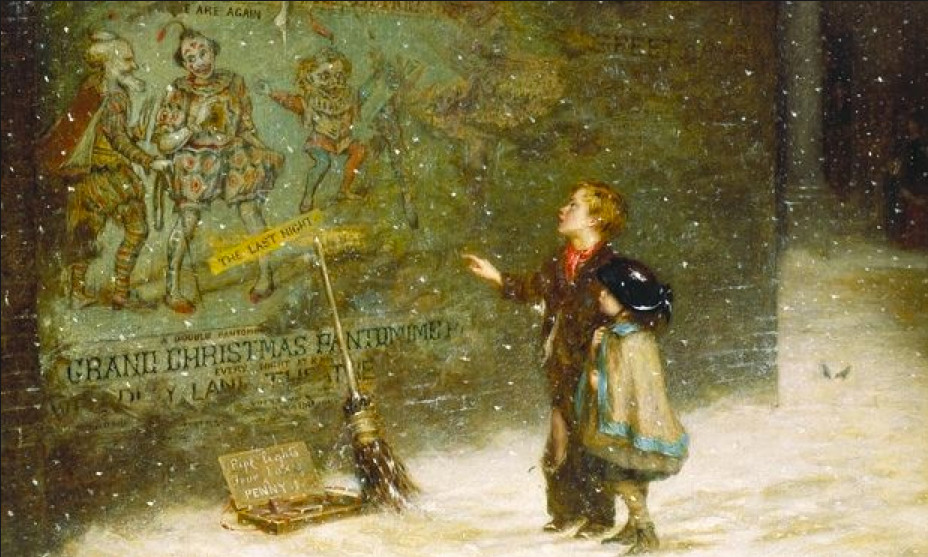 Left to right: (a) The Man with the Scythe, by Henry Herbert La Thangue (exhibited 1896). (b) Orphans, by Thomas Benjamin Kennington (1885). (c) Remembering Joys that Have Passed Away, by Augustus Edwin Mulready (1873).
An extra-large information plaque near the beginning gives milestones in the process of change, starting with the 1833 Factories Act, and including Henry Mayhew's interviews with poor children at the beginning of the 1850s (important for giving them a voice), the Elementary Education Act of 1880, and the founding of the National Society for the Prevention of Cruelty to Children in 1891. Children emerged into the limelight in this era for a variety of reasons then, and, yes, the shocking rates of mortality in the first vulnerable years, and the new and unusual trials to which older children were subject as a result of the industrial revolution, could hardly be ignored here. The saddest painting on show is also the largest and probably the darkest in tone: Henry Herbert La Thangue's The Man with the Scythe. Its title refers to the figure barely seen in the shadows to the right, a countryman with a cape, carrying over his shoulder a scythe with the usual sharp, curved blade. But the focus is on a little girl seated, limp and lifeless, on a cottage veranda, with a woman bending anxiously over her. The pallor of the man's cape, and the child's white frock and pillow, stand out: the implication is that the Angel of Death has passed by, and the girl's pure soul has been released to heaven.
The suffering of children in the slums of the great cities could not be glossed over either. Here, the very sentimentality that Whistler encountered could sometimes be a deliberate ploy, part of the engine for change. In Thomas Benjamin Kennington's painting, Orphans (1885), for instance, the two boys look posed. They most probably were, because the artist had been commissioned to paint such works to encourage charitable relief. Tugging more subtly at the heartstrings, but perhaps even more effective, is Augustus Mulready's Remembering Joys that Have Passed Away (1873), where two little street children, who have evidently known better days, gaze wistfully through the snow at a poster advertising a pantomime. Whistler, with his belief in "Art for Art's Sake," might not have appreciated the complex mix of sympathy and indignation, and the hidden agenda for reform, behind such paintings.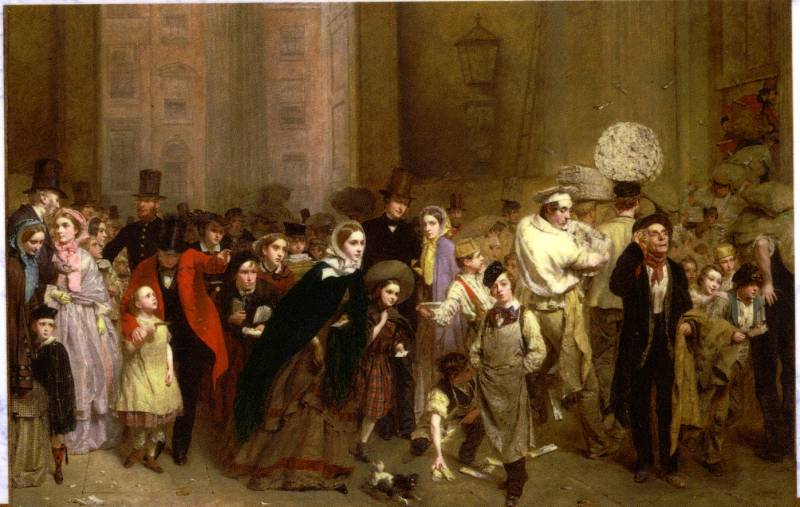 The General Post Office, by George Elgar Hicks (1860).
However, as the exhibition makes clear from the very start, many childhood experiences were happier than these. A new empathy with this period of life, prompted in part by the young royal household's projection of an ideal of family life, is apparent not simply in portraits of mothers with children, or affectionate siblings, but in domestic scenes where individual members of the family are simultaneously in action, or even in crowd scenes like George Elgar Hicks's The General Post Office in which the children present are playing their various parts in the human comedy: wondering what is going on, accepting help, whistling jauntily — or even pickpocketing.
But perhaps the most memorable paintings are those which show children interacting with each other, as in The Smile at the top of this webpage. Here it is hard to beat Thomas Webster, whose classrooms and playgrounds capture childhood behaviour and expressions with affectionate understanding and humour. There is a touch of nostalgia too, and Webster is generally seen as a Victorian genre painter rather than as a major artist. The same applies to such contemporaries as James Clarke Hook, known for his "Hookscapes," which are often seashore scenes, featuring children playing, scavenging or just idling on the beach. Bigger names have not been excluded. On the contrary, the exhibition has some fine works by Millais, Landseer, Leighton and others. But it is a special pleasure to be introduced to artists whose work is less familiar.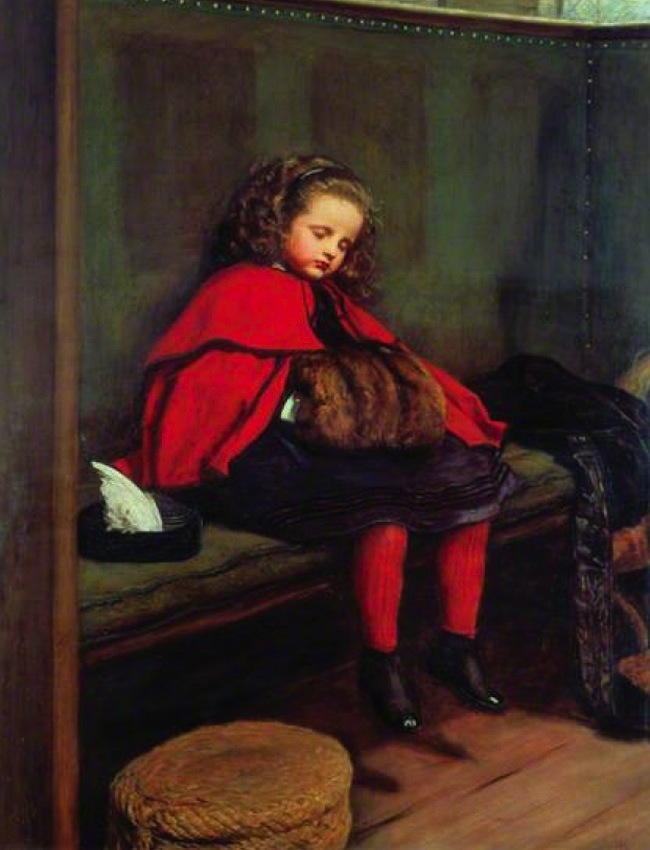 My Second Sermon, by John Everett Millais (1864), an old favourite, displayed in the exhibition together with the earlier work, My First Sermon (1863), in which the little girl is sitting up straight and listening obediently to the minister.
The Guildhall Art Gallery has a brilliant collection of nineteenth-century art, and this themed selection allows us to see paintings from it that are not usually seen together. For example, five or six paintings by Webster are never likely be on show at any one time. Moreover, here is a chance to see them interspersed with others more frequently on display, and from the bigger London galleries, as well as from galleries further afield. Falmouth Art Gallery, for instance, has provided two very appealing works by Henry Scott Tuke (Georgie and Richard Fouracre, 1889, and Two Children on Deck, c. 1894). As indicated above, Katty Pearce's thematic arrangement works well, and the information about each section and each painting is well-judged — not too much, and not too little. This is true of the exhibition as a whole. Less tiring than the big blockbusters, with a modest entry price and free for the under-twelves, it provides a most enjoyable and rewarding experience.
Bibliography
Lambourne, Lionel. Victorian Painting. Pbk ed. London and New York: Phaidon, 2004. (The Whistler anecdote introduces Lambourne's excellent chapter on "Childhood and Sentiment," pp. 169-89).
---
Created 1 December 2018