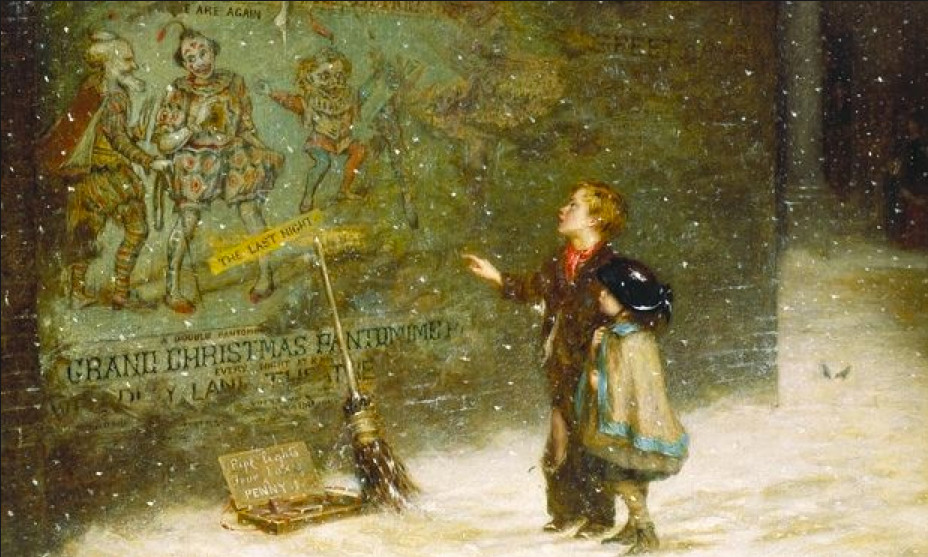 Remembering Joys that Have Passed Away by Augustus Edwin Mulready (1843-1904). 1873. Oil on canvas. 39 x 52 cm. © Guildhall Art Gallery, City of London Corporation. By kind permission of the Gallery. Click on the image to enlarge it. Formatting and commentary by Jacqueline Banerjee.
Remembering Joys that Have Passed Away is a poignant depiction of street children — a boy whose street-sweeping brush is propped against a wall, and a girl, surely his younger sister, whose tray of matchboxes lies on the snowy ground beside it. Standing in the snowy evening air, some little sprigs of holly in the foreground, they look wistfully at a large poster on the wall advertising the last night of that traditional Christmas treat: the pantomime. It shows figures from the harlequinade — the slapstick part, that children would probably most enjoy — suggesting all the fun and vitality that is being denied them. Lionel Lambourne sees this painting as an example of Mulready at his best, echoing "Dickens's belief in the necessity of popular entertainment for the working class" (186).
What makes the scene more poignant is the title, which suggests, as do the children's (at least the girl's) clothes, that they have seen better times, and were once able to attend such shows. They may perhaps have been orphaned, as so many children were in this period, when epidemics spread rapidly through the overcrowded cities, taking away many adult breadwinners: Laurence Stone estimates that "half of all children would have lost one parent before completing adolescence" (313). The boy seems to be pointing at the figures on the poster (a typical feature of Mulready's street scenes, see Cowling 168), perhaps recalling for his sister what she would have been too young to remember for herself.
Related Material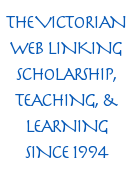 Bibliography
Cowling, Mary. Victorian Figurative Painting: Domestic Life and the Contemporary Social Scene. Winterbourne, Berks.: Papadakis, 2000.
Lambourne, Lionel. Victorian Painting. London and New York: Phaidon, 1999.
Stone, Laurence. The Past and the Present Revisited. London: Routledge and Kegan Paul, 1987.
---
Last modified 30 January 2015