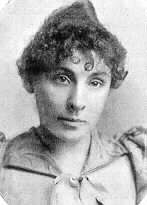 In that year [1881] she was represented at the British Artists' Spring exhibition by two head studies, which were catalogued "A Study from Life" and "A Bavarian Peasant Girl," and one of these brought her first outside commission. A Leicester clergyman's attention was attracted by the style and handling, and he wrote to her — although he addressed his letter to "H. Rae, Esq." — expressing his appreciation, and his desire for a portrait of himself by the same artist.
Mrs. Normand relates the subsequent story as follows: "As I then had no studio I made an appointment to see him in the corridor of the Academy Schools. I can see his surprised look now as a girl student came tripping along, with heels clattering on the stone pavement, bearing his visiting card. 'I want to see Mr. Rae,' he began. 'There is no one else here of the name of Rae,' I replied. 'But H. Rae, whose head study I have seen at the Society of British Artists,' he urged; and he was quite put out when I explained that it was my signature."
The matter was, however, definitely arranged and the commission duly given. The difficulty connected with the want of a studio was surmounted by Mr. Normand becoming the responsible tenant for one situate at 5, Fitzroy Square, next to that of Mr. Dicksee. Here the sittings for the portrait were given and the work finished early in 1882. [28-29]
Bibliography
Fish, Arthur. Henrietta Rae (Mrs. Ernest Normand) . London: Cassell and Company, 1905.
---
Last modified 3 July 2020