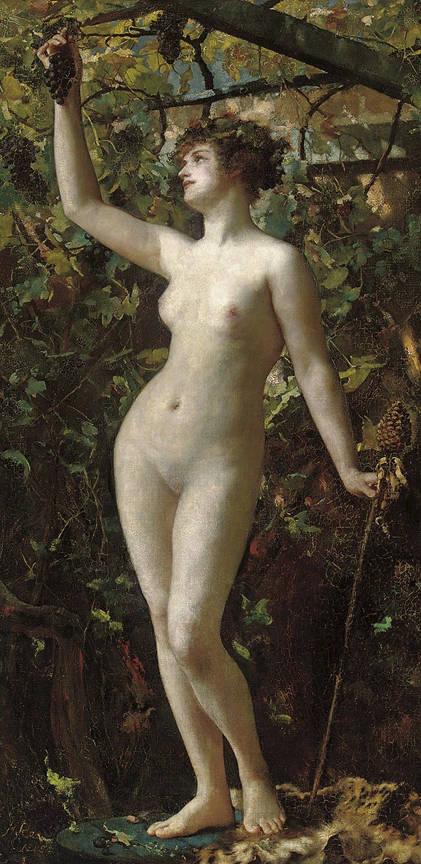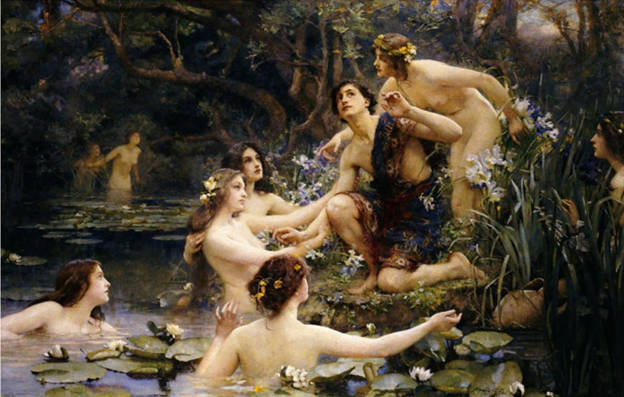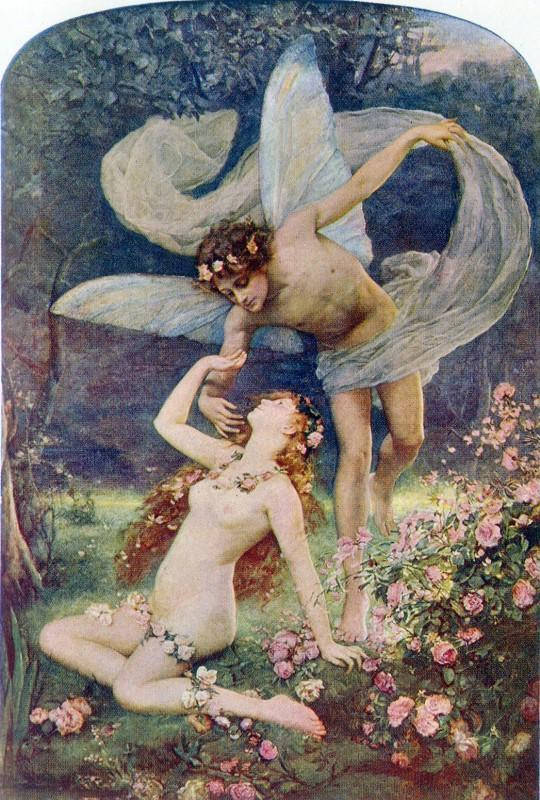 Left: A Baccante. Middle: Hylas and the Nymphs. Right: Zephyrus Wooing Flora. [Click on images to enlarge them.]
There is no question that Mrs. Normand's love of flesh painting, with its charm and delicacy of colour, and its demand for tender treatment, influenced her as much as the classic legends in her choice of subject. The subtle tints of the living human flesh and the beautiful modelling of the figure appealed to her by their very difficulty of interpretation, and she deliberately set herself to conquer the difficulty. Even in these first pictures she attained an amount of success that marked her as a painter of more than average ability; there was nothing in them to suggest that they were the work of a young artist barely out of the schools.
As paintings of the nude, of course, they attracted a certain amount of adverse criticism from that irresponsible section of the public which sees in this class of subject nothing but impropriety or indecency. One of these self- constituted guardians of artists' and the public's morals wrote to Mrs. Normand as a new exhibitor ; implored her "to pause upon the brink" and not pervert her artistic gifts by painting such works. When the letter reached her she was rejoicing in the presence of her infant son, who had been born shortly after the opening of the exhibition. The letter was shown to the doctor who was in attendance, and he made the suggestion that the artist should reply to the letter and state that she had recently given birth to a son "who came into the world entirely naked," which fact seemed to suggest to her that there was no impropriety in representing the human form as it was created.
The suggestion recalls the story of John Gibson, R.A., the sculptor who was questioned by a Scotch lady in the following manner: "Pray, Mr. Gibson, why do sculptors always indulge in representations of the nude human form? It is so indecent and demoralising." "Madam," was the reply, " it is because we think that God Almighty knew how to represent the human form far better than the tailor or the milliner; and, as to indecency, I should have no opinion of the modesty of a woman who could not look on the noblest works of creation without a blush." [36-37]
Bibliography
Fish, Arthur. Henrietta Rae (Mrs. Ernest Normand) . London: Cassell and Company, 1905.
---
Last modified 4 July 2020