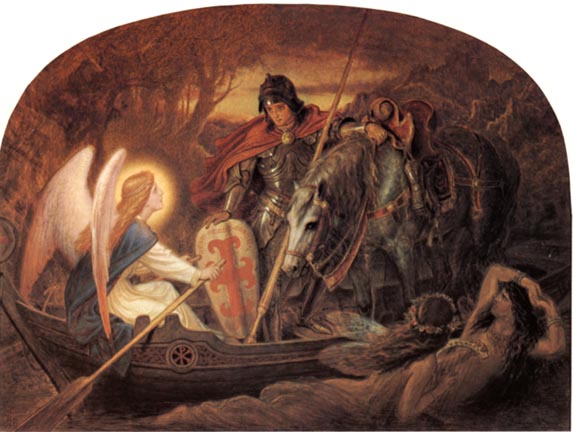 How an Angel Rowed Sir Galahad across the Dern Mere by Sir Joseph Noel Paton, RSA (1821-1901). Oil on panel (arched top), 9 7/8 x 13 1/8 inches; 25 x 33.3 cm. Signed in monogram.
Commentary by Anthea Brooke
This painting is one of a series of three, of scenes in the story of Sir Galahad, the other two being in upright format, entitled Sir Galahad and his Angel, and Sir Galahad's Vision of the Sangreal. They were painted at different times in Paton's career, but form a set, and have at some time been framed as such. A subject entitled Sir Galahad and the Holy Grail was exhibited at the RGIFA and the RSA 1880 (the drawing for it is dated 1879): Sir Galahad and his Angel was exhibited RSA 1885 (the drawing for it is dated 1882). The date of the third is not known. A pen and ink study for this subject was exhibited at the Fine Art Society Sir Noel Paton July 1902 (97). The two fairy figures flying over the water are reminiscent of Etty, whose influence on Paton is apparent in his fairy paintings. The design was later reworked in another canvas in 1890 as a religious subject entitled Beate Mundo Corde (now in Dundee). The painting of the armour and the trappings of the steed give evidence of the artist's extensive antiquarian knowledge [Brooke].
References
Brooke, Anthea. Victorian Painting. Catalogue for exhibition November-December 1977. London: Fine Art Society, 1977. No. 63.
The Fine Art Society, London, has most generously given its permission to use information, images, and text from its catalogues in the Victorian Web. This generosity has led to the creation of hundreds and hundreds of the site's most valuable documents on painting, drawing, sculpture, furniture, textiles, ceramics, glass, metalwork, and the people who created them. The copyright on text and images from their catalogues remains, of course, with the Fine Art Society. [GPL]
---
Last modified 1 August 2001