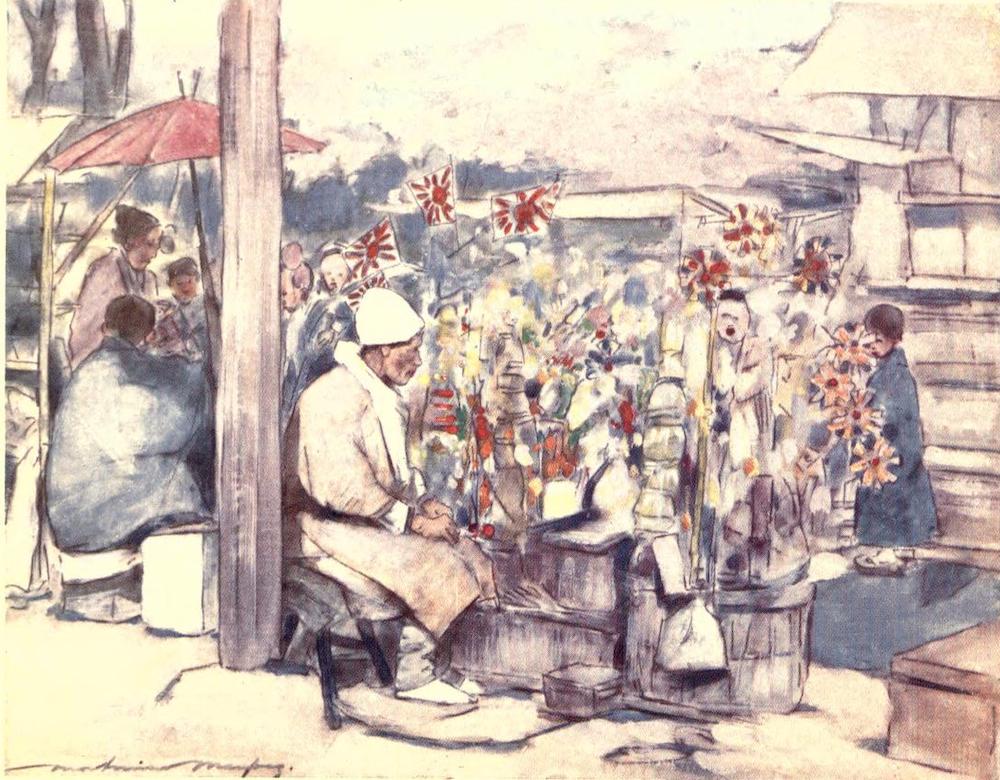 Toys by Mortimer Menpes. 1901. Watercolor. Source: Japan: A Record in Colour, facing p. 162. The anecdote accompanying this picture in Menpes's chapter on Workers runs as follows:
I am reminded of an experience in Kioto. I was walking down the theatre streets one day with a Japanese friend, and we stopped in front of a little stall full of very dainty toys. There were thousands of toys—miniature kitchen utensils exquisitely carved in wood, small pots and pans and dishes, all bound with lacquer and beautifully finished, such as would delight the heart of every housewife of my acquaintance. I asked the stall-holder, a little stolid old man, through the interpretation of my friend, how much he would sell his entire stock for. His excitement was intense, and my friend told me that my simple question had had the effect of an avalanche upon this stolid little toy-seller, and that he was quite unable to grasp my meaning, so startling and gigantic did the transaction seem to him. After a great deal of gesticulation, and much flicking of the beads on his counting machine, the little man came to the conclusion that his entire stock would be worth two yen thirty sen. This ridiculous price quite took my breath away, and I immediately said that I would buy the 162 lot. Then there was another commotion: the little man was thoroughly upset, and could not understand what I meant. In the end I made him carry away his stall bodily and follow me with it to my hotel. I paid him the money, and he quickly disappeared. "You won't see that little gentleman in theatre street again in a hurry," my friend said: "he will be living in luxury now for a week or more on that two dollar thirty sen, and he certainly won't dream of doing any more work until he has spent the lot." Sure enough, I never saw the stolid toy-seller again during the whole of my stay in Kioto, which stretched over more than a month. [161-62]
Menpes is naturally prompted to reflect on the very great difference between the rich and the poor in Japan at this time. The stall-holder clearly had an enormous windfall; a rich man, however, might treat a European visitor to a meal that costs much more than it would "at the Carlton or the Savoy at home" (162). — Jacqueline Banerjee
You may use this image without prior permission for any scholarly or educational purpose as long as you (1) credit the University of California and the Internet Archive and (2) link your document to this URL in a web document or cite it in a print one. [Click on the image to enlarge it.]
Bibliography
Menpes, Dorothy. Japan: A Record in Colour. London: Adam & Charles Black, 1901. Internet Archive version of a copy in the University of California Libraries. Web. 4 July 2019.
---
Created 5 July 2019