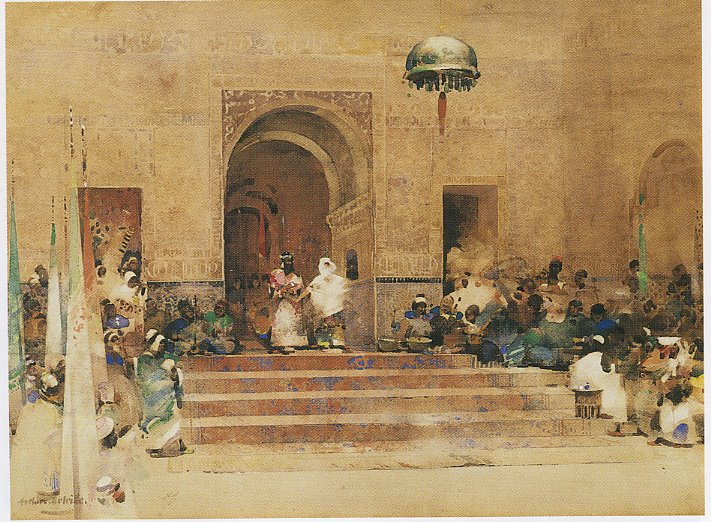 King Cophetua & The Beggar Maid. Arthur Melville ARSA RSW (1855–1904). Watercolour on paper, 21 x 28 1/4 inches (53.5 x 72 cm). Signed, lower left.
In the studio, Melville painted the atmospheric watercolour of Tobit's Mill and two versions of King Cophetua and the Beggar Maid, an Eastern scene, illustrating the tale of the legendary African king who had been oblivious to all women until he hadseen a beggar girl "all in gray" with 1885 whom he immediately fell in love and married. Melville was familiar with the story as told in Tennyson's poem "Beggar Maid" of 1842, but rather than being an isolated example of literary reference in his oeuvre, this may be a more personal image, inspired by his own love for Ethel Croal, his own "girl in grey" whom he married on 19th December 1899. There are versions of the same subject, one of which appears to depict the king's sight of the maid (National Gallery of Society: Edinburgh, Glasgow, London, Scotland), the other their marriage.
Related Material: other representations of "King Cophetua and the Beggar Maid"
References
Gale, Iain. Arthur Melville. London: Atelier Books, 1996; pp.128, no. 48, illustrated pi. 37 (Version in the National Gallery of Scotland).
MacKay, Agnes Ethel. Arthur Melville, Scottish Impressionist, 1855–1904. London: F. Lewis Publishers, 1951; p. 85.
Spring '99. Exhibition Catalogue. London: The Fine Art Society, 1999. No. 27.
The Fine Art Society, London, has most generously given its permission to use information, images, and text from its catalogues in the Victorian Web, and this generosity has led to the creation of hundreds and hundreds of the site's most valuable documents on painting, drawing, sculpture, furniture, textiles, ceramics, glass, metalwork, and the people who created them. The copyright on text and images from their catalogues remains, of course, with the Fine Art Society. [GPL]
---
Last modified 6 October 2011