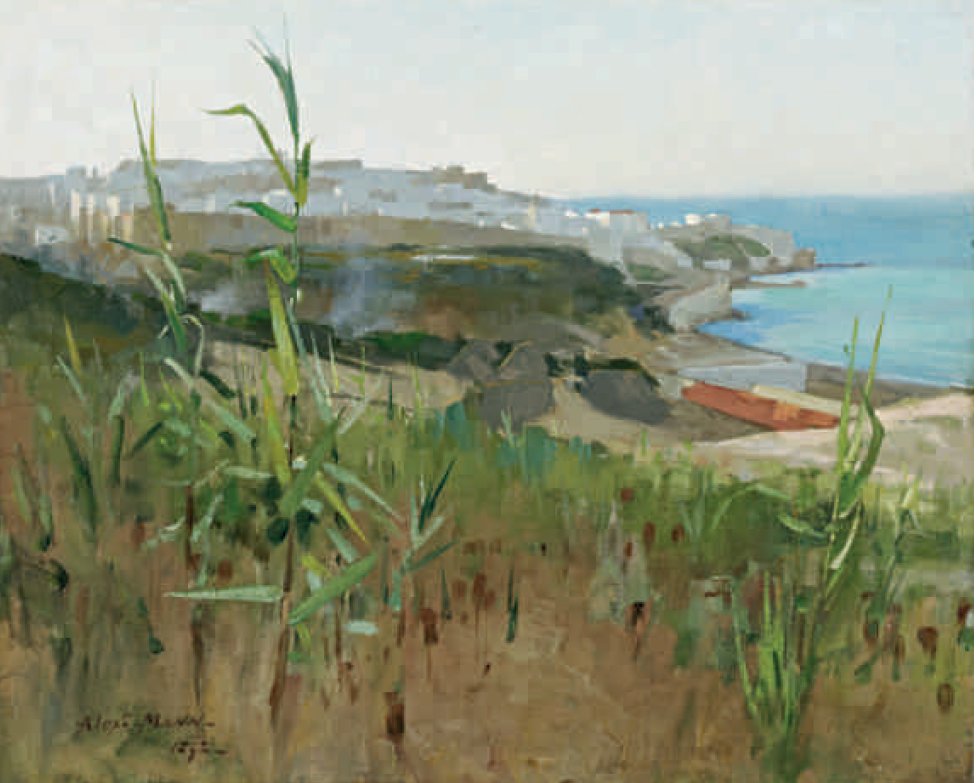 Tangier from the Dunes. Alexander Mann (1853-1908). Oil on canvas, 16½ x 20¼ inches; 41.9 x 51.5 cm Signed and dated 1892. [click on photograph to enlarge it.]
The Fine Art Society, London, has most generously given its permission to use information, images, and text from its catalogues in the Victorian Web, and this generosity has led to the creation of hundreds and hundreds of the site's most valuable documents on painting, drawing, sculpture, furniture, textiles, ceramics, glass, metalwork, and the people who created them. The copyright on text and images from their catalogues remains, of course, with the Fine Art Society. [GPL]
Commentary by Kenneth McConkey
Mann made his first visit to Tangier in November 1890 and remained there for over a year, returning with Lavery through Spain in the late spring of 1892 (see no. 14). His major work produced during this period was A Wedding Procession, a large canvas showing a frieze of Moorish figures on the beach, shown at the Glasgow Institute of Fine Arts in 1892. From his sketchbooks and small studies, it is clear however that other aspects of life in the city equally appealed as he painted rooftop scenes, views of the Kasbah and an equestrian portrait of Kaid Maclean, the Scots military advisor to the Sultan, which passed through the Fibe Art Society in 1990.
However, striking views of the 'white city' from the sweeping bay to the east also became favourite motifs – as they did for Lavery. In Mann's case, clear divisions of tone combined with suave handling derived from his tutelage under Carolus-Duran, make Tangier from the Dunes, a work of mastery. A companion piece, Sand Dunes, Tangier, is in the Fleming Wyfold Collection (Smith and Skipwith, 91).
[Note: I am grateful to Martin Hopkinson for references to Mann and Lavery in Seville and Madrid in 1892. See also Newall in bibliography below.]
Bibliography
McConkey, Kenneth. Lavery and the Glasgow Boys. Exhibition Catalogue. Clandeboye, County Down: The Ava Gallery; Edinburgh: Bourne Fine Art; London: The Fine Art Society, 2010. No. 12.
Newall, Christopher. 'Introduction', Alexander Mann, 1853–1908. Exhibition catalogue. London: The Fine Art Society, 1983.
Smith, Bill, and Selina Skipwith. A History of Scottish Art, The Fleming Collection. London: Merrell, 2003.
---
Last modified 4 October 2011