ainter Jessie Macgregor was born in Liverpool to a Scottish father and Liverpudlian mother. Her grandfather Andrew Hunt, a landscape painter, taught at the Liverpool Academy, where she had her first art education, and her uncle Alfred Hunt was also a well-known painter. Her parents went to live in London when she was still a child, at which time her mother taught her to use watercolour. Once her schooldays were over, she enrolled at the South Kensington School for lessons in drawing but sought a more rigorous art education at the RA Schools, where she began in 1870. Here she won the gold medal for historical painting in 1871 (the prescribed subject being "An Act of Mercy""). While she was not the first woman to win this award (the first having been Louisa Starr in 1867), her win attracted especial attention because she had been the only female competitor that year, and Macgregor was made to feel the vexation of her male peers at her success.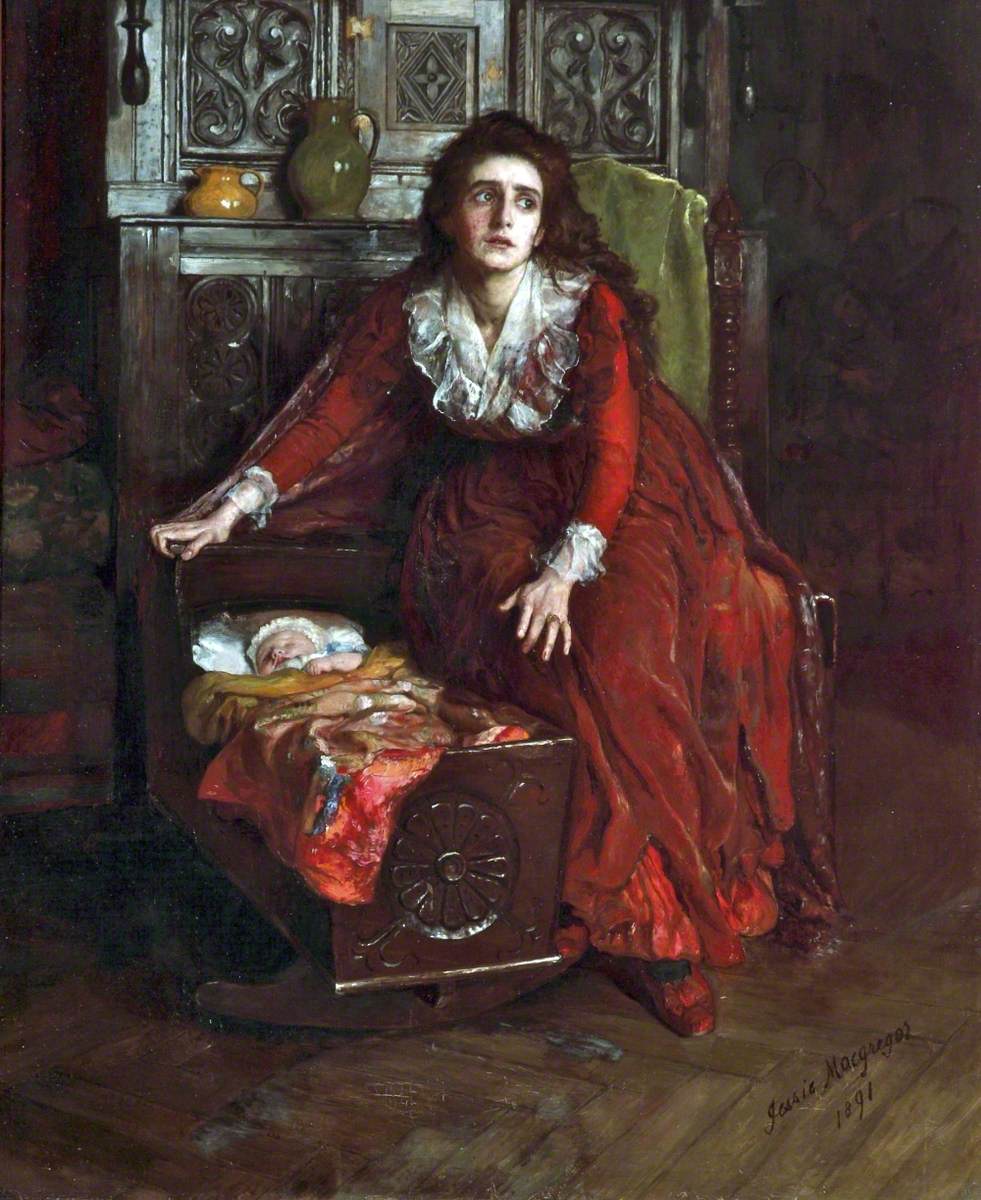 In the Reign of Terror (1891).
Her parents having moved back to Liverpool meanwhile, Macgregor divided her time between London and Merseyside while she completed her seven-year stint in the RA Schools. Like so many did, she began to exhibit at the Academy while still a student, appearing there first in 1872. She continued in the genre that had first won her public attention, at a time when history painting was on the one hand broadening its reach towards literature, romance and anecdote, but on the other also undergoing a renewal of classicism. Her historical subjects tended to the domestic, with their protagonists almost always women or children.
Apart from the RA, Macgregor exhibited at the Liverpool Autumn exhibition from 1872 to 1904, and many times at the annual Birmingham, Manchester, Edinburgh (RSA) and Glasgow exhibitions. and the Society of Female (later Lady) Artists. Other notable exhibition appearances included the World's Columbian Fair and Exposition in Chicago in 1893, where her work was hung in the famous Women's Building, and the Victorian Era exhibition at Earl's Court, London, in 1897, in the Woman's Work section. Illness hampered her painting in 1890-1, and it was perhaps this that prompted her production of an illustrated book for children, Christmas Eve at Romney Hall (1900, pub. Elkin Mathews). It occupied the same imaginative territory as her paintings, and she wrote the text as well as drawing the illustrations. Books by other authors illustrated by Macgregor included A World in a Garden (pub. J.M. Dent, 1901), A Plucky Girl (pub. W & R Chambers, 1902), Fly-Fishing (pub. J.M. Dent, 1909).
Macgregor was a keen student of the history of art, and lectured widely, for the Victoria University Extension Scheme, at the Arts Club of Liverpool, the National Gallery, the Leighton House museum and other regional centres.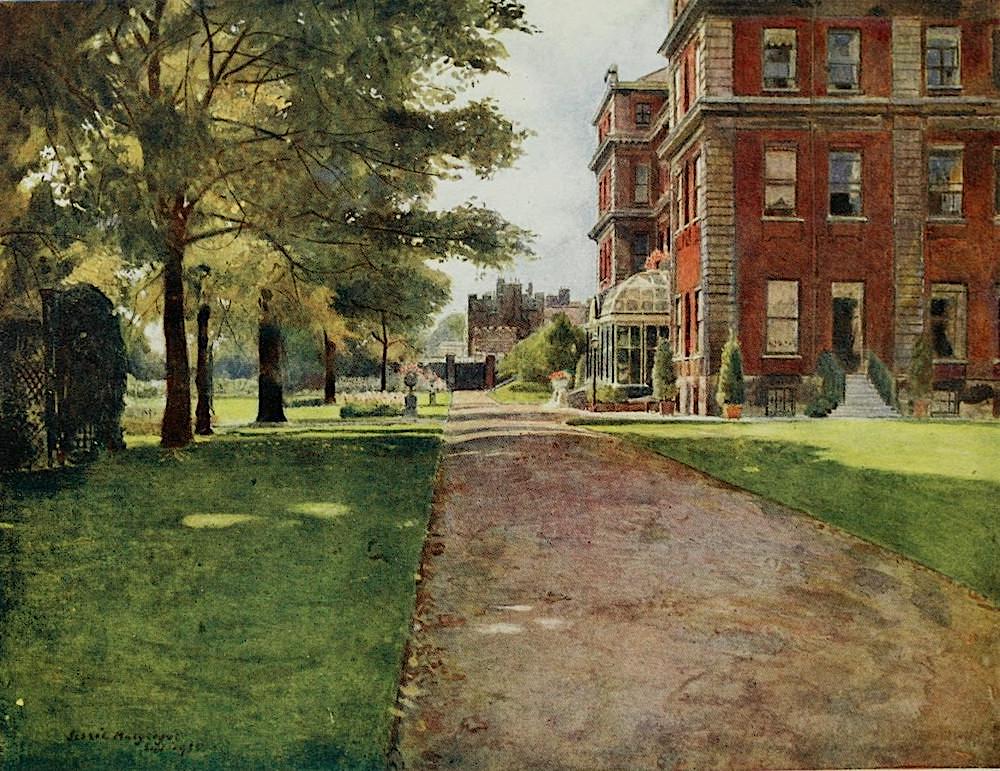 Marlborough House (1919).
From the turn of the century she had a studio in Chalcot Gardens, Hampstead, and began to interest herself in women's issues. Thus in 1904, she was on the committee of the Lyceum Club (London), alongside Henrietta Rae, Marianne Stokes, Louise Jopling and Lucy Kemp-Welch; and from (at least) 1908, she was an active supporter of women's suffrage, taking part in the great suffrage demonstration in London in June that year. By this time, she was teaching art, and working mostly in watercolour. In 1913 she moved to Bedford Park, the artistic suburb in west London. Her book, Gardens of Celebrities (Hutchinson, 1919), illustrated with watercolours made just before or during the war, was published just before her death.
Link to related material
Bibliography
Anonymous. "Lady Artists no. 65," The Lady's Pictorial. 25 April 1891: 656-7.
Macgregor, Jessie. Gardens of Celebrities and celebrated gardens in and around London. London: Hutchinson, 1918. Internet Archive. Contributed by the University of British Columbia Library. Web. 13 March 2022.
Mason-Hinchley, Edith M. "Why we want the Vote: the woman artist." The Vote. 12 August 1911: 199-200.
Gerrish Nunn, Pamela. "The Domestication of History." Problem Pictures: Women and Men in Victorian Painting. Aldershot: Scolar Press, 1995.
Postlethwaite, Helene. "Some Noted Women-Painters." Magazine of Art. Vol. 18. 1895: 17-22.
---
Created 13 March 2022