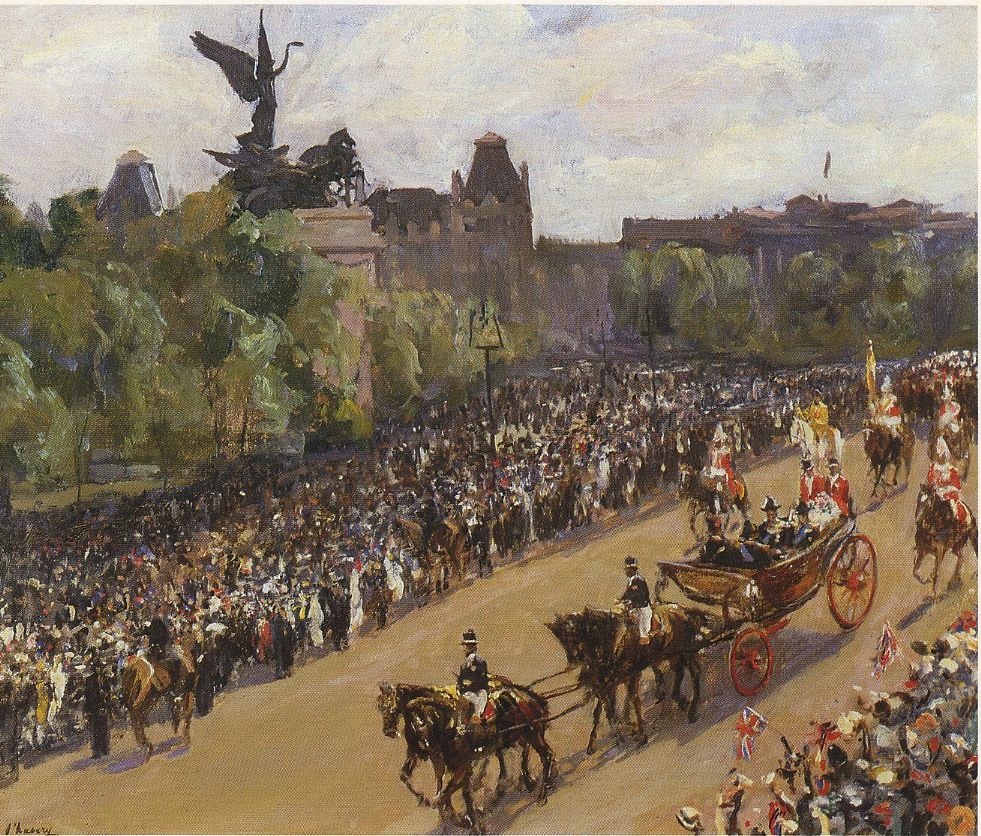 A State Procession — The King, the Prince of Wales, the Duke of York and Prince George, Hyde Park Corner, 21st June 1922. Sir John Lavery RA RSA RHA (1856–1941). Oil on canvas, 25 x 30 inches; 63.5 x 76.2 cm. Signed 'J. Lavery', and signed, dated, and inscribed as above (verso) [Click on image to enlarge it.] ('The procession was held to celebrate the return of Prince of Wales from his eight-month tour of the East'.) Source: Spring '84, no. 15.
The Fine Art Society, London, has most generously given its permission to use information, images, and text from its catalogues in the Victorian Web, and this generosity has led to the creation of hundreds and hundreds of the site's most valuable documents on painting, drawing, sculpture, furniture, textiles, ceramics, glass, metalwork, and the people who created them. The copyright on text and images from their catalogues remains, of course, with the Fine Art Society. [GPL]
References
McConkey, Kenneth. Lavery and the Glasgow Boys. Exhibition Catalogue. Clandeboye, County Down: The Ava Gallery; Edinburgh: Bourne Fine Art; London: The Fine Art Society, 2010. No. 26.
Spring '84. Exhibition catalogue. London: The Fine Art Society, 1984.
---
Last modified 5 October 2011