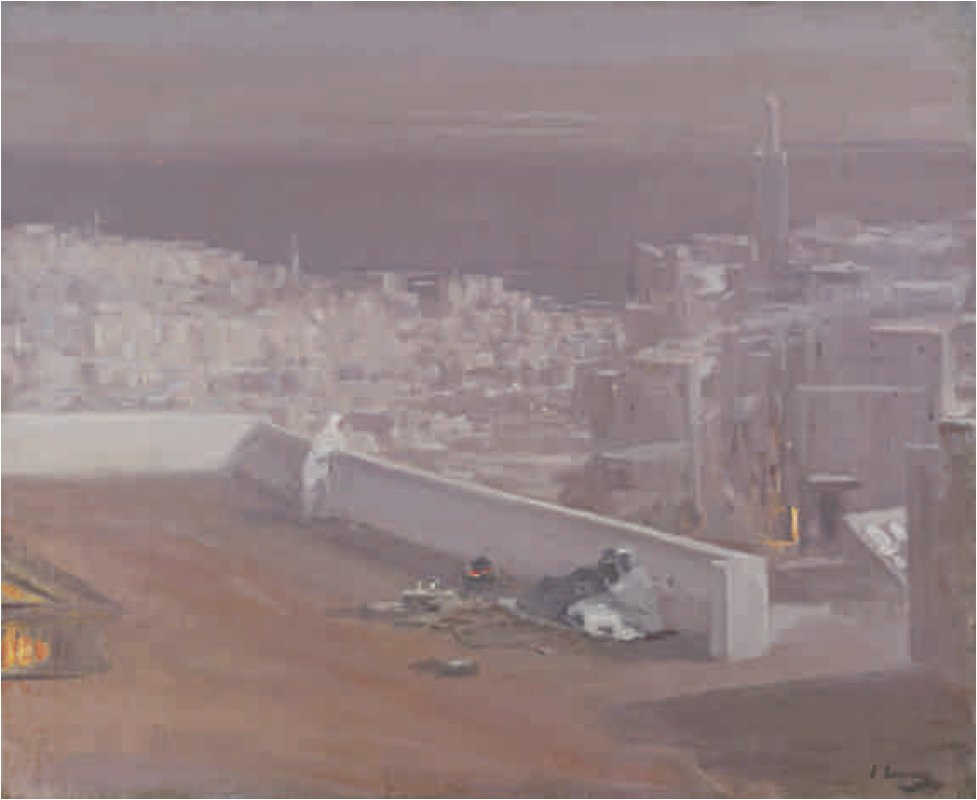 Night, Tangier. Sir John Lavery RA RSA RHA (1856–1941). Oil on canvas, 25 x 30 inches; 63.5 x 76.2 cm. Signed. Provenance: Private Collection, Scotland. Exhibited: London, Royal Academy, 1911, no. 57. [Click on image to enlarge it.]
The Fine Art Society, London, has most generously given its permission to use information, images, and text from its catalogues in the Victorian Web, and this generosity has led to the creation of hundreds and hundreds of the site's most valuable documents on painting, drawing, sculpture, furniture, textiles, ceramics, glass, metalwork, and the people who created them. The copyright on text and images from their catalogues remains, of course, with the Fine Art Society. [GPL]
Commentary by Kenneth McConkey
Lavery's views over the rooftops of Tangier are among his most evocative canvases. As a young man impressed with the work of Whistler, he had the opportunity to study the American painter's famous nocturnes but unlike Walter Greaves, Theodore Roussel, Paul Maitland and others he did not resort to riverscapes of the Thames. It was in Tangier, under the velvet veil of sky that Lavery's nocturnes were painted. When he first arrived there in 1891 he witnessed scenes that had been reported by other painters – that the flat rooftops of the city supported their own life, providing an extra moonlit room to the dars of the Kasbah. Here, in the cool of the evening, carpets were unrolled and clusters of Arabs would form around fires and lanterns. Aside from coffee drinking, there might be music and dancing. And as night fell, ghostly figures would bed down under the stars. Night, Tangier expresses something of this air of mystery.
The picture was shown alongside The Amazon in Lavery's triumphal return to the Royal Academy after a gap of fourteen years. When his portrait of Mrs Colquhoun Read was rejected in 1897, he had refused to submit any further pictures to its exhibitions. Like Whistler, he preferred the role of distinguished outsider, collaborating with the American painter in the establishment of the International Society of Sculptors, Painters and Gravers in 1898. Throughout the early years of the twentieth century, as his work gained international prizes and was seen in solo exhibitions in London, there had been calls for his return to the Academy. However, it was not until the early months of 1911, while he was in Tangier that the Academy came to him and he accepted membership.
Night, Tangier reprises a number of earlier, smaller works such as The Rooftops, Evening, shown at the Goupil Gallery in 1908 (see McConkey 100 for an illustration). In this instance however, the artist looks down upon buildings from a higher vantage point, and sees beyond them to the Straits. Two figures crouch behind the wall in the foreground, and a third, some distance from them, gazes out to sea. In the current turmoil of insurrection and political intrigue that would, in a mere twelve months, lead to French intervention in Morocco, this was a moment of supreme serenity.
References
McConkey, Kenneth. Lavery and the Glasgow Boys. Exhibition Catalogue. Clandeboye, County Down: The Ava Gallery; Edinburgh: Bourne Fine Art; London: The Fine Art Society, 2010. No. 26.
McConkey, Kenneth. John Lavery, A Painter and his World. London: Atelier Books, 2010.
---
Last modified 5 October 2011