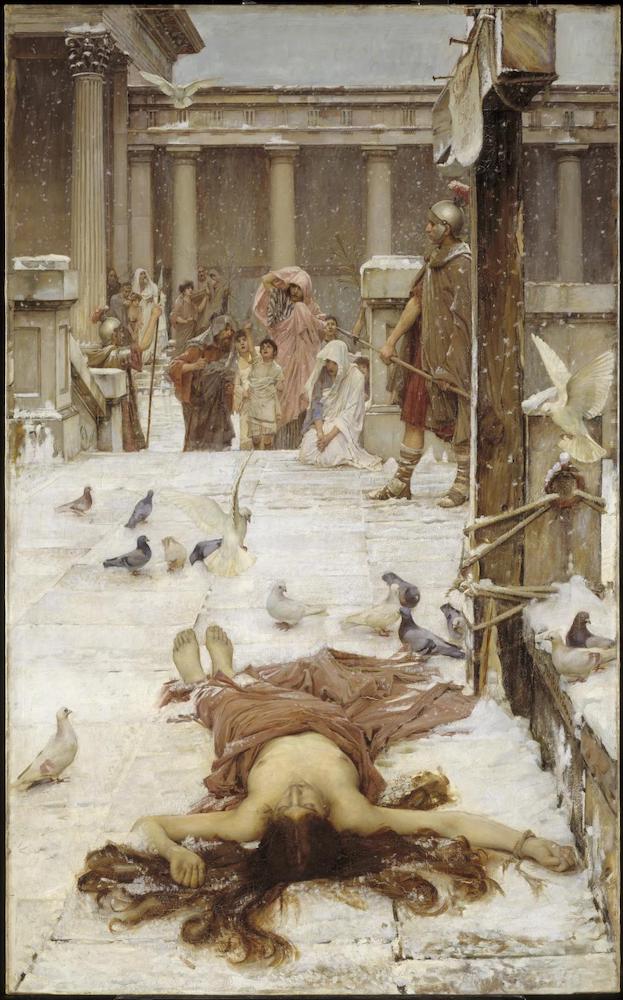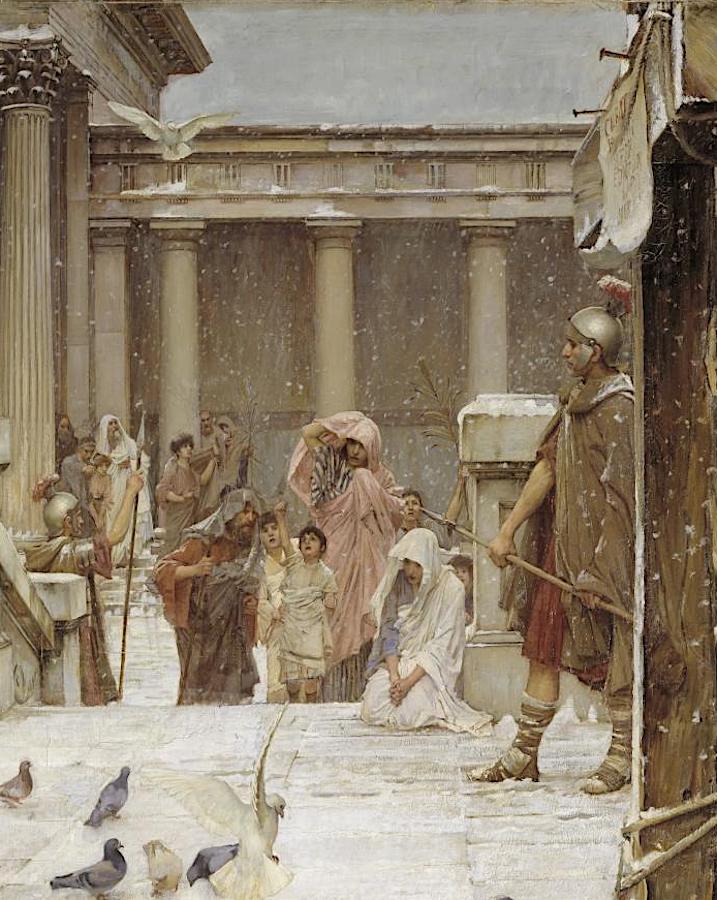 Left: Whole painting. Right: Detail of centurion and bystanders.
John William Waterhouse (1849-1917). St. Eulalia. 1885. Oil on canvas. Dimensions: Support: 1886 × 1175 mm; frame: 2310 × 1610 × 180 mm. Collection: Tate, presented by Sir Henry Tate in 1894. Reference N01542. Image kindly released under the Creative Commons CC-BY-NC-ND (3.0 Unported) licence.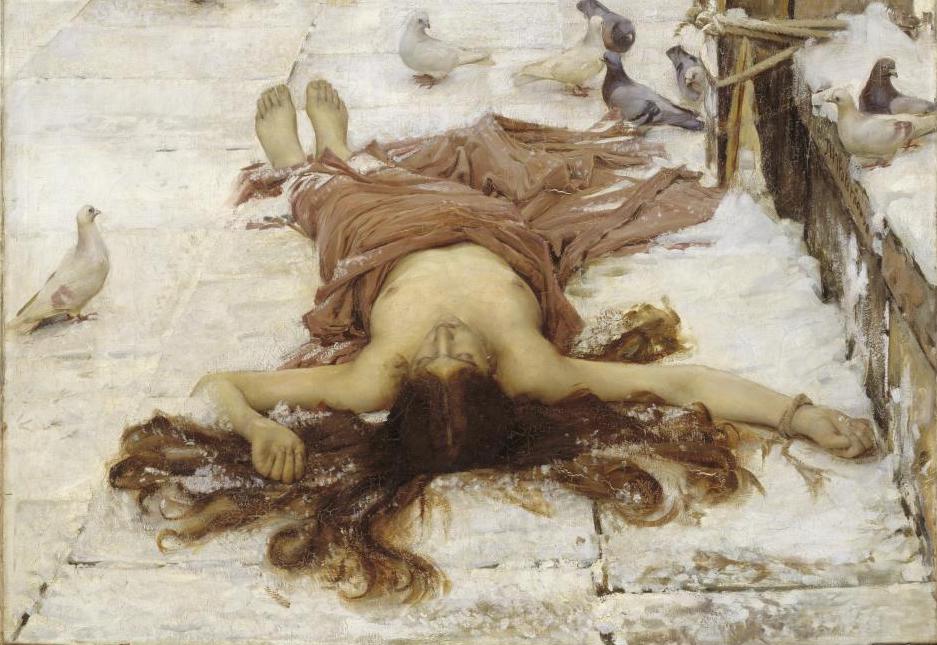 Close-up of St Eulalia.
According to Christopher Wood, Waterhouse's Roman period culminated in this painting and The favourites of the Emperor Honorius, a work that closely follows the approach of Alma-Tadema. In St. Eulalia, which "secured for Waterhouse his election as an associate" of the Royal Academy, the painter combined
a Roman subject with a Christian one, a device much used by later Victorian and Edwardian painters. The setting and the architectural background are typically Alma-Tadema, but the dramatically foreshortened figure of the dead saint is a bold and original touch. although recently martyred, the young girl's body shows no signs of torture or bloodshed. This kind of realism was not for Waterhouse. The semi-naked figure of an attractive girl, her long hair spread out around her, anticipates the nymphs and goddesses that were to populate his later classical pictures. For Waterhouse realism was always modified by his ideas of beauty, which were those of a conventional and decorous Victorian Royal Academician. Waterhouse could interpret a theme with considerable dramatic power, but he used realism only to heighten the imaginative and poetic mood, not to bring the ugly facts of life and death before our eyes. [228]
The summary given by the gallery explains that "Waterhouse exhibited this picture at the Royal Academy in 1885 with the following note: 'Prudentius says that the body of St. Eulalia was shrouded "by the miraculous fall of snow when lying in the forum after her martyrdom."' The caption also explains that the saint "had been martyred in 304AD for refusing to make sacrifices to the Roman gods. The method of her death was particularly gruesome: two executioners tore her body with iron hooks, then lighted torches were applied to her breasts and sides until finally, as the fire caught her hair, she was suffocated." Instead of displaying signs of such a horrible death, "Eulalia's body appears totally unharmed, her exposed breasts and flowing hair giving her a seductive rather than pathetic appearance." The wooden cross just beside her suggests that she has died as a result of crucifixion, and there seems to be a tell-tale piece of rope around one of her wrists.
On the other hand, the snow does not cover the martyred girl at all, so what is emphasized here is her youth (she was said to be only twelve) and her beauty — the poignancy of her loss. Another of the legends associated with her is that when she died, a white dove flew heavenwards from her mouth. Although there are a number of ordinary feral pigeons here as well as the white ones, note especially the one rising above the colonnade at the top. – George P. Landow and (last two paragraphs) Jacqueline Banerjee
Bibliography
Hobson, Anthony. The Art and Life of J. W. Waterhouse, RA, 1849-1917. London: Studio Vista/Christie's, 1980.
Summary. "John William Waterhouse: Saint Eulalia." Tate. Web. 19 August 2021.
Wood, Christopher. Olympian Dreamers: Victorian Classical Painters. London: Constable, 1983.
---
Last modified 19 August 2021