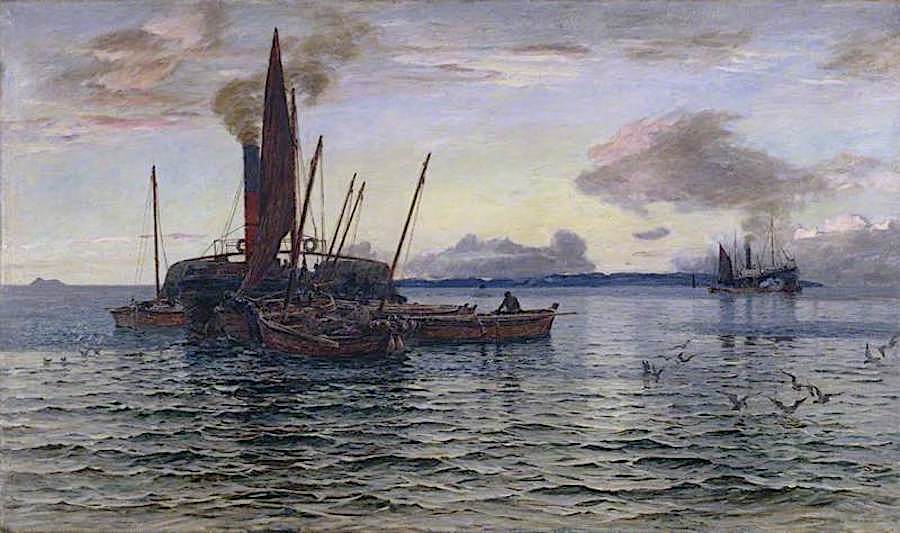 The Herring Market at Sea (on Loch Fyne, Argyll), by Colin Hunter, ARA, 1841-1904. 1884. Oil on canvas. H 108.3 x W 183.5 cm. Collection: Manchester Art Gallery. Accession no. 1884.10. Purchased from the Autumn Exhibition, 1884. Image downloaded from Art UK under the terms of the the Creative Commons Attribution-NonCommercial-NoDerivatives licence (CC BY-NC-ND).
This is the kind of twilight scene for which Hunter is best known, showing boats on a Scottish loch at the end of a day's fishing. The central focus is the large tug in the middle, with its tall funnel emitting steam, surrounded by small fishing boats with their masts and rigging adding to the interest. More such activity is taking place in the distance, to the right. Only one of the fisherman can be seen distinctly, silhouetted against the water, at the very heart of the composition. Gulls are flying low over the water. The subtle colours of both the water and the sea are brilliantly evocative. — Jacqueline Banerjee
Bibliography
The Herring Market at Sea (on Loch Fyne, Argyll). Art UK. Web. 30 October 2022.
---
Created 30 October 2022