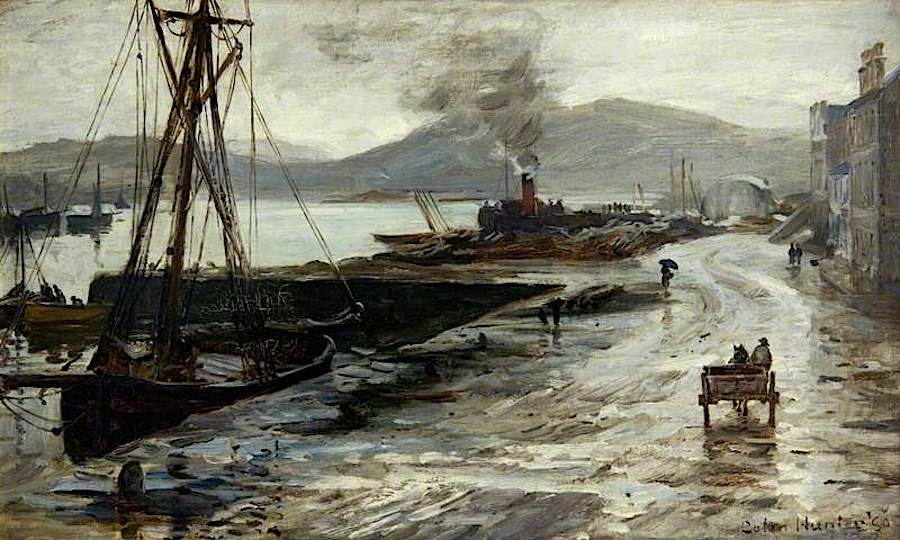 Wet Day on the Clyde, by Colin Hunter, ARA, 1841-1904. 1880. Oil on canvas. H 30.8 x W 50.8 cm. Collection: Collection: Glasgow Museums Resource Centre. Accession no. 3003. Gift from Mrs Maitland Ramsay, 1953. Credit: Glasgow Life Museums. Image downloaded from Art UK under the terms of the the Creative Commons Attribution-NonCommercial-NoDerivatives licence (CC BY-NC-ND).
For obvious reasons, paintings of rainy landscapes are few and far between, especially from the Victorian period, when painting in the open air became popular. Apart from the challenge to the artist's own person, there was the technical challenge of capturing the atmosphere of scenery that could easily seem gloomy rather than poetic. This is one of the few successful examples of such a work, with the wet road along the Clyde catching what light there is, and meandering like a river itself. The only traffic is a single horse-drawn cart, with a few pedestrians keeping to the side nearest the river. Two well-known examples of such paintings are linked below. — Jacqueline Banerjee
Links to related material
Bibliography
Wet Day on the Clyde. Art UK. Web. 30 October 2022.
---
Created 30 October 2022