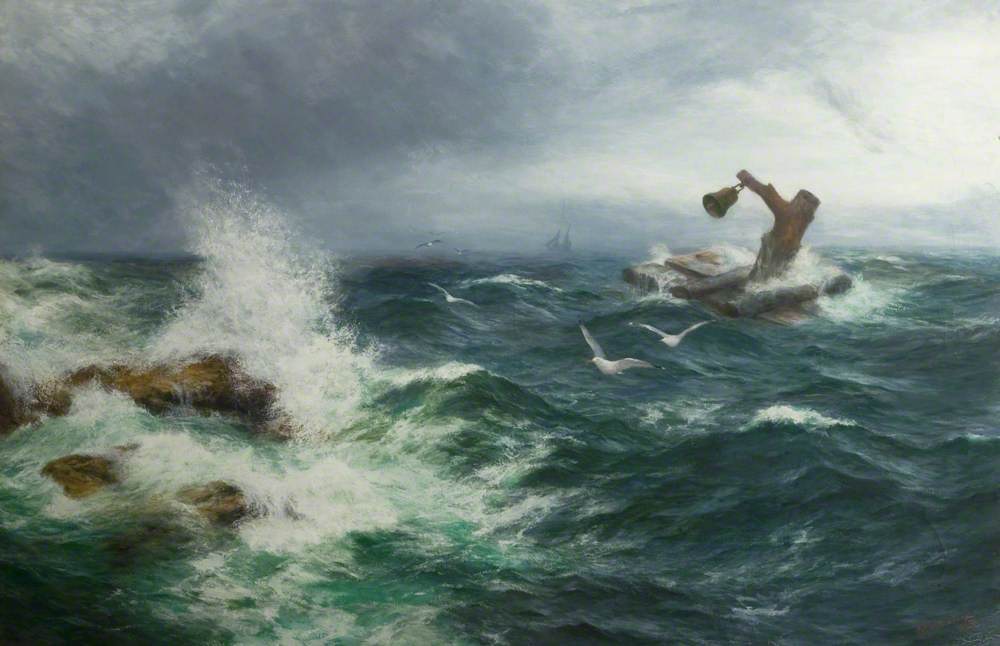 The Inchcape Rock, by Peter Graham, R.A., R.S.A. (1838–1921). 1908. Oil on canvas. H 122 x W 186 cm. Collection: Leicester Arts and Museums Services, New Walk Museum & Art Gallery. Accession number: L.F4.1909.0.0. Acquisition method: purchased from the artist, 1909. Image kindly released by the gallery under the Creative Commons CC-BY-NC-SA (Creative Commons Attribution-NonCommercial-ShareAlike) licence. [Click on the image to enlarge it.]
According to the Art UK website: "The warning bell fixed by the Abbot of Aberbrothok, as described by Southey, is attached to a tree trunk on the submerged Inchcape Rock off the mouth of the Tay." Southey's ballad starts like this:
The holy Abbot of Aberbrothok
Had placed that bell on the Inchcape Rock;
On a buoy in the storm it floated and swung,
And over the waves its warning rung.

When the Rock was hid by the surge's swell,
The Mariners heard the warning Bell;
And then they knew the perilous Rock,
And blest the Abbot of Aberbrothok.
So at first the scene shown in the painting might seem to have positive connotations. But, later on in the ballad, an ill-intentioned pirate, Ralph the Rover, resentful of the sailors' gratitude to the Abbot, cuts the bell loose from its platform. He gets his just reward, when his own ship returns to the Scottish shore after a plundering expedition, and is wrecked at the self-same place. The only bell that rings for him is the Devil's knell, from down below the waves. With associations like this, the tossing and foaming green-blue seas of Graham's painting cannot but remind us of the dangers of the deep. The silhouette of a ship in the distance and the seabirds winging towards the shore emphasise the threat. — Jacqueline Banerjee
Bibliography
"The Inchcape Rock." Art UK. Web. 17 March 2019.
Southey, Robert. "The Inchcape Rock." Poems of Robert Southey. Oxford ed., edited by Maurice H. Fitzgerald. London: Henry Froude, 1909. Internet Archive. Web. 17 March 2019.
---
Created 17 March 2019