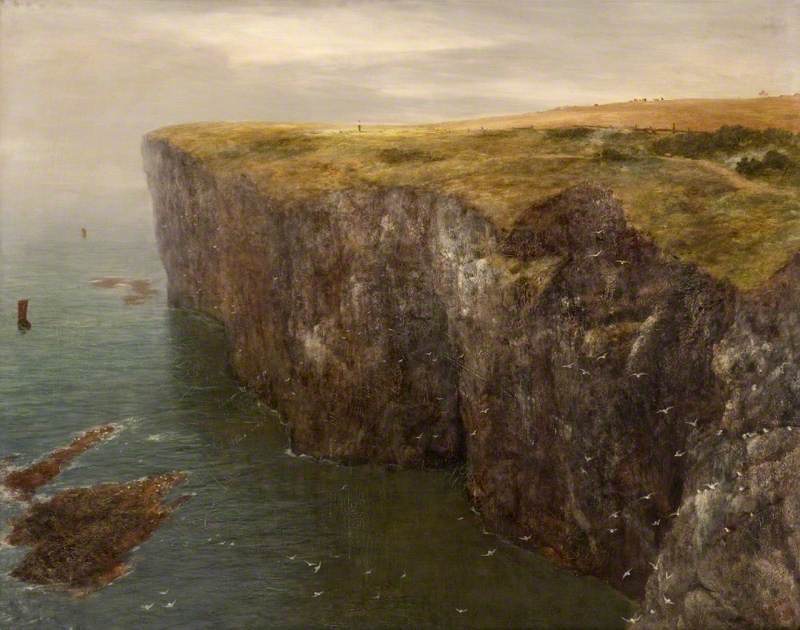 Along the Cliffs, by Peter Graham, R.A., R.S.A. (1838–1921). 1868. Oil on canvas. H 88.9 x W 106.7 cm. Collection: Glasgow Museums Resource Centre. Accession number: 1165. Acquisition method: bequeathed by Mrs Isabella Elder, 1906. Image kindly released under the Creative Commons Attribution-NonCommercial-NoDerivatives licence. [Click on the image to enlarge it.]
It is tempting to try to pinpoint the location of Graham's views, but his biographer, W. Matthews Gilbert, warns us not to:
His pictures are not of the nature of documentary painting. They are not mere transcripts of nature. If they are not nature pure and simple, if his roads, and hills, and rocky cliffs cannot be named and pointed out on the map of Scotland, they are very natural, and convey to the spectator, by the glamour of his art, the very soul and sentiment of the scene.... [28]
In this respect Graham may be contrasted with John Brett, another artist who often painted foreshore or craggy scenes, and adopted a more precise, Pre-Raphaelite approach to them, generally naming their location. However, the rocks in Graham's painting, indistinct in the distance, loom up towards the observer in increasing detail, and the scattering of small white seabirds makes a sharp contrast to the wide dark sea and towering rock face. On the clifftop is a tiny human figure, alone and inconsequential in this great sweep of nature.
Bibliography
Gilbert, W. Matthews. The Life and Work of Peter Graham, R.A.. London: The Art Journal office, 1899 [a very limited view is available in Google Books].
---
Created 17 March 2019