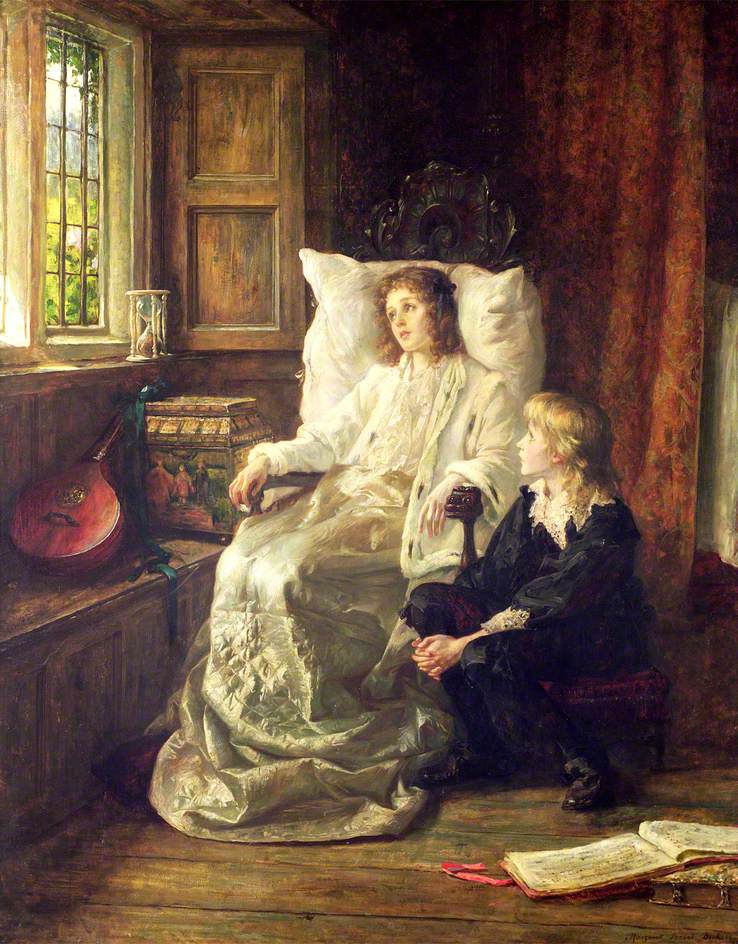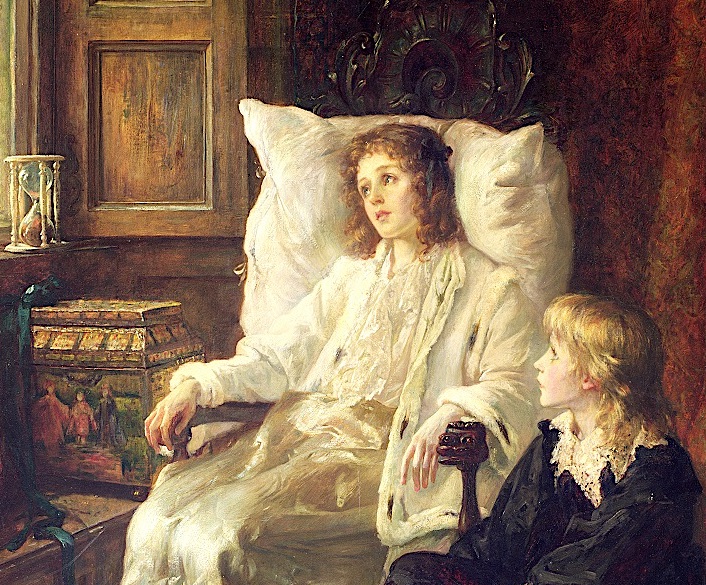 Left: Whole painting. Right: Close-up of the faces, showing the ominous hour glass running out on the window-sill, and the box painted with the children and their father, out of doors in happier times.
The Children of Charles I Margaret Isabel Dicksee (1858-1903). 1895. Oil on canvas. H 105.5 x W 85 cm. © Gallery Oldham, reproduced here by kind permission of the gallery. Accession number 1.96; purchased from the artist in 1896. Please contact the gallery if you wish to reproduce an image of this painting.
Although criticised by some on its appearance at the RA exhibition in 1895 for sentimentality, this work was of sufficiently enduring popularity to be included in the long-running series Modern Masterpieces of British Art as late as 1931. Although by then its subject-matter was most redolent of a black-and-white costume drama to be seen at the cinema, when it was first shown it belonged recognisably to a stubborn Tory tradition of painting romanticising the British monarchy, summed up in its Caroline iteration as Cavaliers versus Roundheads. This view, and this enthusiasm, were rooted in the novels of Walter Scott and fed by fiction and biography as well as by painting as the Victorian period proceeded (see the work of Agnes Strickland, Daniel Maclise, Charles Cope and others). Roy Strong contends that between 1820 (i.e from Scott's heyday) and 1900, this passage of English history attracted more Academy exhibits than any other aspect of the national past.
The element of the Caroline romance that Dicksee chose was the fate of two of the King's younger children, Elizabeth (1635-50) and Henry (1640-60), who were confined to Carisbrooke Castle on the Isle of Wight after their father's execution in 1649. They are shown at the ages of fifteen and ten, respectively. In truth a rather lugubrious scene, the composition shows the Princess Elizabeth already suffering from the chill that eventually killed her within two years of her father's death. In depicting two royal children, hapless pawns in the power games of those competing to run the country, Dicksee would knowingly have been evoking another famous pairing, that of the so-called Princes in the Tower; and in the representation of a sickly child whose death is impending, with another at the invalid's knee in fear of losing his dearest companion, she was also milking the Dickensian legacy which so many of her Academy viewers would have held dear. The fact that this painting was purchased by a public gallery, in 1896, indicates its appeal to the late Victorian gallery-goer.
Links to related material
Bibliography
Levi, Arthur. "The Art of Margaret Dicksee." The Windsor Magazine. Vol. 26 (1895): 368-82. Internet Archive. Contributed by the University of Michigan. Web. 1 April 2022.
Strong, Roy C. Painting the Past: The Victorian painter and British History. London: Pimlico 2004.
---
Created 1 April 2022