The father of Miss Dicksee ... was a well-known English artist, and her brother, Frank Dick- see, who wears the honours of a Royal Academician, long ago scored a distinct success with his delightful picture of Harmony, now in the Chantrey collection.
Her first picture to gain recognition by being hung "on the line" at the Royal Academy, was, we believe, one taken from Longfellow's "Village Blacksmith." Miss Dicksee's other canvases, to mention but the best known ones, are The First Audience — Goldsmith and the Misses Horneck, A Sacrifice of Vanities (from the Vicar of Wakefield), Sheridan at the Linley's, The Child Handel, and Miss Angel introduced to Sir Joshua Reynolds — a quintette of successes well deserved by this sympathetic and graceful painter. — Walter Rowlands, pp. 122-23
If one who did not know her may say so, there is written on the canvases that Miss Dicksee has left behind the evidence of a most lovable nature. — Ralph Peacock, p. 70.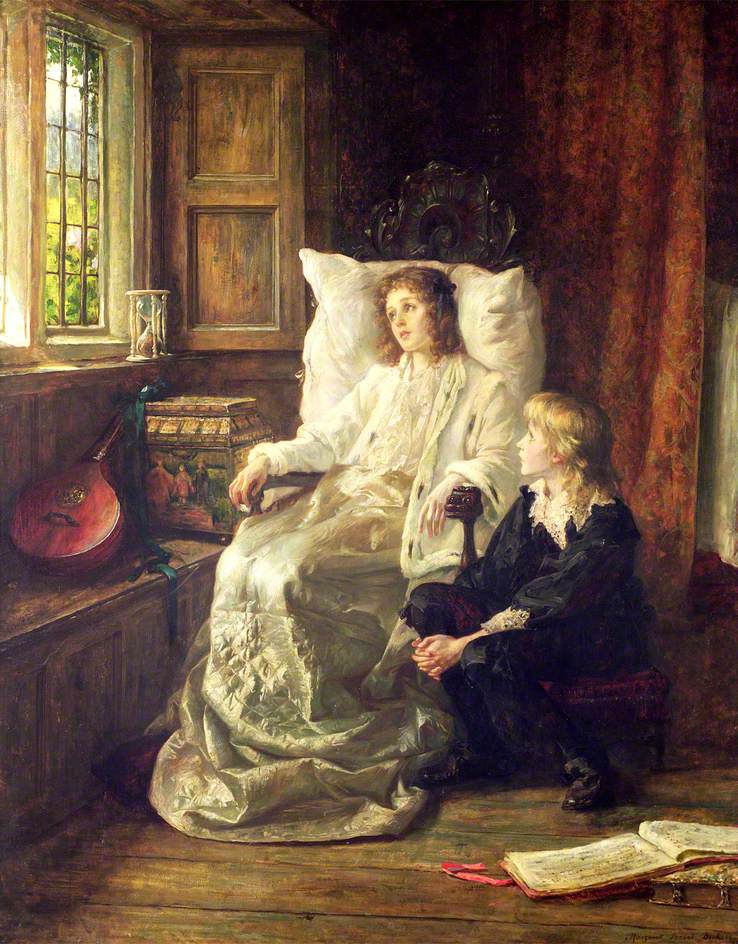 Biographical material
Paintings
Bibliography
Anon. "Obituary." Magazine of Art, July 1903: 524.
Brewer, Jeannie Rose. "Margaret Dicksee, painter." Girl's Own Paper, November 1906: 641.
Levi, Arthur. "The Art of Margaret Dicksee." The Windsor Magazine. Vol. 26 (1895): 368-82. Internet Archive. Contributed by the University of Michigan. Web. 1 April 2022.
Peacock, Ralph. "Modern British Women Painters." Women Painters of the World, from the time of Caterina Vigri, 1413-1463, to Rosa Bonheur and the present day, ed. Walter Shaw Sparrow. London: Hodder & Stoughton, 1905. 65-72. Internet Archive. Contributed by the Getty Research Institute. Web. 1 April 2022.
Rowlands, Walter. Among the Great Masters of Literature: Scenes in the Lives of Great Authors. Thirty-One Reproductions of Famous Paintings. Boston: Dana Estes & Co., 1900. Internet Archive.Contributed by the University of California Libraries. Web. 1 April 2022.
---
Created 1 April 2022