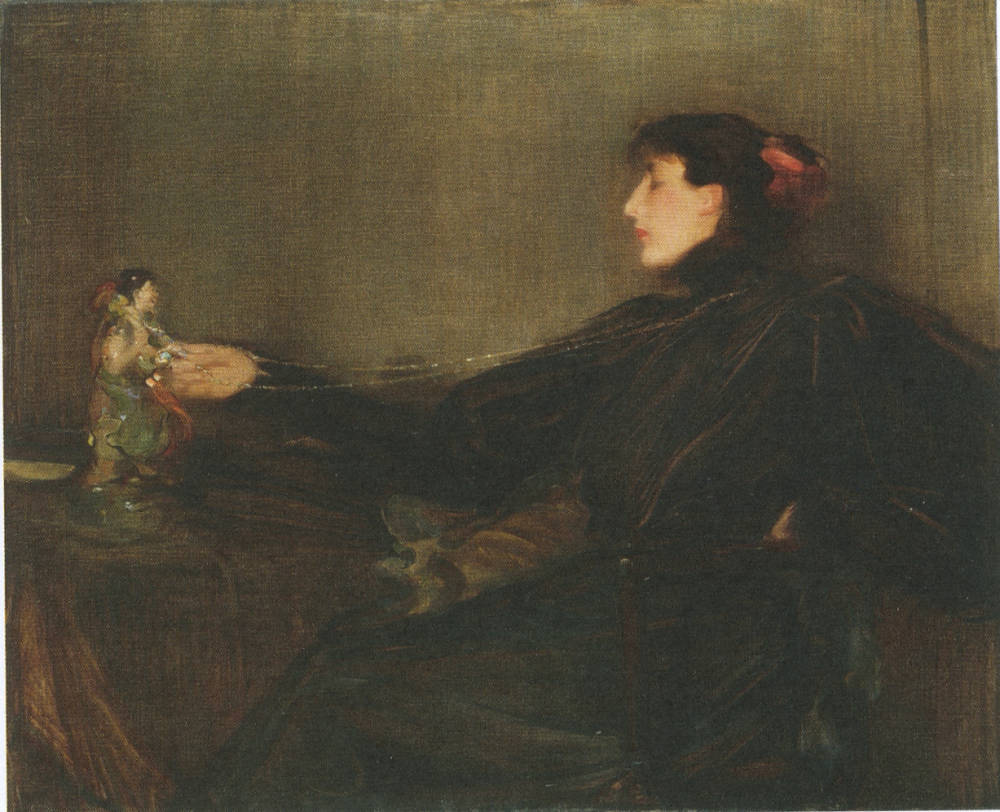 Fantaisie en Folie by Robert Brough, ARSA (1872–1905). 1022 x 1257 mm. Courtesy of Tate Britain (N01956; Bequeathed by the artist ). Click on image to enlarge it.
Originally from Aberdeen, Brough had mingled briefly with the Glasgow Boys in the early 1890s before moving to Paris with fellow Scottish artist Samuel Peploe to study painting. There he had universal success with his Fantaisie en Folie. — Devon Cox, 208
The title of this portrait of Brough's friends means 'fantasy in madness' and refers to the reflective mood of the subject. The girl holds out the pendant of her necklace towards a ceramic Buddha, as if to compare East and West. 'Fantasie' can also be the title of a piece of music and provokes a certain mood, rather than telling a story. The picture was an international success, and by 1904 had been exhibited in Munich, Vienna, Paris, Glasgow and St Louis. It was then not included in any exhibition until 1983. Brough, a Scottish portrait painter, is now not well known, probably because he died young. — Tate Britain caption (2007)
Bibliography
Cox, Devon. The Street of Wonderful Possibilities: Whistler, Wilde, and Sargent in Tite Street. London: Frances Lincoln, 2015.
---
Last modified 17 May 2016