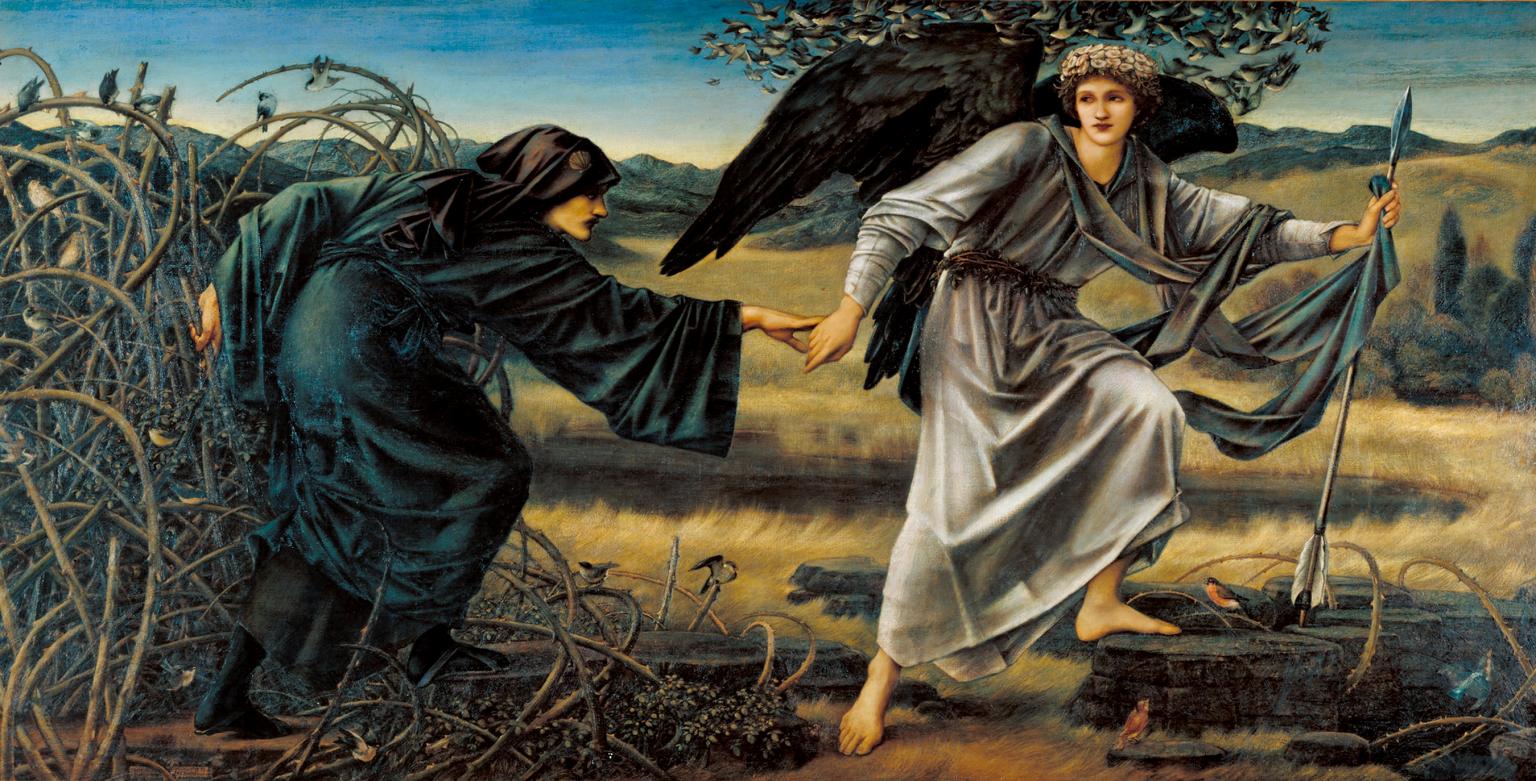 Love and the Pilgrim, by Sir Edward Coley Burne-Jones (1833-1898). 1896-97. Oil paint on canvas. 1575 x 3048 mm., frame: 2213 x 3697 x 180 mm. In the collection of the Tate Gallery, having been presented by the Art Fund in 1942. Reference: NO5381.Image kindly released under the Creative Commons CC-BY-NC-ND (3.0 Unported) license).
According to the gallery label of November 2016, althopugh begun much earlier, this was Burne-Jones's last completed major oil. He took the idea for it from Chaucer's Romaunt of the Rose, in which the God of Love guides a Pilgrim on the quest for love, and dedicated it another soul in quest for love, his good friend Algernon Swinburne. Part angel, part Cupid, Love is depicted here with Christian as well as classical elements, leading the struggling pilgrim out of thorny thickets to stepping-stones with yet more thorns, albeit watched by a tiny scarlet-breasted robin (even then, legend has it that the robin's breast was splashed by Christ's blood when he flew to comfort him at the crucifixion). Alison Smith comments:
Like the Dream of Launcelot, it is stark and austere, the sense of desolation enhanced by the empty pool and barren mountains in the distance. Apart from the birds and hands touching in the centre of the composition, there are few tender elements to relieve the eye from the overarching theme of endurance. Despite hours spent perfecting the details and tonal effects, it did not sell, leading Burne-Jones to reflect in private that his works were now out of sympathy with the new vogue for impressionist art taking hold among collectors. [140]
Indeed, though he had spent "a world of thought" on the painting, Burne-Jones had worried about it even while he was painting it. He had felt his energy dwindling, and had been disconsolate at the loss of old friends: "It seems as though nothing had been happening but deaths of artists" (Burne-Jones 283). This is such a sad ending to Burne-Jones's career. Nevertheless, the result can be recognised now as both powerful and moving. — Jacqueline Banerjee.
Bibliography
Burne-Jones, Georgiana. Memorials of Edward Burne-Jones, Vol. II. London: Macmillan, 1904. Internet Archive. Contributed by Brigham Young University. Web. 28 October 2018.
Smith, Alison. "Burne-Jones on Show: The Exhibition Pictures. 1877-98." Edward Burne-Jones. Ed. Smith. London: Tate Publishing, 2019. 121-45. [Review]
---
Created 28 October 2018