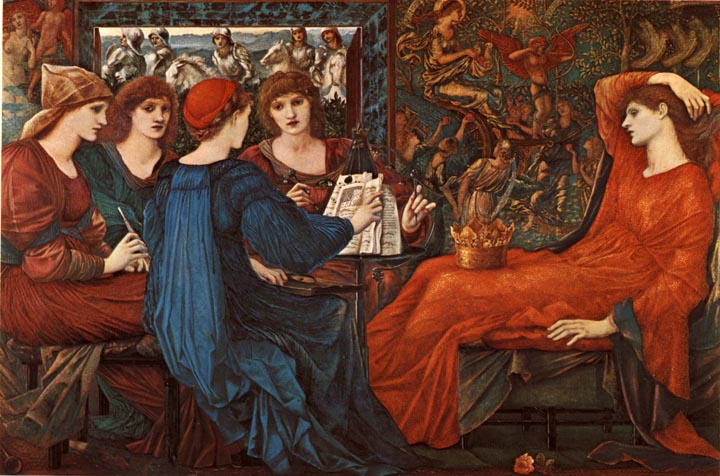 Laus Veneris (In Praise of Venus) by Sir Edward Coley Burne-Jones, Bt ARA. 1873-75. Oil on canvas, 47 x 71 inches. The Laing Art Gallery, Newcastle-upon-Tyne.
Martin Harrison and Bill Waters point out that the artist had done two earlier versions of the subject — a watercolor "in 1861 that relates to Swinburne's poem of the same title" (115) and "a sequence of illustrations" for William Morris's "The Hill of Venus" in The Earthly Paradise. Morris told the story of the cursed knight with "quiet lyricism without undue sensuality; Swinburne is the most carnal" (115). although Laus Veneris, like so many of of Burne-Jones's major works, began as an illustration for The Earthly Paradise, again like many of his works that began this way, Laus Veneris diverges from Morris, here portraying Swinburne's claustrophobic atmosphere. As Harrison and Waters correctly note,
There is an air of malaise within the painting. In the densely packed space the queen is portrayed in her claustrophobic chamber being entertained with music by her attendants. Outside, seen through a rectangular window, some knights ride by, and already they seem captives to the women within. Lest there should be any doubt in the viewer's mind, the artist has painted scenes on the walls of the chamber which reflect the central story, on the right the passing of Venus and in the upper-left corner a siren luring her victim. The colour is like that of a sumptuous illuminated manuscript from the Middle Ages. Reds, orange, purple and blue predominate and impart a sense of resplendent luxury — but with one exception, the rectangle containing the knights is modelled in cold blues — seemingly symbolic of their hopeless situation. The painting represents a peak in Bume-Jones's use of colour, nothing before it was as dramatically rich. He used darker tones in the eighties, and silvery ones in the nineties. [114]
The major difference between this painting and Swiburne's poem — a difference that has much to tell us about how meanings in word and image can diverge — derives from the fact that the poem takes the form of a dramatic monologue; that is, the speaker, not the poet, describes the stiffling, hopeless atmosphere in the Venusberg. The painting conveys the painter's view of things, the poem a character's — a point made particularly clear when the speaker blames Venus for what his own words reveal to be his fault. Burne-Jones presents an image of stiffling, enslaving erotic love; Swinburne a portrait of a lust-obsessed man who blames his fall upon the desired love object, not himself. [GPL]
Related Material
Bibliography
Harrison, Martin, and Bill Waters. Burne-Jones. London: Barrie & Jenkins, 1973.
Wood, Christopher. The Pre-Raphaelites. New York: Studio/Viking, 1981.
---
Last modified 26 October 2006

Link added 5 June 2021