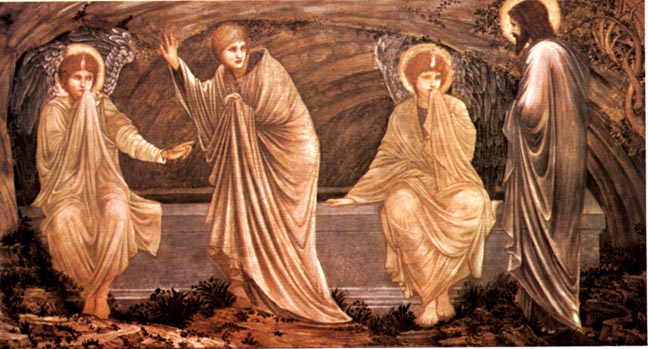 The Morning of the Resurrection by Sir Edward Coley Burne-Jones, Bt ARA. 1882. Oil on canvas, 32 1/2 x 60 inches.
Commentary by Anthea Brooke
The painting was exhibited at the Grosvenor Gallery with the quotation from St John Chapter XX, v 14, "And when she had thus said, she turned herself back, and saw Jesus standing, and knew not that it was Jesus." It represents, as was the painter's preference, the hiatus between an event and its effect -- here, that of the Magdalen's sight of, and recognition of Christ.
Two pencil studies for the head of Mary Magdalen were included in the exhibition held by Frederick Hollyer at 9 Pembroke Square in 1898. Two additional panels, The Annunciation, were added in 1893, but it has been suggested these were studio works (Sale Sotheby's Belgravia 37.3.1973 [40]). The painting was begun in 1882 and finished in time for the exhibition in 11886. In that year Burne-Jones made his only appearance at the RA with The Grave of the Sea, in which the mermaid's features were modelled on those of Laura Lyttleton, who died in the Easter of 1886. According to Georgina Burne-Jones, her husband expressed his sorrow by inscribing on the left corner of this painting "In Memoriam L. L. Easter 1886" but this is not visible.
The painting falls at the end of Burne-Jones' Mantegnesque phase, and the regular horizontals and verticals and colour strengthen the sad mood. According to de Lisle the angels are making the ancient sign of adoration, of covering the mouth. There is another later version with slight alterations in the Tate Gallery (No. 4888), on loan to Leighton House, which may be the version loaned to Manchester in 1887 by a Mrs. Dyson Perrin.
The Fine Art Society, London, has most generously given its permission to use information, images, and text from its catalogues in the Victorian Web. This generosity has led to the creation of hundreds and hundreds of the site's most valuable documents on painting, drawing, sculpture, furniture, textiles, ceramics, glass, metalwork, and the people who created them. The copyright on text and images from their catalogues remains, of course, with the Fine Art Society. [GPL]
Bibliography
Brooke, Anthea. Victorian Painting. Catalogue for exhibition November-December 1977. London: Fine Art Society, 1977.
---
Last modified 24 October 2004