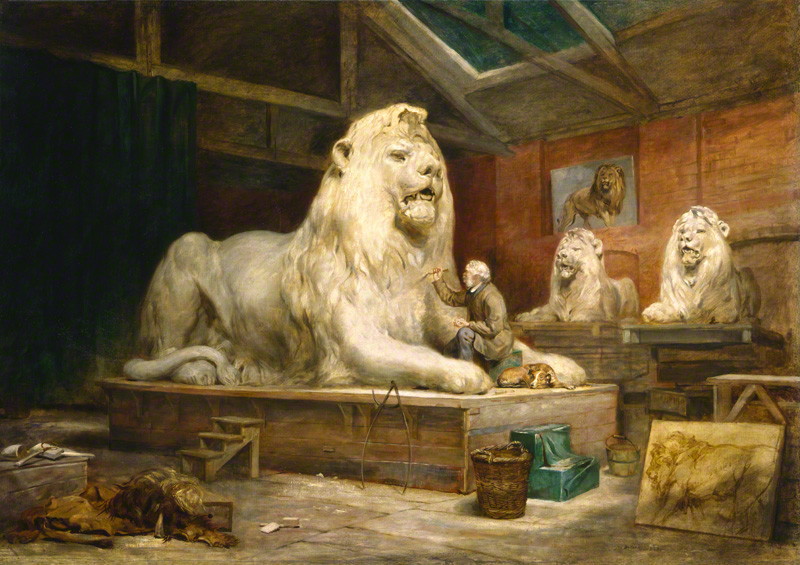 Sir Edwin Landseer by John Ballantyne (1815-1897). Oil on canvas, c. 1865. Size: 31 1/2 in. x 44 1/2 in. (800 mm x 1130 mm). Given by Sir William Agnew, 1st Bt, 1890. Primary Collection, NPG 835. © National Portrait Gallery, London, by kind permission. Commentary by Jacqueline Banerjee.
This is one of the series painted by Ballantyne of artists in their studios, the project for which he is best known now. Unusually, the artist shown here is completely dwarfed by his subject. Moreover, Ballantyne shows Landseer not in his own studio, but in Baron Carlo Marochetti's workshop/foundry. Here, he is working on the four enormous lions for the base of Nelson's Column in Trafalgar Square. Marochetti and Landseer were good friends: Landseer took a rare trip abroad to stay with Marcohetti in his castle at Vaux-sur-Seine in the following August (see Ormond 21).
Preliminary sketches of lions can be seen near the sculpture, and there are two completed lion sculptures in the right background. Landseer's dog is curled up on the plinth behind his master, a reminder of the kind of animal subject Landseer usually depicted, though he had been fascinated by lions since he was at least nine years old (see his drawing from that age of The Lion of Senegal, and had painted them in the past. Examples cited by Richard Ormond are The Desert (1849) and The Lion and the Lamb (1872).
Ballantyne's subject is of much interest now but at the time there was a problem: "Landseer proved an especially troublesome subject," says Joseph Lamb, "as he belatedly decided that he would not give permission for the painting of him completing the Trafalgar Square lions for the Nelson memorial to be exhibited in 1865 or to be reproduced and sold as chromolithographs because he was not yet ready to unveil these sculptures to the public." Ballantyne needed the money, and this must have been a blow to him.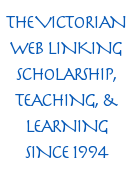 Related Material
Source
Lamb, Joseph F. "Ballantyne, John (1815–1897), portrait painter." Oxford Dictionary of National Biography. Online ed. Web. 4 December 2015.
Ormond, Richard. Sir Edwin Landseer: Catalogue of an exhibition, Philadelphia Museum of Art, Oct. 24, 1981-Jan. 3, 1982, and the Tate Gallery, London, Feb. 10-Apr. 12, 1982. Available on the Internet Archive. Web. 4 December 2015.
---
Last modified 3 March 2020