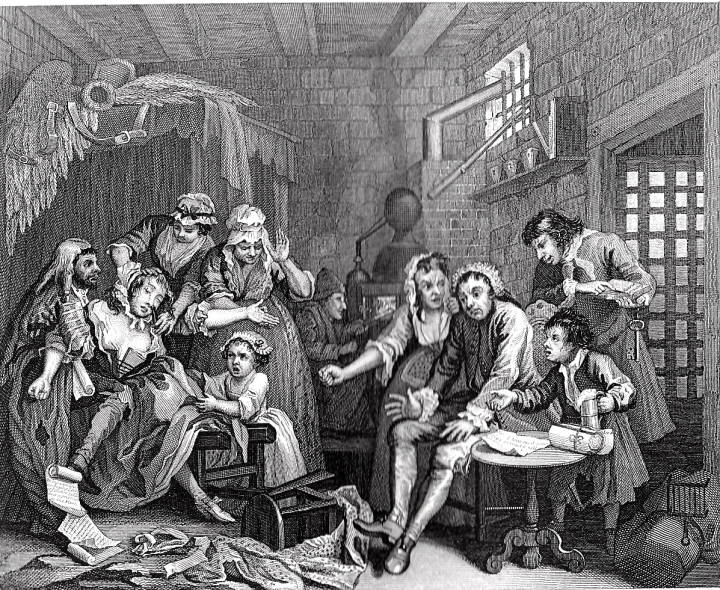 William Hogarth (1697-1764). The Rake's Progress, Plate VII "Prison Scene," engraved by H. Allard. Source: Complete Works, facing p. 100. Scanned image and text by Philip V. Allingham. [This image may be used without prior permission for any scholarly or educational purpose.]
According to the commentary by the Rev. J. Trusler and E. F. Roberts,
By a very natural transition, Mr. Hogarth has passed his hero from a gaming-house [scene 6] into a [debtors'] prison — the inevitable consequence of extravagance. He is here represented in a most distressing situation, without a coat to his back, without money, without a friend to help him. Beggared by a course of ill-luck, the common attendant on the gamester — having first made away with every valuable he was master of, and having now no other resource left to retrieve his wretched circumstances, he at last, vainly promising himself success, commences author, and attempts, though inadequate to the task, to write a play, which is lying on the table, just returned with an answer from the manager of the theatre, to whom he had offered it, that his piece would by no means so. Struck speechless with this disastrous occurrence, all his hopes vanish . . . . [100]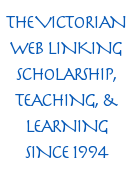 Bibliography
Complete works of William Hogarth ; in a series of one hundred and fifty superb engravings on steel, from the original pictures / with an introductory essay by James Hannay, and descriptive letterpress, by the Rev. J. Trusler and E.F. Roberts. London and New York: London Printing and Publishing Co., c.1870.
Paulson, Ronald. Hogarth: His Life, Art and Times, 2 vols. New Haven and London: Yale University Press, 1971.
---
Last modified 9 September 2004