Eunice and Ron Shanahan have shared with readers of the Victorian Web this material from their website, Letters from the Past. Click on thumbnails for larger images.
This letter from the past is dated 1840 and addressed to Joseph J. Lister, Upton, Essex ' for Mary Lister'. The letter was written by Ellen M Alexander of Goldrood, who had written in manuscript at the bottom left corner "Pd Bank"
.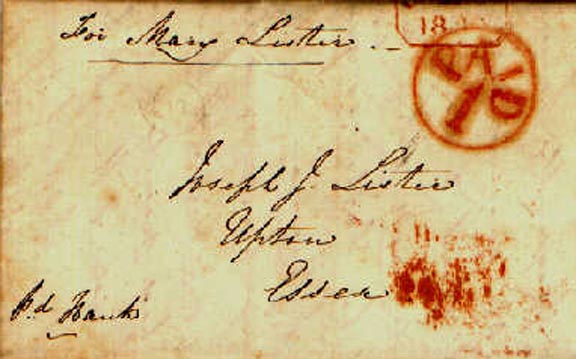 Postal markings :
Paid 1 - circular in red ink. Uniform Penny postage was introduced on 10th January 1840 for prepaid letters but the adhesive stamps were not available until 6 May 1840. Between those dates many Post Offices began to use locally produced hand stamps to show that the postage had been paid in cash. These stamps continued in use in some cases up to the 1850's.
Partial strike of a London 'tombstone' morning duty Paid stamp 30 MA 30 1840 in red, which surprisingly, was 2 days after posting from Ipswich. This type of datestamp with changes in shape and content was in use from 1800.
Ipswich datestamp MA 28 1840 with mileage removed. The Ipswich dated postmark shows the space at the bottom where the mileage figure - in this case 69 - has been removed
a poor strike of London Paid octagonal evening duty stamp showing Pd. MA 30 1840 in red. The month before the day, shows that it was applied at the Chief Office — in use 1838-1843.
---
Last modified 11 December 2002