Eunice and Ron Shanahan have shared with readers of the Victorian Web this material from their website, Letters from the Past. Click on thumbnails for larger images.
This letter from the past is dated 1840 and addressed to Joseph J. Lister, Upton, Essex ' for Mary Lister'. When I first saw this letter the addressee caught my eye immediately, as I knew that Joseph Lister, the surgeon, came from Upton, Essex. So I thought I had found a really important historical item. However, a brief check in the encyclopaedia showed that the dates were wrong, this would have to be for his father, Joseph Jackson Lister. The letter was written by Ellen M Alexander of Goldrood, who had written in manuscript at the bottom left corner "Pd Bank".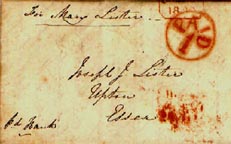 Postal Markings
Paid 1 - circular in red ink. Uniform Penny postage was introduced on 10th January 1840 for prepaid letters but the adhesive stamps were not available until 6 May 1840. Between those dates many Post Offices began to use locally produced hand stamps to show that the postage had been paid in cash. These stamps continued in use in some cases up to the 1850's.
Partial strike of a London 'tombstone' morning duty Paid stamp 30 MA 30 1840 in red, which surprisingly, was 2 days after posting from Ipswich. This type of datestamp with changes in shape and content was in use from 1800.
Ipswich datestamp MA 28 1840 with mileage removed. The Ipswich dated postmark shows the space at the bottom where the mileage figure - in this case 69 - has been removed. Mileage marks are a study by themselves. Prior to 1840 the postage rate was based partly on the distance a letter was carried, and the mileage (measured from the GPO in London) was included in the datestamp . However, this gradually faded out of use from 1829. As it no longer applied, some Post offices simply mutilated the datestamp by 'chiselling off' the mileage - leaving an incomplete circular frame
a poor strike of London Paid octagonal evening duty stamp showing Pd. MA 30 1840 in red. The month before the day, shows that it was applied at the Chief Office - in use 1838-1843. There are two London datestamps because there was no cross post from Suffolk to Essex, and so the mail would have been datestamped when it was received into London, and then when despatched from of London.
The Letter

Joseph Jackson Lister was born in London in 1786, married in 1818, and died in 1869. He was an amateur microscopist, whose discoveries helped perfect the objective lens system of the Microscope. He was made a Fellow of the Royal Society in 1832 in recognition of his discoveries and work on lenses and microscopes. Using his new lenses, Lister was the first to determine the true form of the red corpuscle in mammalian blood. He lived at Upton, and was the father of Joseph Lister the surgeon (1827-1912). I was unable to identify 'Mary Lister' but it seems could have been his mother (Mary Jackson) or possibly his wife.
Ellen Maria Alexander was born in 1808, the third of the 12 children of Samuel Alexander and Rebecca Biddle. So, when this letter was written, Ellen would have been 42 years old. She died in 1865. The Alexanders were well-known Quakers,(now known as the Society of Friends — members call each other "Friend") and were related to another Quaker banking family the Gurneys. The language used in Ellen's letter is that in use by Quakers at that time. The references to the Meetings, are the religious gatherings.
"Goldrood 3rd Mo. 28th, 1840
My Dear Friend,
I am really quite ashamed that your last kind communication to Mary Ann should have remained so long unnoticed, & to spur her up to the reply I have undertaken to share it with her, for though in consequence of my going to Welbis, I had not the pleasure of visiting you at Felixstowe and seeing so much of you as my sisters, still I trust my acquaintance with you is sufficient to allow of my doing so, especially as I am included with M.A in a very kind and agreeable invitation to pass a few days at your house when we come to London to attend the Yearly Meeting, which we quite hope to do. I think thou said'st either before or after; when the time draws nearer we can perhaps fix with more certainty, but if my mother and Lister's return from their long absence in time for us to be able to separate again, and you should still be disengaged from other company etc., we should much like to spend two or three days with you before the Meetings begin.
Please give our love to thy Mother and say we feel much obliged for her invitation. I hope she is now in stronger health, but the weather lately has not been favorable for invalids, so cold and ungenial, more snow has fallen during the last week than through the whole of the winter previously with us.
Our Quarterly Meeting was held last week and I hope you will not laugh when you hear my name called over with the rest of the representatives, I really thought it was very unsuitable, but as our Meeting was very small I believe they found it difficult to appoint the usual number without naming 'some young Friend', but I am afraid the J.M. will think things are come to a very low ebb in our Q.M. if they could do no better than that.
We have been a very snug little party this winter, but have not found it in the least dull as we have had plenty of occupations & frequently gone to spend a day or an evening with our friends. Jane Ransome spent a day with us lately & was quite well when we last met at meetings, but her Father is very poorly just now with Influenza, a complaint from which many hereaway have suffered lately.
Our Uncle D. Alexander was confined to his bed nearly a week from something of the kind & though better has not yet been out. I must now bring this to a conclusion or M.A. will say I shall leave nothing for her to write about.
I should be quite pleased to have a letter from thee as we shall want to hear from you before long. Give my kind love to Isabella & accept it thyself, my Dear Mary from thy sincere Friend
Ellen M. Alexander."
There is no further writing, so Mary Ann must have decided her sister had covered all the news
Credits and additional information
In my research, I received great help from, the secretary of the Suffolk Local History Council in England, Valerie Norrington who provided an astonishing amount of information about the family of the writer of the letter, and their house Goldrood.
Goldrood is situated in the Parish of St. Mary Stoke in the district of Belstead, Ipswich Suffolk, England. It was named for the land on which the house was built, and this referred to an ancient and celebrated CROSS or ROOD, which stood nearby in monastic times. It was mentioned in the reports of the Bailiffs as early as 1351 and 1522. In a book by Mary Ann, the ninth of the Alexander children, she gives this description
..."The pleasant family residence of Goldrood....was situated on rising ground a mile from the town, the upper windows commanding a view of the river Orwell, which flows in a winding course, picturesquely bounded by rural scenery, and at high tide presents the appearance of an inland lake."
It was the home of the Alexander family from the time it was built in 1811 for Ellen Maria's parents until 1850. It is still there, but is now the boarding house for a Catholic School, St. Joseph's College, and a listed historic building.
The family business was initially that of ship owners in the Iron and Corn trade. The Bank of Alexander & Co was opened at Needham Market in 1744 as a regular bank. A branch was opened in Ipswich on Market Days and this became a regular bank in 1767 and the head office in 1804. In 1809 the firm became known as Alexander Spooner and Alexander and from 1838 to 1845 (when this letter was written) was called Dykes Alexander & Co. Dykes Alexander was Ellen Maria's Great-Uncle. So it seems that the manuscript 'pd Bank' indicating that the postage was paid by the Bank, even on personal letters. Once the prepayment of postage became compulsory, any letters not paid were charged double - and no banker gives money away!
An interesting report was that in 1822 a member of the firm was robbed of £31,199 in notes on the way home from London. Imagine travelling at that time carrying such a huge amount of money. A reward of £1000. was offered and subsequently increased to £5000. Most of the money was recovered by negotiations with the thieves' solicitors. (I find that intriguing!)
As a footnote, Mary Ann was the ninth child, born in 1815. Her life must have been an extraordinary one, because not only did she live to be 98, but the man she married in 1850 - Henry Corder - who was born in 1814 also lived until he was 98. They were married for 62 years. Just imagine the changes they must have seen in their lives from 1815 to 1913.
Related Material
---
Last modified 11 December 2002