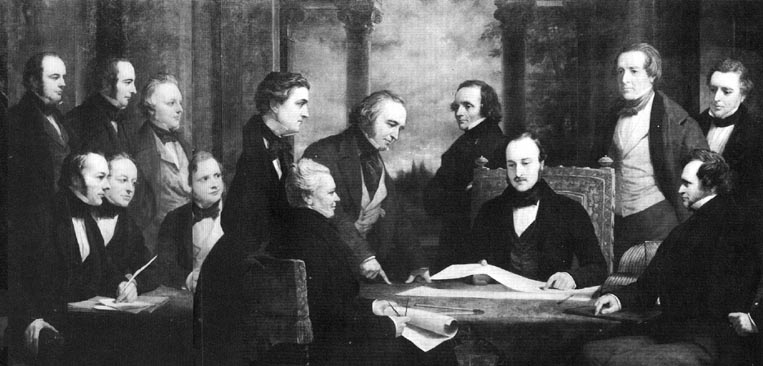 The Royal Commission for the Exhibition of 1851. Henry Wyndham Phillips (1820-1868).
Surrounded by his advisors, Prince Albert looks at plans for the Exhibition: According to J. B. Priestley, Edward George Geoffrey Smith Stanley, Lord Derby, who served as Tory Prime Minister in 1852-53, 1858-59, and 1866-68 sits at the right while Robert Stephenson, the great railway engineer, stands at the right. Next to him is Sir Robert Peel, Conservative Prime Minister in both the 1830s and '40s. Lord John Russell, Whig prime minister from 1846 to 1852 and 1866 to 1868, stands behind the Prince Consort facing left. Sir Joseph Paxton leans forward with his finger on the table. William Cubitt, who was president of The Institute of Civil Engineers and was Chairman of the Building committee of the Great Exhibition, sits in the front, and a Mr. Fox stands behind him. Sir Henry Cole is the shortest of the three men standing at left.
[An earlier version of the caption above misidentified the Cubitt present as "Lewis Cubitt, who designed King's Cross Railway Station," but Frank Clement-Lorford kindly wrote in 2006 to correct the error I had repeated from my source. He added: "William Cubitt was knighted at the same time as Joseph Paxton. Mixing up Cubitts is quite common, and several authors have done so, and so has The Institute of Civil Engineers. They have also mixed them up with the other William Cubitt, who was Lord Mayor of London in 1861. This William had a brother Thomas Cubitt, whom Victoria used to refer to as 'our Cubitt.' He was the largest builder in London, and his younger brother was Lewis Cubitt."]
In November 2011 Chris Wardley wrote to pout out "a memoir on the life of Sir Charles Fox in the proceedings of the Institution of Civil Engineers of 1874/75 (following his death in 1874) part of which reads:"
The most important work carried out by him and his partner, Mr. John Henderson, was the erection of the building for the Exhibition of 1851 in Hyde Park. The work was commenced towards the end of September 1850, and the Exhibition was opened by her Majesty the Queen on the 1st of May, 1851. For his connection with this work Sir Charles Fox, together with Sir William Cubitt and Sir Joseph Paxton, received the honour of knighthood
"Cubitt," he continues, "was what in today's terms would be described as Project Director and Fox, Henderson & Co Design & Build Contractors for the "Crystal Palace.""
Bibliography
Priestley, J. B. Victoria's Heyday: 1837-1901. New York: Harper & Row, 1977, p. 64-65.
Clement-Lorford, Frank. [Information about William Cubitt and others with same family name]. Private communication (e-mail), 12 July 2006.
Wardley, Chris. [Information about Sir Charles Fox, Cubitt, and others]. Private communication (e-mail), 9 November 2011.
---
Last modified 10 November 2011