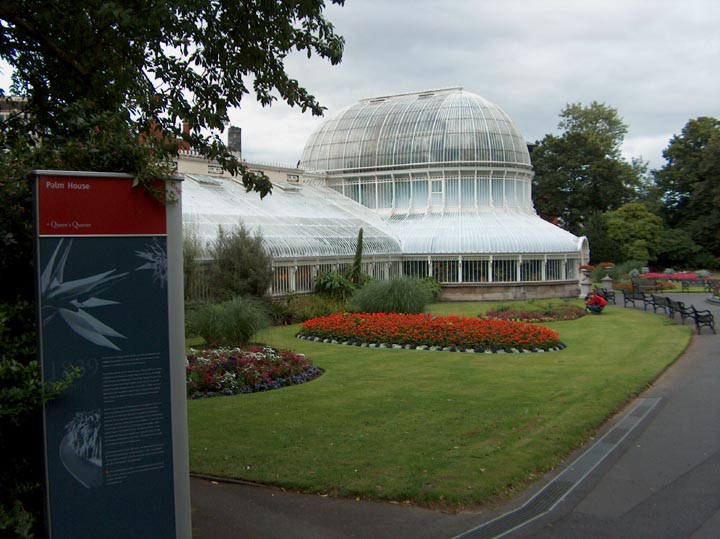 class="one">
Casa de las Palmeras
. Charles Lanyon, arquitecto; Richard Turner, constructor. 1839; cúpula 1852. Sefton Park, Belfast. Photograph 2006 by
Philip V. Allingham
[Esta imagen se puede usar sin autorización previa para cualquier propósito académico o educativo, siempre y cuando mencione (1) el nombre del fotógrafo y (2) enlace el documento a esta dirección URL.] class="lq">
The
Palm House is situated in Botanic Gardens, one of the most frequented parks in Belfast. It was designed by Charles Lanyon and is one of the oldest surviving examples of a curvilinear iron and glass structure anywhere.
The foundation stone for the Palm House was laid on 22 de junio de 1839 by the Marquis of Donegall and the following year its two wings, each 65 feet long, 20 feet high and 20 feet wide, were completed at a cost of £1,400. They were the work of the renowned ironmaster, Richard Turner of Dublin and pre-date by some years his greatest achievement, the Great Palm House at Kew (1844-1848). The 46 feet high elliptical dome was added in 1852 by Young of Edinburgh, finally realising Lanyon's elegant and symmetrical design and providing space for the growing of lofty plants.
The Palm House epitomizes the Victorian passion for horticulture at a time when advances in glasshouse technology allowed for the nurture of exotic species. Over the years, the Palm House has acquired a reputation for exciting plant collections. The cool wing houses all year round displays of colour and scent using such plants as geranium, fuchsia, begonia and bulb displays. The hotter stove wing is a mini jungle of exotic plants such as the striking bird of paradise, heavily scented frangipani and colourful bromeliads. The dome area contains a range of temperate and tropical plants. . . . . [www.gotobelfast.com; transcribed from a digital photograph on 3 September 2006 by PVA]
Nearby is the Botanic public house, providing refreshments for university students and walkers from the Botanic Gardens alike since 1867.
Otras imagénes
References
class="bibl">
Discover Sefton Park Palm House
. Liverpool: Preservation Trust Leaflet, n.d. Available on the web
here
.
class="date">Modificado por última vez 9 de diciembre de 2009