The servants were seized with alarm and lost no time in calling the Fontenay physician who was completely at sea about Des Esseintes' condition. He mumbled a few medical terms, felt his pulse, examined the invalid's tongue, unsuccessfully sought to make him speak, prescribed sedatives and rest, promised to return on the morrow and, at the negative sign made by Des Esseintes who recovered enough strength to chide the zeal of his servants and to bid farewell to this intruder, he departed and was soon retailing through the village the eccentricities of this house whose decorations had positively amazed him and held him rooted to the spot.
To the great astonishment of the domestics, who no longer dared stir from the servants' quarters, their master recovered in a few days, and they surprised him drumming against the window panes, gazing at the sky with a troubled look.
One afternoon the bells were peremptorily rung and Des Esseintes commanded his trunks to be packed for a long voyage.
While the man and the woman were choosing, under his guidance, the necessary equipment, he feverishly paced up and down the cabin of the dining room, consulted the timetables of the steamers, walked through his study where he continued to gaze at the clouds with an air at once impatient and satisfied.
For a whole week, the weather had been atrocious. Streams of soot raced unceasing across the grey fields of the sky-masses of clouds like rocks torn from the earth.
At intervals, showers swept downward, engulfing the valley with torrents of rain.
Today, the appearance of the heavens had changed. The rivers of ink had evaporated and vanished, and the harsh contours of the clouds had softened. The sky was uniformly flat and covered with a brackish film. Little by little, this film seemed to drop, and a watery haze covered the country side. The rain no longer fell in cataracts as on the preceding evening; instead, it fell incessantly, fine, sharp and penetrating; it inundated the walks, covered the roads with its innumerable threads which joined heaven and earth. The livid sky threw a wan leaden light on the village which was now transformed into a lake of mud pricked by needles of water that dotted the puddles with drops of bright silver. In this desolation of nature, everything was gray, and only the housetops gleamed against the dead tones of the walls.
"What weather!" sighed the aged domestic, placing on a chair the clothes which his master had requested of him — an outfit formerly ordered from London.
Des Esseintes' sole response was to rub his hands and to sit down in front of a book-case with glass doors. He examined the socks which had been placed nearby for his inspection. For a moment he hesitated on the color; then he quickly studied the melancholy day and earnestly bethought himself of the effect he desired. He chose a pair the color of feuillemort, quickly slipped them on, put on a pair of buttoned shoes, donned the mouse grey suit which was checquered with a lava gray and dotted with black, placed a small hunting cap on his head and threw a blue raincoat over him. He reached the railway station, followed by the servant who almost bent under the weight of a trunk, a valise, a carpet bag, a hat box and a traveling rug containing umbrellas and canes. He informed his servant that the date of his return was problematical, that he might return in a year, in a month, in a week, or even sooner, and enjoined him to change nothing in the house. He gave a sum of money which he thought would be necessary for the upkeep of the house during his absence, and climbed into the coach, leaving the old man astounded, arms waving and mouth gaping, behind the rail, while the train got under way.
He was alone in his compartment; a vague and dirty country side, such as one sees through an aquarium of troubled water, receded rapidly behind the train which was lashed by the rain. Plunged in his meditations, Des Esseintes closed his eyes.
Once more, this so ardently desired and finally attained solitude had ended in a fearful distress. This silence which formerly would have appeared as a compensation for the stupidities heard for years, now weighed on him with an unendurable burden. One morning he had awakened, as uneasy as a prisoner in his cell; his lips had sought to articulate sounds, tears had welled to his eyes and he had found it impossible to breathe, suffocating like a person who had sobbed for hours.
Seized with a desire to walk, to behold a human figure, to speak to someone, to mingle with life, he had proceeded to call his domestics, employing a specious pretext; but conversation with them was impossible. Besides the fact that these old people, bowed down by years of silence and the customs of attendants, were almost dumb, the distance at which Des Esseintes had always kept them was hardly conducive to inducing them to open their mouths now. Too, they possessed dull brains and were incapable of answering his questions other than by monosyllables.
It was impossible, therefore, to find any solace in their society; but a new phenomenon now occurred. The reading of the novels of Dickens, which he had lately undertaken to soothe his nerves and which had only produced effects the opposite of those hoped for, began slowly to act in an unexpected manner, bringing on visions of English existence on which he mused for hours; little by little, in these fictive contemplations, ideas insinuated themselves, ideas of the voyage brought to an end, of verified dreams on which was imposed the desire to experience new impressions, and thus escape the exhausting cerebral debauches intent upon beating in the void.
With its mist and rain, this abominable weather aided his thoughts still more, by reinforcing the memories of his readings, by placing under his eyes the unfading image of a land of fog and mud, and by refusing to let his ideas wander idly.
One day, able to endure it no longer, he had instantly decided. Such was his haste that he even took flight before the designated time, for he wished to shun the present moment, wished to find himself jostled and shouldered in the hubbub of crowded streets and railway stations.
"I breathe!" he exclaimed when the train moderated its waltz and stopped in the Sceaux station rotunda, panting while its wheels performed its last pirouettes.
Once in the boulevard d'Enfer, he hailed a coachman. In some strange manner he extracted a pleasure from the fact that he was so hampered with trunks and rugs. By promising a substantial tip, he reached an understanding with the man of the brown trousers and red waistcoat.
"At once!" he commanded. "And when you reach the rue de Rivoli, stop in front of Galignani's Messenger." Before departing, he desired to buy a Baedeker or Murray guide of London.
The carriage got under way heavily, raising rings of mud around its wheels and moving through marsh-like ground. Beneath the gray sky which seemed suspended over the house tops, water gushed down the thick sides of the high walls, spouts overflowed, and the streets were coated with a slimy dirt in which passersby slipped. Thickset men paused on sidewalks bespattered by passing omnibuses, and women, their skirts tucked up to the knees, bent under umbrellas, flattened themselves against the shops to avoid being splashed.
The rain entered diagonally through the carriage doors. Des Esseintes was obliged to lift the carriage windows down which the water ran, while drops of mud furrowed their way like fireworks on each side of the fiacre. To the monotonous sound of sacks of peas shaking against his head through the action of the showers pattering against the trunks and on the carriage rug, Des Esseintes dreamed of his voyage. This already was a partial realization of his England, enjoyed in Paris through the means of this frightful weather: a rainy, colossal London smelling of molten metal and of soot, ceaselessly steaming and smoking in the fog now spread out before his eyes; then rows of docks sprawled ahead, as far as the eye could reach, docks full of cranes, hand winches and bales, swarming with men perched on masts or astride yard sails, while myriads of other men on the quays pushed hogsheads into cellars.
All this was transpiring in vast warehouses along the river banks which were bathed by the muddy and dull water of an imaginary Thames, in a forest of masts and girders piercing the wan clouds of the firmament, while trains rushed past at full speed or rumpled underground uttering horrible cries and vomiting waves of smoke, and while, through every street, monstrous and gaudy and infamous advertisements flared through the eternal twilight, and strings of carriages passed between rows of preoccupied and taciturn people whose eyes stared ahead and whose elbows pressed closely against their bodies.
Des Esseintes shivered deliciously to feel himself mingling in this terrible world of merchants, in this insulating mist, in this incessant activity, in this pitiless gearing which ground millions of the disinherited, urged by the comfort-distilling philanthropists to recite Biblical verses and to sing psalms.
Then the vision faded suddenly with a jolt of the fiacre which made him rebound in his seat. He gazed through the carriage windows. Night had fallen; gas burners blinked through the fog, amid a yellowish halo; ribbons of fire swam in puddles of water and seemed to revolve around wheels of carriages moving through liquid and dirty flame. He endeavored to get his bearings, perceived the Carrousel and suddenly, unreasoningly, perhaps through the simple effect of the high fall from fanciful spaces, his thought reverted to a very trivial incident. He remembered that his domestic had neglected to put a tooth brush in his belongings. Then, he passed in review the list of objects packed up; everything had been placed in his valise, but the annoyance of having omitted this brush persisted until the driver, pulling up, broke the chain of his reminiscences and regrets.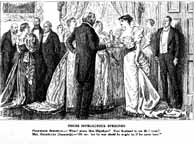 He was in the rue de Rivoli, in front of Galignani's Messenger. Separated by a door whose unpolished glass was covered with inscriptions and with strips of passe-partout framing newspaper clippings and telegrams, were two vast shop windows crammed with albums and books. He drew near, attracted by the sight of these books bound in parrot-blue and cabbage-green paper, embossed with silver and golden letterings. All this had an anti-Parisian touch, a mercantile appearance, more brutal and yet less wretched than those worthless bindings of French books; here and there, in the midst of the opened albums, reproducing humorous scenes from Du Maurier and John Leech, or the delirious cavalcades of Caldecott, some French novels appeared, blending placid and satisfied vulgarities to these rich verjuice hues. He tore himself away from his contemplation, opened the door and entered a large library which was full of people. Seated strangers unfolded maps and jabbered in strange languages. A clerk brought him a complete collection of guides. He, in turns, sat down to examine the books with their flexible covers. He glanced through them and paused at a page of the Baedeker describing the London museums.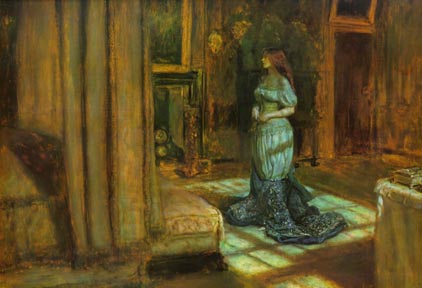 Th Eve of St. Agnes by John Everett Millais. [Click on this image for a larger picture and additional information.]
He became interested in the laconic and exact details of the guide books, but his attention wandered away from the old English paintings to the moderns which attracted him much more. He recalled certain works he had seen at international expositions, and imagined that he might possibly behold them once more at London: pictures by Millais — the Eve of Saint Agnes with its lunar clear green; pictures by Watts, strange in color, checquered with gamboge and indigo, pictures sketched by a sick Gustave Moreau, painted by an anaemic Michael Angelo and retouched by a Raphael submerged in blue. Among other canvasses, he recalled a Denunciation of Cain, an , some <Eves where, in the strange and mysterious mixture of these three masters, rose the personality, at once refined and crude, of a learned and dreamy Englishman tormented by the bewitchment of cruel tones.
These canvasses thronged through his memory. The clerk, astonished by this client who was so lost to the world, asked him which of the guides he would take. Des Esseintes remained dumbfounded, then excused himself, bought a Baedeker and departed. The dampness froze him to the spot; the wind blew from the side, lashing the arcades with whips of rain. "Proceed to that place," he said to the driver, pointing with his finger to the end of a passage where a store formed the angle of the rue de Rivoli and the rue Castiglione and, with its whitish panes of glass illumed from within, resembled a vast night lamp burning through the wretchedness of this mist, in the misery of this crazy weather.
It was the Bodega. Des Esseintes strayed into a large room sustained by iron pillars and lined, on each side of its walls, with tall barrels placed on their ends upon gantries, hooped with iron, their paunches with wooden loopholes imitating a rack of pipes and from whose notches hung tulip-shaped glasses, upside down. The lower sides were bored and hafted with stone cocks. These hogsheads painted with a royal coat of arms displayed the names of their drinks, the contents, and the prices on colored labels and stated that they were to be purchased by the cask, by the bottle or by the glass.
In the passage between these rows of casks, under the gas jets which flared at one end of an ugly iron-gray chandelier, tables covered with baskets of Palmers biscuits, hard and salty cakes, plates piled with mince pies and sandwiches concealing strong, mustardy concoctions under their unsavory covers, succeeded each other between a row of seats and as far as the end of this cellar which was lined with still more hogsheads carrying tiny barrels on their tops, resting on their sides and bearing their names stamped with hot metal into the oak.
An odor of alcohol assailed Des Esseintes upon taking a seat in this room heavy with strong wines. He looked about him. Here, the tuns were placed in a straight line, exhibiting the whole series of ports, the sweet or sour wines the color of mahogany or amaranth, and distinguished by such laudatory epithets as old port, light delicate, Cockburn's very fine, magnificent old Regina. There, protruding formidable abdomens pressed closely against each other, huge casks contained the martial Spanish wines, sherry and its derivatives, the san lucar, pasto, pale dry, oloroso and amontilla.
The cellar was filled with people. Leaning on his elbows on a corner of the table, Des Esseintes sat waiting for his glass of port ordered of a gentleman who was opening explosive sodas contained in oval bottles which recalled, while exaggerating, the capsules of gelatine and gluten used by pharmacies to conceal the taste of certain medicines.
Englishmen were everywhere, — awkward pale clergymen garbed in black from head to foot, with soft hats, laced shoes, very long coats dotted in the front with tiny buttons, clean-shaved chins, round spectacles, greasy flat hair; faces of tripe dealers and mastiff snouts with apoplectic necks, ears like tomatoes, vinous cheeks, blood-shot crazy eyes, whiskers that looked like those of some big monkeys; farther away, at the end of the wine store, a long row of tow-headed individuals, their chins covered with white hair like the end of an artichoke, reading, through a microscope, the tiny roman type of an English newspaper; opposite him, a sort of American commodore, dumpy and thick-set, with smoked skin and bulbous nose, was sleeping, a cigar planted in the hairy aperture of his mouth. Opposite were frames hanging on the wall enclosing advertisements of Champagne, the trade marks of Perrier and Roederer, Heidsieck and Mumm, and a hooded head of a monk, with the name of Dom Perignon, Rheims, written in Gothic characters.

Two depictions of Tulkinghorn [click on thumbnails for larger images].
A certain enervation enveloped Des Esseintes in this guard house atmosphere; stunned by the prattle of the Englishmen conversing among themselves, he fell into a revery, evoking, before the purple port which filled the glasses, the creatures of Dickens that love this drink so very much, imaginatively peopling the cellar with new personages, seeing here, the white head of hair and the ruddy complexion of Mr. Wickfield; there, the phlegmatic, crafty face and the vengeful eye of Mr. Tulkinghorn, the melancholy solicitor in Bleak House. Positively, all of them broke away from his memory and installed themselves in the Bodega, with their peculiar characteristics and their betraying gestures. His memories, brought to life by his recent readings, attained a startling precision. The city of the romancer, the house illumined and warmed, so perfectly tended and isolated, the bottles poured slowly by little Dorrit and Dora Copperfield and Tom Pinch's sister, appeared to him sailing like an ark in a deluge of mire and soot. Idly he wandered through this imaginary London, happy to be sheltered, as he listened to the sinister shrieks of tugs plying up and down the Thames. His glass was empty. Despite the heavy fumes in this cellar, caused by the cigars and pipes, he experienced a cold shiver when he returned to the reality of the damp and fetid weather.
He called for a glass of amontillado, and suddenly, beside this pale, dry wine, the lenitive, sweetish stories of the English author were routed, to be replaced by the pitiless revulsives and the grievous irritants of Edgar Allen Poe; the cold nightmares of "The Cask of Amontillado", of the man immured in a vault, assailed him; the ordinary placid faces of American and English drinkers who occupied the room, appeared to him to reflect involuntary frightful thoughts, to be harboring instinctive, odious plots. Then he perceived that he was left alone here and that the dinner hour was near. He payed his bill, tore himself from his seat and dizzily gained the door. He received a wet slap in the face upon leaving the place. The street lamps moved their tiny fans of flame which failed to illuminate; the sky had dropped to the very houses. Des Esseintes viewed the arcades of the rue de Rivoli, drowned in the gloom and submerged by water, and it seemed to him that he was in the gloomy tunnel under the Thames. Twitchings of his stomach recalled him to reality. He regained his carriage, gave the driver the address of the tavern in the rue d'Amsterdam near the station, and looked at his watch: seven o'clock. He had just time to eat dinner; the train would not leave until ten minutes of nine, and he counted on his fingers, reckoning the hours of travel from Dieppe to Newhaven, saying to himself: "If the figures of the timetable are correct, I shall be at London tomorrow at twelve-thirty."
The fiacre stopped in front of the tavern. Once more, Des Esseintes alighted and entered a long dark plain room, divided into partitions as high as a man's waist, — a series of compartments resembling stalls. In this room, wider towards the door, many beer pumps stood on a counter, near hams having the color of old violins, red lobsters, marinated mackerel, with onions and carrots, slices of lemon, bunches of laurel and thym, juniper berries and long peppers swimming in thick sauce.
One of these boxes was unoccupied. He took it and called a young black-suited man who bent forward, muttering something in a jargon he could not understand. While the cloth was being laid, Des Esseintes viewed his neighbors. They were islanders, just as at the Bodega, with cold faience eyes, crimson complexions, thoughtful or haughty airs. They were reading foreign newspapers. The only ones eating were unescorted women in pairs, robust English women with boyish faces, large teeth, ruddy apple cheeks, long hands and legs. They attacked, with genuine ardor, a rumpsteak pie, a warm meat dish cooked in mushroom sauce and covered with a crust, like a pie.
After having lacked appetite for such a long time, he remained amazed in the presence of these hearty eaters whose voracity whetted his hunger. He ordered oxtail soup and enjoyed it heartily. Then he glanced at the menu for the fish, ordered a haddock and, seized with a sudden pang of hunger at the sight of so many people relishing their food, he ate some roast beef and drank two pints of ale, stimulated by the flavor of a cow-shed which this fine, pale beer exhaled.
His hunger persisted. He lingered over a piece of blue Stilton cheese, made quick work of a rhubarb tart, and to vary his drinking, quenched his thirst with porter, that dark beer which smells of Spanish licorice but which does not have its sugary taste.
He breathed deeply. Not for years had he eaten and drunk so much. This change of habit, this choice of unexpected and solid food had awakened his stomach from its long sleep. He leaned back in his chair, lit a cigarette and prepared to sip his coffee into which gin had been poured.
The rain continued to fall. He heard it patter on the panes which formed a ceiling at the end of the room; it fell in cascades down the spouts. No one was stirring in the room. Everybody, utterly weary, was indulging himself in front of his wine glass.
Tongues were now wagging freely. As almost all the English men and women raised their eyes as they spoke, Des Esseintes concluded that they were talking of the bad weather; not one of them laughed. He threw a delighted glance on their suits whose color and cut did not perceivably differ from that of others, and he experienced a sense of contentment in not being out of tune in this environment, of being, in some way, though superficially, a naturalized London citizen. Then he suddenly started. "And what about the train?" he asked himself. He glanced at his watch: ten minutes to eight. "I still have nearly a half-hour to remain here." Once more, he began to muse upon the plan he had conceived.
In his sedentary life, only two countries had ever attracted him: Holland and England.
He had satisfied the first of his desires. Unable to keep away, one fine day he had left Paris and visited the towns of the Low Lands, one by one.
In short, nothing but cruel disillusions had resulted from this trip. He had fancied a Holland after the works of Teniers and Steen, of Rembrandt and Ostade, in his usual way imagining rich, unique and incomparable Ghettos, had thought of amazing kermesses, continual debauches in the country sides, intent for a view of that patriarchal simplicity, that jovial lusty spirit celebrated by the old masters.
Certainly, Haarlem and Amsterdam had enraptured him. The unwashed people, seen in their country farms, really resembled those types painted by Van Ostade, with their uncouth children and their old fat women, embossed with huge breasts and enormous bellies. But of the unrestrained joys, the drunken family carousals, not a whit. He had to admit that the Dutch paintings at the Louvre had misled him. They had simply served as a springing board for his dreams. He had rushed forward on a false track and had wandered into capricious visions, unable to discover in the land itself, anything of that real and magical country which he had hoped to behold, seeing nothing at all, on the plots of ground strewn with barrels, of the dances of petticoated and stockinged peasants crying for very joy, stamping their feet out of sheer happiness and laughing loudly.
Decidedly nothing of all this was visible. Holland was a country just like any other country, and what was more, a country in no wise primitive, not at all simple, for the Protestant religion with its formal hypocricies and solemn rigidness held sway here.
The memory of that disenchantment returned to him. Once more he glanced at his watch: ten minutes still separated him from the train's departure. "It is about time to ask for the bill and leave," he told himself.
He felt an extreme heaviness in his stomach and through his body. "Come!" he addressed himself, "let us drink and screw up our courage." He filled a glass of brandy, while asking for the reckoning. An individual in black suit and with a napkin under one arm, a sort of majordomo with a bald and sharp head, a greying beard without moustaches, came forward. A pencil rested behind his ear and he assumed an attitude like a singer, one foot in front of the other; he drew a note book from his pocket, and without glancing at his paper, his eyes fixed on the ceiling, near a chandelier, wrote while counting. "There you are!" he said, tearing the sheet from his note book and giving it to Des Esseintes who looked at him with curiosity, as though he were a rare animal. What a surprising John Bull, he thought, contemplating this phlegmatic person who had, because of his shaved mouth, the appearance of a wheelsman of an American ship.
At this moment, the tavern door opened. Several persons entered bringing with them an odor of wet dog to which was blent the smell of coal wafted by the wind through the opened door. Des Esseintes was incapable of moving a limb. A soft warm languor prevented him from even stretching out his hand to light a cigar. He told himself: "Come now, let us get up, we must take ourselves off." Immediate objections thwarted his orders. What is the use of moving, when one can travel on a chair so magnificently? Was he not even now in London, whose aromas and atmosphere and inhabitants, whose food and utensils surrounded him? For what could he hope, if not new disillusionments, as had happened to him in Holland?
He had but sufficient time to race to the station. An overwhelming aversion for the trip, an imperious need of remaining tranquil, seized him with a more and more obvious and stubborn strength. Pensively, he let the minutes pass, thus cutting off all retreat, and he said to himself, "Now it would be necessary to rush to the gate and crowd into the baggage room! What ennui! What a bore that would be!" Then he repeated to himself once more, "In fine, I have experienced and seen all I wished to experience and see. I have been filled with English life since my departure. I would be mad indeed to go and, by an awkward trip, lose those imperishable sensations. How stupid of me to have sought to disown my old ideas, to have doubted the efficacy of the docile phantasmagories of my brain, like a very fool to have thought of the necessity, of the curiosity, of the interest of an excursion!"
"Well!" he exclaimed, consulting his watch, "it is now time to return home."
This time, he arose and left, ordered the driver to bring him back to the Sceaux station, and returned with his trunks, packages, valises, rugs, umbrellas and canes, to Fontenay, feeling the physical stimulation and the moral fatigue of a man coming back to his home after a long and dangerous voyage.
---
Last modified 28 February 2008