Please note that all the images of stained glass here were scanned from the books under review, by kind permission of Alastair Carew-Cox, whose copyright they remain. Click on them to enlarge them — but note that even then they do not measure up to the original colour plates, on high-quality glossy paper.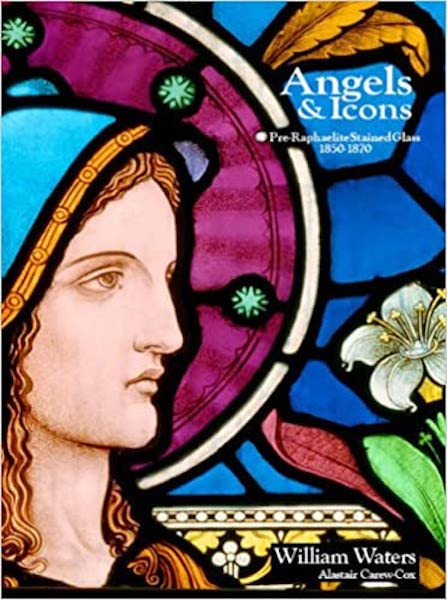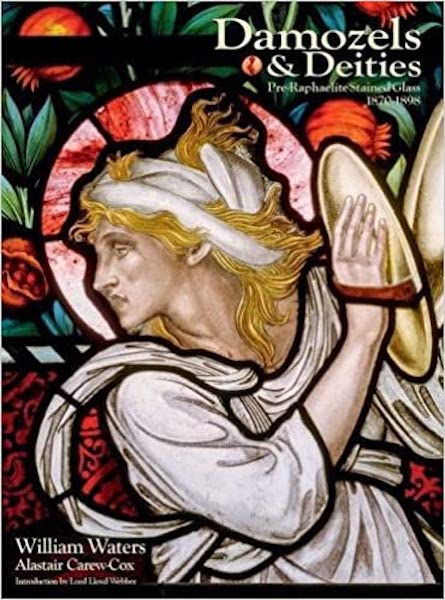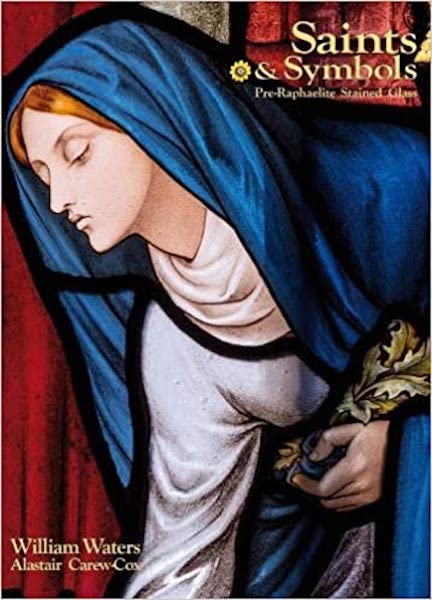 This marvellous trilogy is an absolute joy for anyone who loves stained glass, with its authoritative discussions by William Waters, and its simply brilliant photographs by Alastair Carew-Cox — a feast of four to five hundred illustrations in each volume. The books can be read independently, but note that they complement each other in important ways. For example, Angels & Icons has a very extensive gazetteer, but its index only comes in Damozels & Deities. This makes it advisable to have both, especially for reference purposes. Then, the third book, Saints and Symbols, covers another clutch of important and highly original artists, which it would be a shame to miss (in fact, this volume was my personal favourite). All three together make the best option, providing extensive insight into what was undoubtedly the golden age of stained glass in Britain, a time when, says Waters, "the light of genius illuminated windows throughout the country" (11).
Angels and Icons
The opening paragraph of Angels & Icons sets out Waters's aim clearly: the books constitute "an attempt to present stained glass as a fine art" (11). He starts promisingly with John Richard Clayton, in whose studio worked some of the biggest names in stained-glass design and production between 1850 and 1870. These included Alfred Bell, who became Clayton's partner in 1856; James Butler, Robert Turnill Bayne and Clement Heaton, who were all in partnership together from 1862; Alfred Hassam (1842-1869), a precociously talented artist who joined Heaton, Butler and Bayne in the early 1860s, but unfortunately died young; and Henry Holiday, who was employed "on occasion" by the same firm from 1865 (218). What a galaxy!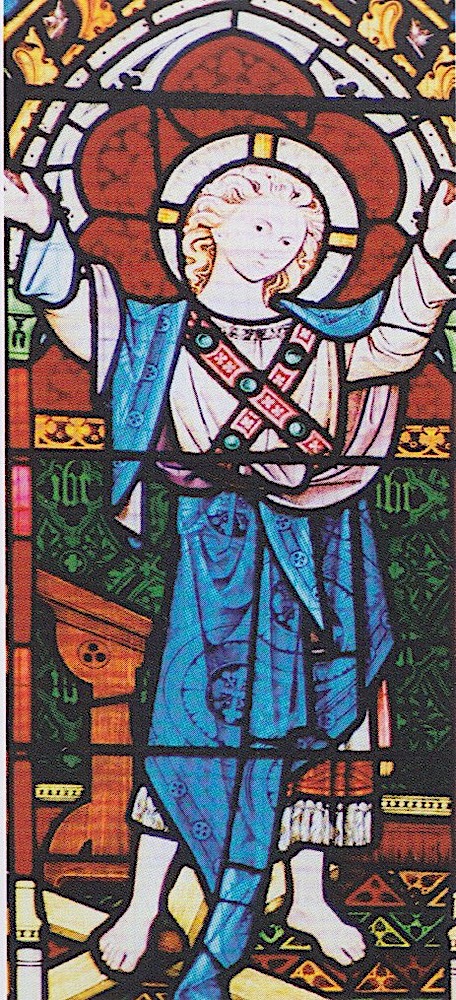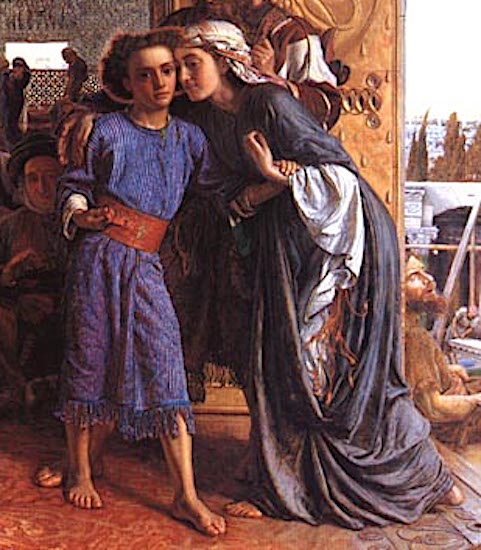 Left: Detail from The Finding of the Saviour in the Temple, 1854-60 (cropped from our own image). Right: Detail from Clayton's Christ in the Carpenter's Shop, c.1860, in the north chapel at Aylsham (51).
These stained glass designers and makers are now apt to be overshadowed by the associates of William Morris, but Waters is keen to demonstrate that they too were directly or indirectly linked with the Pre-Raphaelite painters. Clayton, for example, met and became friends with Rossetti, Holman Hunt and Millais at the Royal Academy Schools when he spent several months there in 1849, studying sculpture. He and his associates reflected Pre-Raphaelite values, and shared the inspiration that drove the Gothic Revival. More generally, they shared their wider interest in the medieval age. Side by side in these early pages, Waters puts the two details shown above right, one from a well-known painting by Holman Hunt and one from a Clayton window, in which he points out similarities in Jesus's features and stance, noting the similar way in which both figures "engage the viewer with a direct gaze and have a disturbing but challenging innocence" (caption, 51).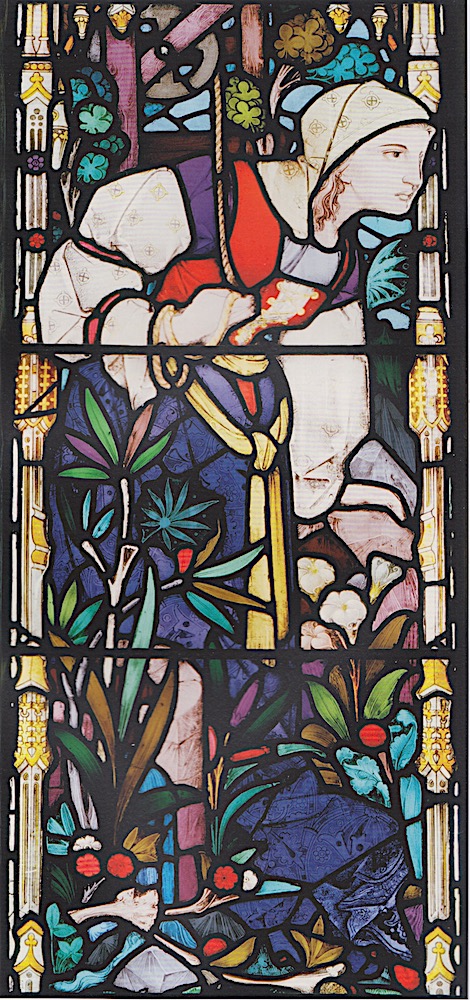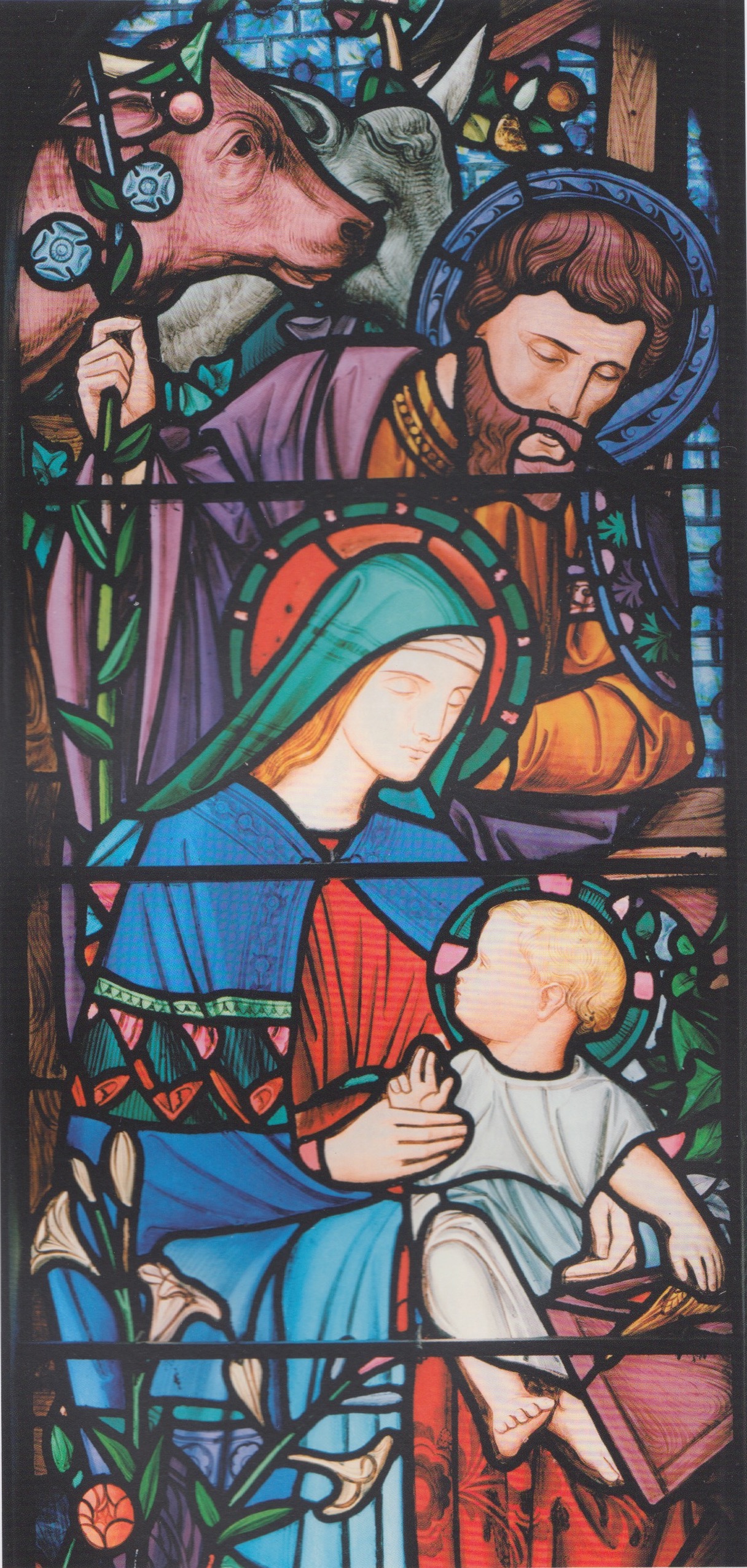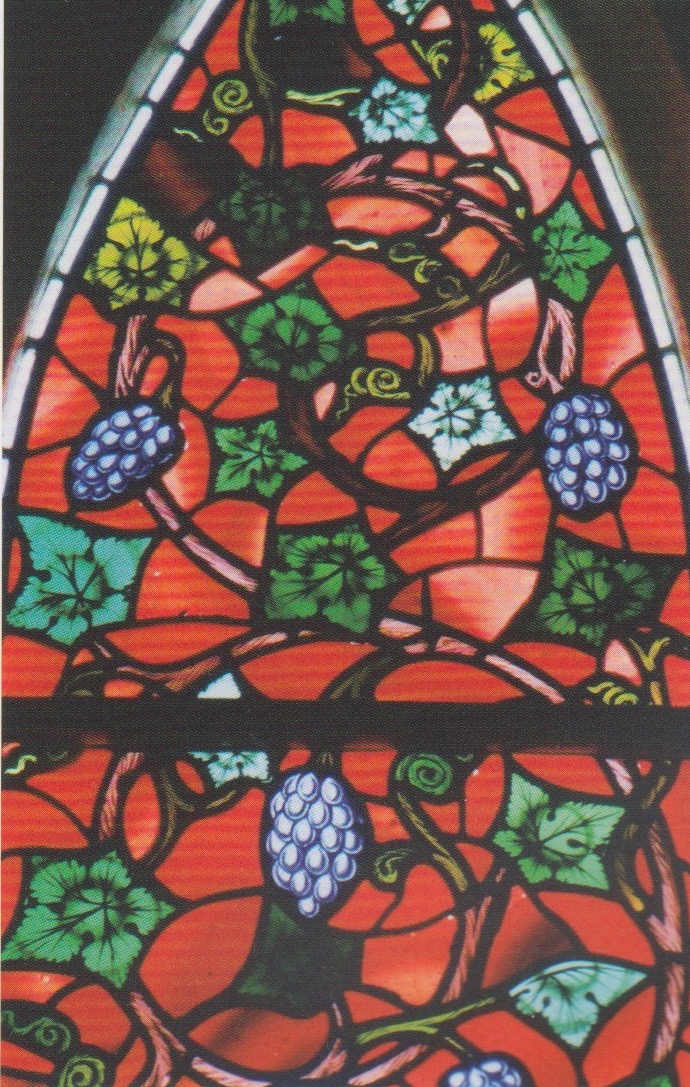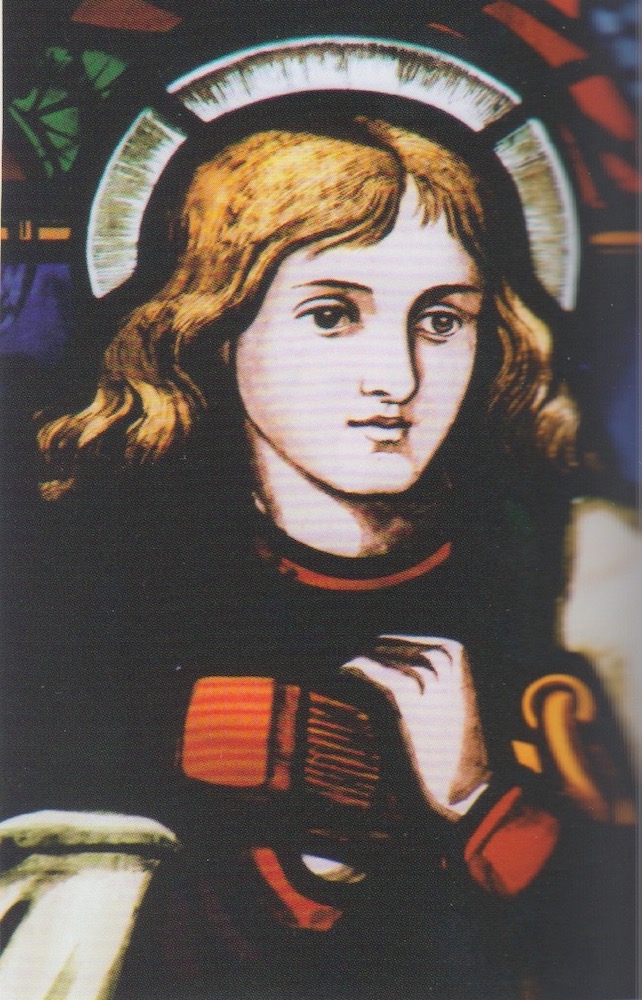 Left to right: (a) Bayne and Hassam's "Woman at the Well" leans forward to listen carefully to Jesus's words in a "most important window from the mid-1860s" in Bradford Cathedral (caption, 207). (b) A detail from Westlake's "most Pre-Raphaelite" work, "strongly influenced by his association with [William] Burges," at All Saints, Higher Walton, c. 1863 (caption, 132). (c) and (d) Two details from Holiday's work for James Powell and Sons at St Michael, Hackthorn (1865), with a floral section above the features of Hope. Holiday would use the same model, or type of model, as "his close friend," Edward Burne-Jones (caption, p. 262).
Contemporary with these two firms was that of Lavers, Barraud and Westlake, their very fine work equally — and equally unjustly — apt to be overshadowed by the productions of Morris & Co. Again, Waters's background material proves very useful, both for developments in stained glass and the individual artists: his section on the Victorian belief in revelation through nature, for instance, helps to explain the many windows in which flowers of different kinds feature so prominently, often conveying meanings which the Victorians would have "read" at once. Such beautifully composed windows support Waters's case for seeing stained glass as a fine rather than a decorative art. Despite not having its own index, this first book has a useful "Select Bibliography," as well as the gazetteer mentioned above. The latter is helpfully divided according to counties — it must have been a huge labour of love.
Damozels & Deities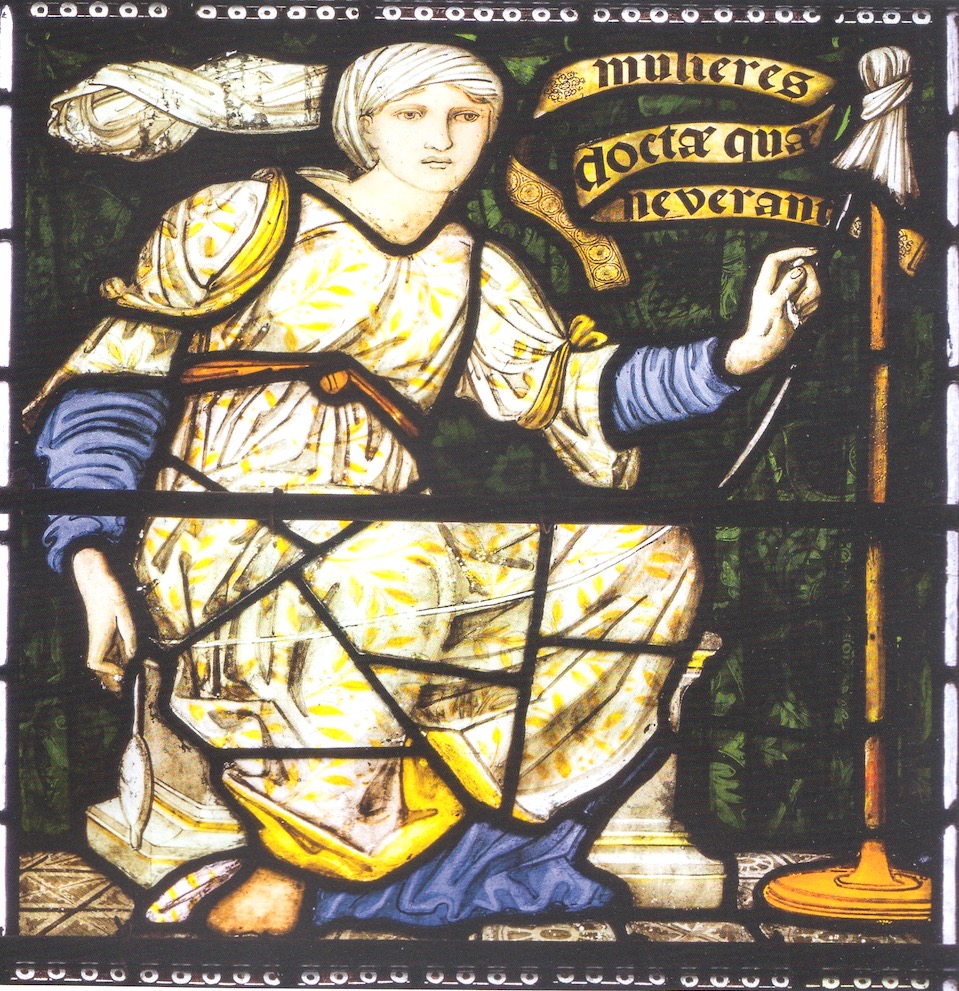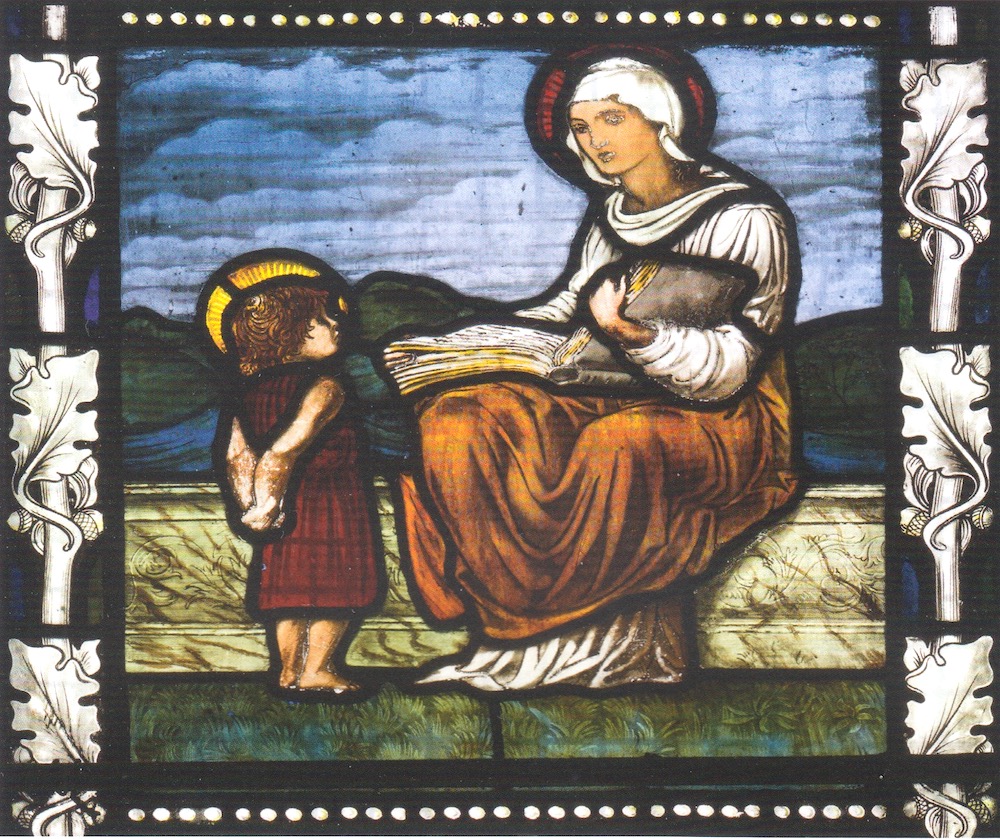 Two works by Morris & Co. and Burne-Jones at Paisley Abbey, from 1874. Left: The Virtuous Woman, She Layeth Her Hand to the Spindle (152). Right: Eunice Instructing Timothy (153).
In the "Historical Context" at the beginning of Damozels & Deities, Waters quotes Walter Crane as saying that the distinction between fine and decorative art has become "artificial," and that therefore designers' names should be made known rather than "concealed under the designation of a firm" (22). This volume will be many people's favourite, because it focuses on Morris & Co. and the designs of Burne-Jones, someone, as it happens, whose personal style makes a signature unnecessary. Here, for example, is his outstanding work at St Philip's Cathedral, Birmingham. Of one of these masterpeices, the Morris/Burne-Jones Last Judgement window, Walters writes movingly, "It is an optimistic vision infused with an awesome power by its size and brilliance of ruby glass. The world collapses but peace reigns above. Mankind may be apprehensive, but all will be well" (131). The combination of commentaries like this with Carew-Cox's glorious photographs often makes it hard to turn the page. But it is, after all, necessary to follow the development of Burne-Jones's career. The two works from Paisley Abbey shown above, for example, are among five here which illustrate the new surge of creative energy he experienced in the mid 1870s, and give a "hint of the visionary nature of the works that characterise his mature years" (caption, p. 153).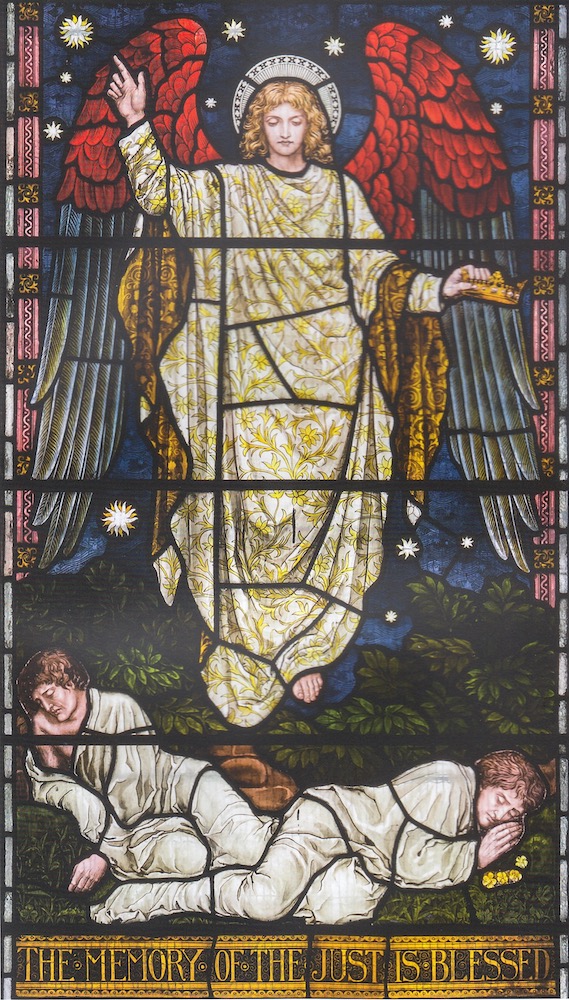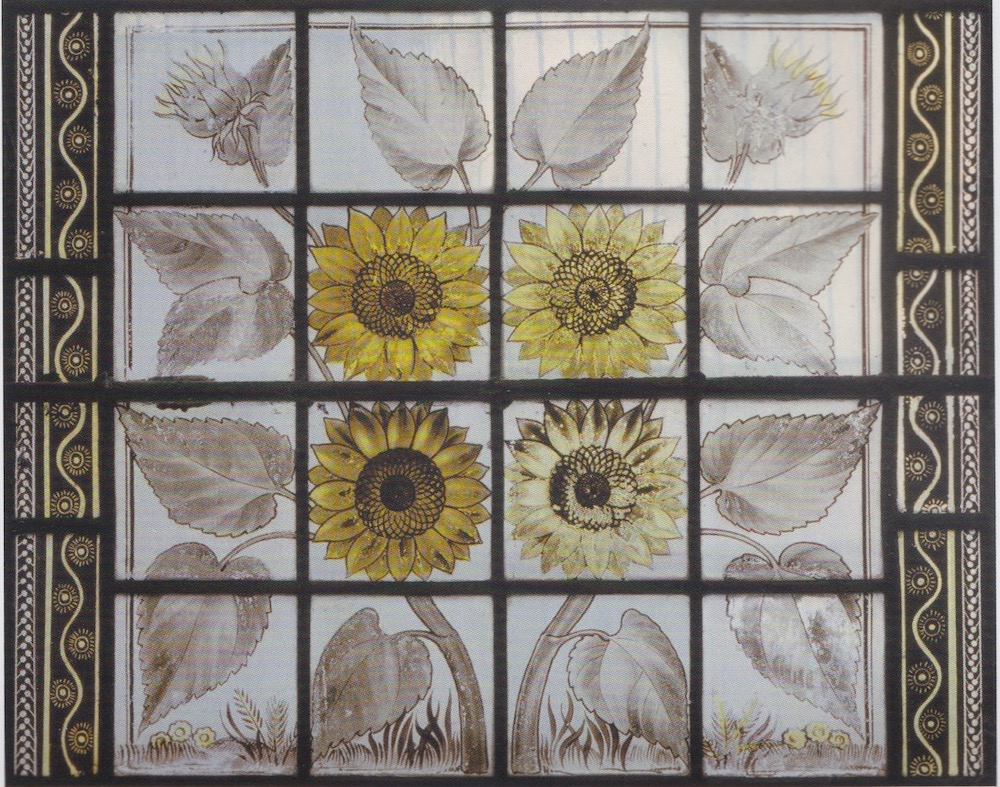 Left to right: (a) Heaton, Butler and Bayne window designed by Henry Holiday in St Stephen, Kirkstall, c. 1870 (183). (b) Sunflower pattern in St James, Shere, from Powell's workshop, 1875 (222) (c) Daniel Cottier's "Foolish Virgins" with their empty lamps, 1868, in St Nicholas, Cramlington (317).
Quite rightly, Morris and Burne-Jones share the stage here with Powell's and their star designer, Holiday. Already encountered in the earlier volume, Holiday gets more space here, and we see how he took excellence in stained glass forward into the twentieth century. This volume also discusses the work of several less well-known artists, including the Scotsman, Daniel Cottier, who forged a reputation abroad, especially in America, and is often overlooked in England. Most welcome, too, are sections on cartoons, studio assistants & apprentices, who generally get no credit whatsoever, and domestic glass. As well as having a good contents list, essential for the range of material covered, this volume too has a gazetteer. Like the one in Angels and Icons, it refers us to other easily accessible sources, but provides information where needed, in this case for the Plymouth firm of Fouracre & Watson, which covered mainly the Devon and Cornwall areas, but whose records were destroyed in World War II.
Saints and Symbols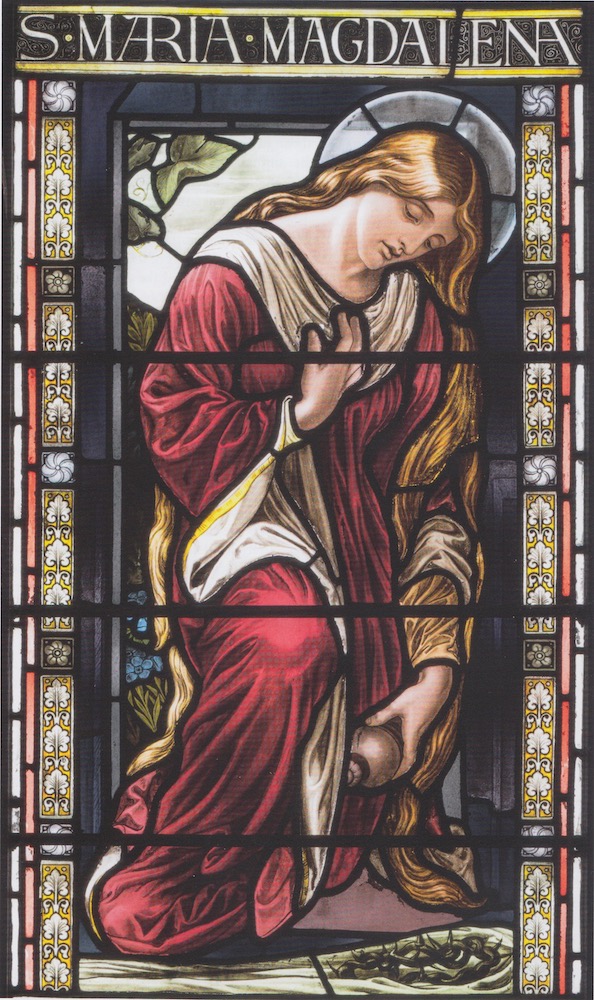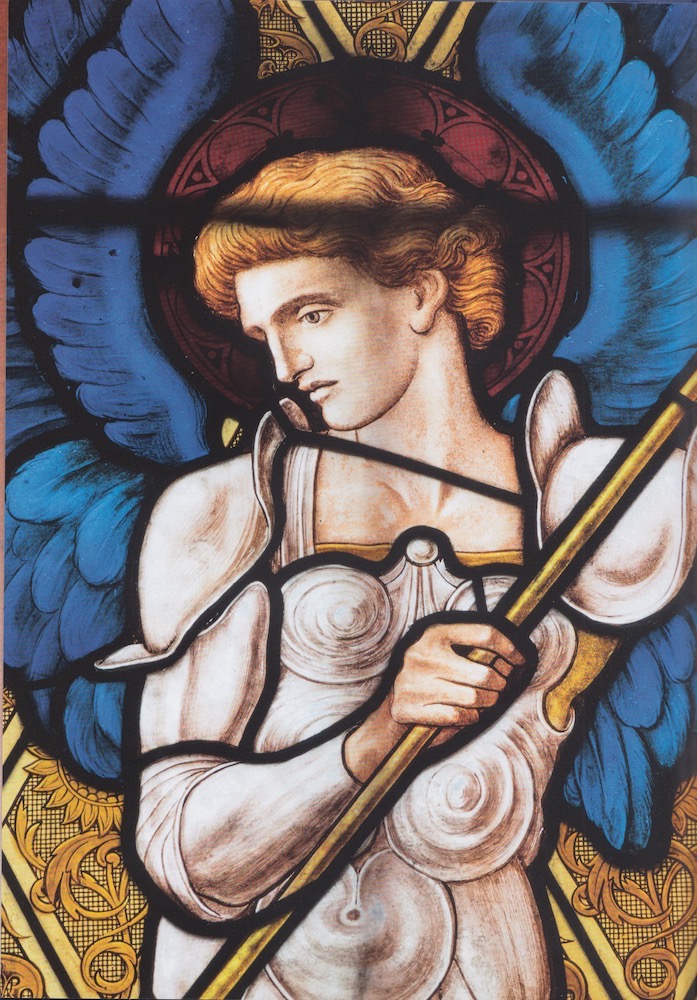 Left: Detail of St Mary Magdalena by Frederic Shields in Eaton Chapel, sketched in December 1878 (caption, p. 290). Right: St Michael by William De Morgan, St Michael, Rocester, 1871 (frontispiece).
Henry Holiday lived to see the Pre-Raphaelite influence fade, at least until its more recent resurgence in the later twentieth century. In response to this development, the third and last in this stunning set of books, Saints & Symbols, gathers together five nineteenth-century artists, in some cases better known for their work in other mediums, who produced highly individualistic stained glass: Ford Madox Brown, with his new note of social realism; Frederic Shields, whose tender portrait of the Virgin Mary adorns the book's front cover; William De Morgan, whose work is seen on the back cover, as well as in the frontispiece (shown above) and end papers; John George Sowerby, who took on T. R. Spence as one of his designers; and Walter Crane, whose powerful windows in the Church of the Arc of the Covenant, Stamford Hill, London, are given detailed treatment and presented here (see 228-39) in all their glory. Close studies of these windows produces some significant findings, and show just how much insight and knowledge Waters brings to each of his subjects. Especially useful is his integration of these artists' forays into stained glass with their individual oeuvres. Taken together, these five artists made an important contribution to the stained glass of the late nineteenth-century Aesthetic Movement, further blurring the distinction between fine and decorative art.
To come back to Waters's central argument, then, is that distinction quite unwarranted here? On the one hand, the stained glass designer operated within limitations. His (or occasionally her) output was affected by the availability of funds, as well as "the demands of the patron, religious narrative and the architectural context" (292), not to mention the pressure exerted by long ecclesiastical tradition. Materials and methodologies inevitably played a large part in the final work: for example, thin glass was used for the brightest colour, but "slab" glass produced something novel — texture. The role and prominence of the leading was another consideration. Yet another factor was the sheer complexity of the process. It was necessarily collaborative. In his discussion of Crane's windows for the church in Stamford Hill, for instance, Waters notes that "the Elijah window has major differences from the cartoon" (230).
Yet, yet — as Waters says in the Conclusion of Saints and Symbols — the involvement of Rossetti, Morris and Burne-Jones, and the explosion of creativity as other artists were drawn to the medium, surely did raise it to the status of an art form (292). That this was recognised at the time is demonstrated by its appearance at contemporary exhibitions. Now, however, nothing provides better proof of its status than the work itself, lavishly presented in these three books in all its glory, in one magnificent photograph after another.
Bibliography
Note: Alastair Carew-Cox has very kindly offered our readers a discount on these books, as indicated below. Buyers from abroad can email him for postage costs: a_carewcox@yahoo.co.uk (payment can be made by Paypal to that address).
Waters, William (author), and Alastair Carew-Cox (photographer). Angels & Icons, Pre-Raphaelite Stained Glass, 1850-1870. Abbots Morton, Worcester: Seraphim Press, 2012. 368 pp. ISBN 978 0 9532801 3 1. £50.00. Readers' discount £45.00 including postage, limited numbers remaining.
_____. Damozels & Deities: Pre-Raphaelite Stained Glass, 1870-1898. Abbots Morton, Worcester: Seraphim Press, 2017. 404 pp. ISBN 978 0 9934045 0 4, £60.00. Readers' discount £55.00 including postage, limited numbers remaining.
_____. Saints & Symbols: Pre-Raphaelite Stained Glass: Ford Madox Brown, John George Sowerby, William De Morgan, Walter Crane & Frederic Shields. Abbots Morton, Worcester: Seraphim Press, 2021. 304 pp. ISBN 978 0 9934045 2 8. £50.00. Readers' discount £45.00 including postage.
---
Created 29 January 2021