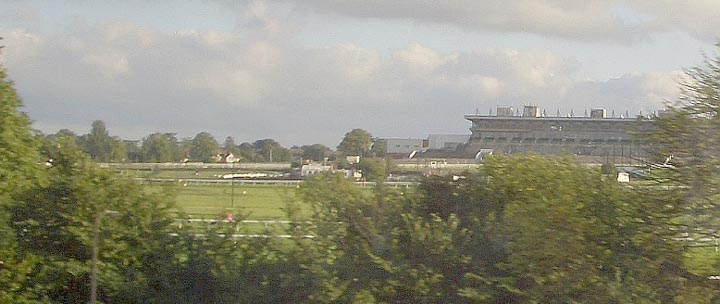 Sandown Park Racecourse, Esher, Surrey. Opened in 1875, this was the first racecourse to be completely enclosed and to have a members' enclosure — that is, a privileged area set aside for those who had been proposed and seconded as if they were joining a club. This created "a secure social environment for women," thus "doubling the prospective audience at a stroke" (Flanders 434). As one member wrote in 1879, '"How pleasant once more to find ourselves within the Sandown Club Enclosure, under a genial sky and with all the well-known surroundings of pretty women, good luncheon and good sport" ("A Unique Place"). In five years the number of meetings a year went up from two to five. This became the pattern for other racecourses: "The companies that had formed some of these new racecourses had had to raise huge sums ... but the returns were equally huge, and the older courses were forced to imitate" (Flanders 435).
Of particular interest is the impact these racecourses had on the railway system. Many of the companies entered into arrangements with the railways. In this respect, Sandown already had an advantage. The land chosen for the development was adjacent to one of the earliest commuter lines, the line on which Queen Victoria had seen her very first steam train (Blackman 25). All that was needed was for racegoers to have their own exit to the course, directly from the London platform, and this was arranged. In railway timetables, the station is sometimes called "Esher for Sandown," and the fences along this side of the racing track are popularly known as "the railway fences." Photograph (taken from a train) 2006 by Jacqueline Banerjee. [This image may be used without prior permission for any scholarly or educational purpose, as long as you (1) credit the photographer and (2) link your document to this URL.]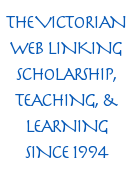 Sources
Blackman, Michael. A Short History of Walton-on-Thames. Walton and Weybridge Local History Society, 1989. Print.
Flanders, Judith. Consuming Passions: Leisure and Pleasure in Victorian Britain. London: Harper, 2006 (Review). Print.
"A Unique Place in British Racing History." Sandown Park Racecourse. Web. 20 June 2013.
---
Last modified 20 June 2013