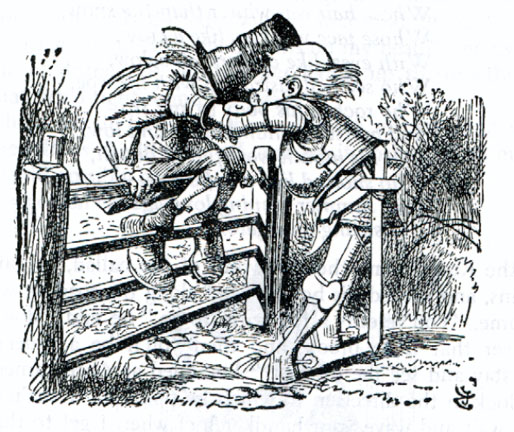 The Knight and "The Aged Aged Man." Sir John Tenniel. Wood-engraving by Dalziel. Illustration for the eighth chapter of Lewis Carroll's Through the Looking Glass (1871)
In a complex mixture of realism and fantasy, Alice describes the scene of the Knight and The Aged Aged Man as if it had "happened only yesterday." Yet paradoxically, she also describes the scene as a "half-dream."
Student assistants from the University Scholars Program, National University of Singapore, scanned this image and added text under the supervision of George P. Landow. [You may use this image without prior permission for any scholarly or educational purpose as long as you (1) credit the site and (2) link your document to this URL in a web document or cite the Victorian Web in a print one.]
Like the previous illustration, of the excessively errant White Knight upside down in a ditch, this one would be of such interest and importance to the artist that it was adapted some years later in his broader political work for Punch. Whether this indicates a fuller compositional input by the artist, or merely some specific detail of great personal significance, remains unknown. The later work in question was Tenniel's Caught Napping of 9 May 1896, which shows a busy German itinerant trader interacting with an aged, aged British Trade woman resting upon a wayside gate. Note also the casualness of the man's walking-stick cast on the ground, and the similarity with other such personal items as depicted by Tenniel - the ubiquitous umbrella, for example, of the Tweedle brothers.
Questions of his own age and ageing had begun to weigh heavily upon Carroll from at least the close of 1863 when he was less than a month away from reaching a mere 32 years of age. There he confided to his Journal the wish to do something worthy in life "before I go hence and be no more seen." The sentiment was repeated verbatim at the following year's end (Diaries 4: 267; 5: 40). This one-year period, of 1864, coincided exactly with his completion of the personalised story of Alice's Adventures Under Ground for Alice Liddell and her two sisters. That same year however was marred socially by a progressive coolness in the real relationship with Alice, as she moved through her own twelfth year, which was then the age of marital consent and of the customary chaperoning of young maidens. As our related chronology shows, 1863-64 also saw the more positive side of Carroll, as he continued his wet-plate photographic hobby with sittings of the poetess Christina Rossetti and family, and of the artist Arthur Hughes and family. His literary searches also drew him at that time to the London premises of publisher Macmillan, to request the printing on large sheets of some of William Blake's Songs of Innocence and Experience. The case has elsewhere been suggested that Blake's Song no. 34, "The Little Girl Lost," with its haunting lines probably known from childhood by Carroll from his "mother's side of the family bookshelf," may well have encouraged him to choose the age of seven for his own literary Alice, at a period when the real Alice Liddell was already some eleven years old (Dyer xlvi-xlvii): "Seven summers old, Lovely Lyca told, / She had wandered long, / Hearing wild birds song…."
In his personal correspondence too Carroll often referred to age, especially his own advancing age. To one correspondent in early 1887 he quoted Shakespeare's Macbeth, Sc. 5, 3: 22, about passing into "the sere and yellow leaf"; a letter to actress-friend Marion Terry was despatched "With an old man's love," and the Index to the published letters contains many similar entries under the heading "Age and Ageing." Typically, Carroll responded to age-related anxieties with his own creative techniques of disguise and concealment, seen here especially in the hilariously obtuse verbal sparring between the kindly but decrepit White Knight and the even more eccentric Aged, Aged Man. Such were some of the diverse and concealing avatars employed by this prominent author of Victorian children's fairytales.
Bibliography
Blake, William. Songs of Innocence and Experience. London: Clairvaux for Trianon Press & William Blake Trust, [1794], 1955.
Carroll, Lewis. Lewis Carroll's Diaries. The Private Journals of Charles Lutwidge Dodgson. Vols. 4 and 5. Ed. Edward Wakeling. England: Lewis Carroll Society, 1997, 1999.
Cohen, Morton and Green, R. L. The Letters of Lewis Carroll. 2vols. London: Macmillan, 1979.
Dyer, Ray. Lewis Carroll's Lady Muriel. Scholar's Annotated Edition. Leicester: Troubador, 2016.
---
Last modified 17 September 2021