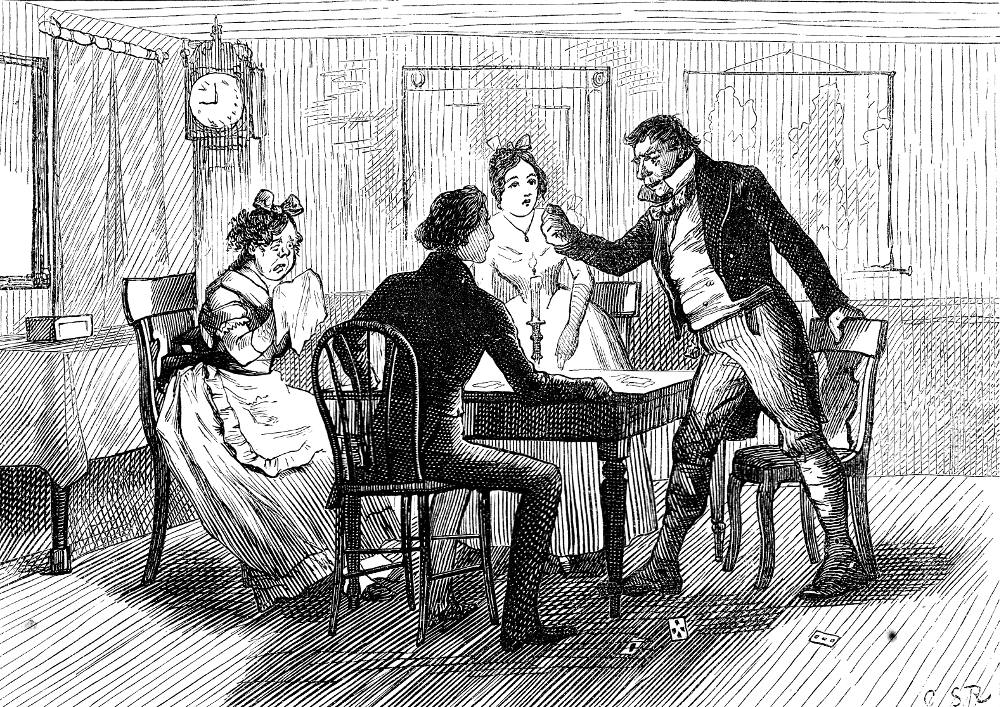 "Dang my bones and body, if I stan' this ony longer." [Page 53] by Charles Stanley Reinhart (1875), in Charles Dickens's The Life and Adventures of Nicholas Nickleby, Harper & Bros. New York Household Edition, for Chapter IX. 9.5 x 13.6 cm (3 ¾ by 5 ¼ inches), framed. Running head: "The Green-eyed Monster Appears" (53). [Click on the image to enlarge it.]
Passage Illustrated: The card-game
"I never had such luck, really," exclaimed coquettish Miss Price, after another hand or two. "It's all along of you, Mr. Nickleby, I think. I should like to have you for a partner always."
"I wish you had."
"You'll have a bad wife, though, if you always win at cards," said Miss Price.
"Not if your wish is gratified,' replied Nicholas. "I am sure I shall have a good one in that case."
To see how Miss Squeers tossed her head, and the corn-factor flattened his nose, while this conversation was carrying on! It would have been worth a small annuity to have beheld that; let alone Miss Price's evident joy at making them jealous, and Nicholas Nickleby's happy unconsciousness of making anybody uncomfortable.
"We have all the talking to ourselves, it seems,' said Nicholas, looking good-humouredly round the table as he took up the cards for a fresh deal.
"You do it so well," tittered Miss Squeers, "that it would be a pity to interrupt, wouldn't it, Mr. Browdie? He! he! he!"
"Nay," said Nicholas, "we do it in default of having anybody else to talk to."
"We'll talk to you, you know, if you'll say anything," said Miss Price.
"Thank you, 'Tilda, dear," retorted Miss Squeers, majestically.
"Or you can talk to each other, if you don't choose to talk to us," said Miss Price, rallying her dear friend. 'John, why don't you say something?'
"Say summat?" repeated the Yorkshireman.
"Ay, and not sit there so silent and glum."
"Weel, then!" said the Yorkshireman, striking the table heavily with his fist, "what  I say's this — Dang my boans and boddy, if I stan' this ony longer. Do ye gang whoam wi' me, and do yon loight an' toight young whipster look sharp out for a brokken head, next time he cums under my hond."
"Mercy on us, what's all this?' cried Miss Price, in affected astonishment.
"Cum whoam, tell 'e, cum whoam," replied the Yorkshireman, sternly. And as he delivered the reply, Miss Squeers burst into a shower of tears; arising in part from desperate vexation, and in part from an impotent desire to lacerate somebody's countenance with her fair finger-nails. [Chapter IX, "Of Miss Squeers, Mrs. Squeers, Master Squeers, and Mr. Squeers; and of various Matters and Persons connected no less with the Squeerses than Nicholas Nickleby," 53-54]
Commentary
The 1910 Clayton J. Clarke water-colour portrait of Squeers's infatuated daughter for the Player's Cigarette Card series (No. 45): Fanny Squeers.
The affable, young Yorkshire corn-factor with a thick brogue and a strong sense of social justice rarely appears in illustrations of Nicholas Nickleby. With staccatto remarks and a bluff sense of humour, he remains for most readers a distinctive voice and a combative attitude rather than an image because such illustrators as Phiz and Furniss have not included him. Dickens describes him in the ninth chapter as Nicholas's natural ally against the brutal Squeers and the personal injustices of Dotheboys Hall:
The ladies were in the full delight of this altered behaviour on the part of Mr. Nickleby, when the expected swain arrived, with his hair very damp from recent washing, and a clean shirt, whereof the collar might have belonged to some giant ancestor, forming, together with a white waistcoat of similar dimensions, the chief ornament of his person.
"Well, John," said Miss Matilda Price (which, by-the-bye, was the name of the miller's daughter).
"Weel," said John with a grin that even the collar could not conceal.
"I beg your pardon," interposed Miss Squeers, hastening to do the honours. "Mr. Nickleby — Mr. John Browdie."
"Servant, sir," said John, who was something over six feet high, with a face and body rather above the due proportion than below it.
"Yours to command, sir," replied Nicholas, making fearful ravages on the bread and butter.
Mr. Browdie was not a gentleman of great conversational powers, so he grinned twice more, and having now bestowed his customary mark of recognition on every person in company, grinned at nothing in particular, and helped himself to food.
"Old wooman awa', bean't she?" said Mr. Browdie, with his mouth full.
Miss Squeers nodded assent.
Mr. Browdie gave a grin of special width, as if he thought that really was something to laugh at, and went to work at the bread and butter with increased vigour. It was quite a sight to behold how he and Nicholas emptied the plate between them. [Chapter IX, "Of Miss Squeers, Mrs. Squeers, Master Squeers, and Mr. Squeers; and of various Matters and Persons connected no less with the Squeerses than Nicholas Nickleby," 51-52]
John Browdie at this point in the story is engaged to Tilda Price, and he subsequently marries her. Although Nicholas's prejudices against the roughness of northerners does not facilitate their getting along, Nicholas comes to appreciate John's steadfast, moral character, and the pair become fast friends when John helps Nicholas escape from Yorkshire. In Chapter 42, when Squeers confronts John Browdie, John and Nicholas threaten Squeers with legal action should he ever harass Smike again.
Related material by other illustrators (1838 through 1910)
Scanned image, colour correction, sizing, caption, and commentary by Philip V. Allingham. [You may use this image without prior permission for any scholarly or educational purpose, as long as you (1) credit the person who scanned the image, and (2) link your document to this URL in a web document or cite the Victorian Web in a print one.]
Bibliography
Barnard, J. "Fred" (il.). Charles Dickens's Nicholas Nickleby, with fifty-nine illustrations. The Works of Charles Dickens: The Household Edition. 22 vols. London: Chapman and Hall, 1875. Volume 15. Rpt. 1890.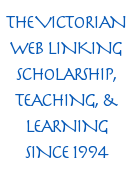 Dickens, Charles. The Life and Adventures of Nicholas Nickleby. With fifty-two illustrations by C. S. Reinhart. The Household Edition. New York: Harper & Brothers, 1875.
__________. "Nicholas Nickleby." Scenes and Characters from the Works of Charles Dickens, being eight hundred and sixty-six drawings by Fred Barnard et al.. Household Edition. London: Chapman and Hall, 1908.
---
Created 10 April 2021