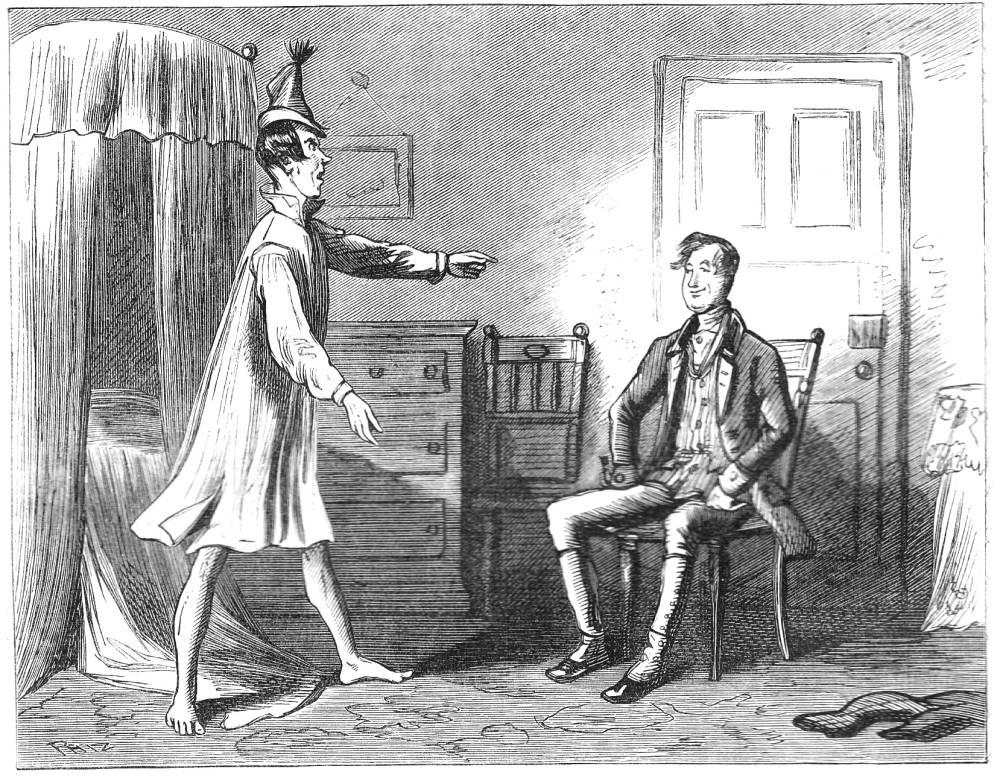 "Unlock that door, and leave this room immediately, Sir," said Mr. Winkle by Phiz (Hablot K. Browne). Household Edition (1874) of Dickens's Pickwick Papers, p. 281. [Click on image to enlarge it.]
Although in his original series Phiz allowed some space for the misadventures of the medical students Bob Sawyer and Ben Allen, he did not provide visual counterparts to the romance between Pickwick intimate Nathaniel Winkle and Arabella Allen, probably because the limited program of two illustrations per monthly part prevented such realisation. However, freed from such constraints in the Household Edition of the novel, Phiz in "'Unlock that door, and leave this room immediately, sir,' said Mr. Winkle" (281), refers to p. 270 in ch. 38, as Dickens introduces the Winkle/Arabella Allen romantic subplot. On the other hand, Thomas Nast (apparently not interested in Ben Allen or his sister) maintains Bob Sawyer, who has set up a pharmacy with Ben Allen at Bristol, as the focus of his ch. 38 woodcut in "'Bless my soul!' every body says, 'Somebody taken suddenly ill! Sawyer, late Knockenorf, sent for!'"
The highly episodic plot now shifts to the bustling port city of Bristol as the Pickwickians interact with the scapegrace Guy's Hospital students Ben Allen and Bob Sawyer, who have bought out the practice of a German pharmacist named "Nockemorf," clearly a Dickensian pun on the poor quality of medical treatment provided by chemists, whom the poor often consulted as a cheap alternative to physicians. Winkle, trying to escape a confrontation with the irate Dowler, determines to escape from Bath, and, finding a coach outside the Royal Hotel bound for nearby Bristol, concludes that that will be as good a place as any other to hide until the affair blows over. A Victorian reader might have accepted this plot development as mere coincidence, or as evidence of a Divine plan, since Winkle's visit to Bristol results in his re-establishing contact with the Allens. Wandering around the port, Winkle stumbles upon a "Surgery" whose proprietor in green spectacles (strongly realised in Nast's illustration) turns out to be Bob Sawyer. After a convivial visit, Winkle encounters Dowler, who apologises for his behaviour at Royal Crescent, apparently as much afraid of provoking a duel as Winkle. The timid Pickwickian, now feeling much more secure, retires to his room at The Bush, where shortly afterward Sam Weller arrives, charged by Pickwick to bring Winkle back to Bath. However, having learned from Ben Allen that Arabella (with whom he had fallen at Wardle's) is living not far from Bristol at an aunt's, Winkle is not disposed to leave, and bargains with Sam Weller to be permitted to remain for a few days. This, then, is the relatively minor passage realised in this Phiz illustration, one of twenty-seven entirely new scenes which Dickens's principal illustrator devised in 1873 for the Household Edition:
The young man gave a gentle kick at one of the lower panels of the door, after he had given utterance to this hint, as if to add force and point to the remark.
"Is that you, Sam?" inquired Mr. Winkle, springing out of bed.
"Quite unpossible to identify any gen'l'm'n vith any degree o' mental satisfaction, vithout lookin' at him, sir,' replied the voice dogmatically.
Mr. Winkle, not much doubting who the young man was, unlocked the door; which he had no sooner done than Mr. Samuel Weller entered with great precipitation, and carefully relocking it on the inside, deliberately put the key in his waistcoat pocket; and, after surveying Mr. Winkle from head to foot, said —
"You're a wery humorous young gen'l'm'n, you air, sir!"
"What do you mean by this conduct, Sam?' inquired Mr. Winkle indignantly. 'Get out, sir, this instant. What do you mean, sir?"
"What do I mean,' retorted Sam; "come, sir, this is rayther too rich, as the young lady said when she remonstrated with the pastry-cook, arter he'd sold her a pork pie as had got nothin' but fat inside. What do I mean! Well, that ain't a bad 'un, that ain't."
"Unlock that door, and leave this room immediately, sir," said Mr. Winkle.
"I shall leave this here room, sir, just precisely at the wery same moment as you leaves it,' responded Sam, speaking in a forcible manner, and seating himself with perfect gravity. [Ch. 38, The Household Edition; Chapman & Hall, p. 281; Harper & Bros., p. 231]
Nathaniel Winkle, depicted as an angry, lean young man in a night-shirt and rather diminutive night-cap, strides towards Sam, who smiles complacently as he sits on the chair to block Winkle's escape. Phiz implies that, although Winkle may sound self-assertive and even aggressive, Sam knows very well that he is easily cowed and feels sure that he can carry out Pickwick's directive. Sam Weller is this illustration resembles the Sam of previous woodcuts, and Winkle's profile from the previous illustration ("Mr. Bob Sawyer's Boy . . . . peeped through the glass door, and thus listened and looked on at the same time", p. 273) does indeed that of the night-shirt wearer here. For this same chapter, Thomas Nast, on the other hand, focuses on the character and business circumstances of Ben Allen's partner, Bob Sawyer, his illustration being based on the following passage in which Bob explains his advertising strategy to the naive Winkle:
Mr. Winkle looked perplexed, and Bob Sawyer and his friend laughed.
"Don't you see?" said Bob. "He goes up to a house, rings the area bell, pokes a packet of medicine without a direction into the servant's hand, and walks off. Servant takes it into the dining-parlour; master opens it, and reads the label: "Draught to be taken at bedtime — pills as before — lotion as usual — the powder. From Sawyer's, late Nockemorf's. Physicians' prescriptions carefully prepared," and all the rest of it. Shows it to his wife — she reads the label; it goes down to the servants — they read the label. Next day, boy calls: "Very sorry — his mistake — immense business — great many parcels to deliver — Mr. Sawyer's compliments — late Nockemorf." The name gets known, and that's the thing, my boy, in the medical way. Bless your heart, old fellow, it's better than all the advertising in the world. We have got one four-ounce bottle that's been to half the houses in Bristol, and hasn't done yet."
"Dear me, I see," observed Mr. Winkle; "what an excellent plan!"
"Oh, Ben and I have hit upon a dozen such," replied Bob Sawyer, with great glee. "The lamplighter has eighteenpence a week to pull the night-bell for ten minutes every time he comes round; and my boy always rushes into the church just before the psalms, when the people have got nothing to do but look about 'em, and calls me out, with horror and dismay depicted on his countenance. "Bless my soul," everybody says, "somebody taken suddenly ill! Sawyer, late Nockemorf, sent for. What a business that young man has!"' [Harper & Bros., p. 228]
"Bless my soul!" every body says, "Somebody taken suddenly ill! Sawyer, late Knockenorf, sent for!" by Thomas Nast
Nast has taken the unusual step of realising a scene merely narrated by Bob Sawyer rather than of showing Sawyer's entertainment of Winkle in the chemist's shop, as Phiz elected to do in both the 1837 and 1873 illustrations. In Nast's conception, a boy in servant's livery (actually Bob shop-by) discretely calls Bob forth from his pew in the Bristol church, even as Bob has opened his Anglican Book of Common Prayer at "Psalms." The elderly woman sitting beside Bob (recognisable by his patterned trousers and thick green-lensed glasses) seems startled, as if calling forth a medical man in the midst of the Sunday service is highly unusual.
Related Material
Scanned image and text by Philip V. Allingham. Formatting by George P. Landow. [You may use this image without prior permission for any scholarly or educational purpose as long as you (1) credit the person who scanned the image and (2) link your document to this URL in a web document or cite the Victorian Web in a print one.]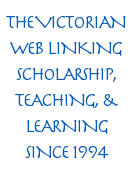 References
Dickens, Charles. Pickwick Papers. The Household Edition. London: Chapman and Hall, 1874; New York: Harpers, 1874.
---
Last modified 10 March 2012