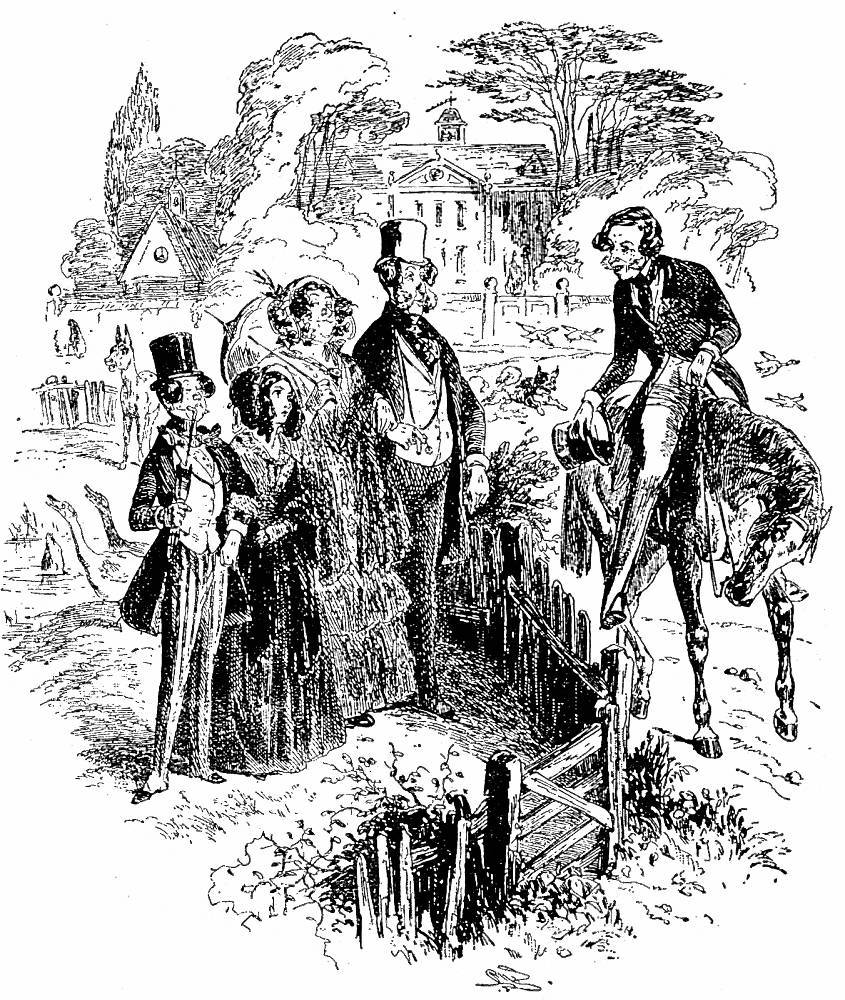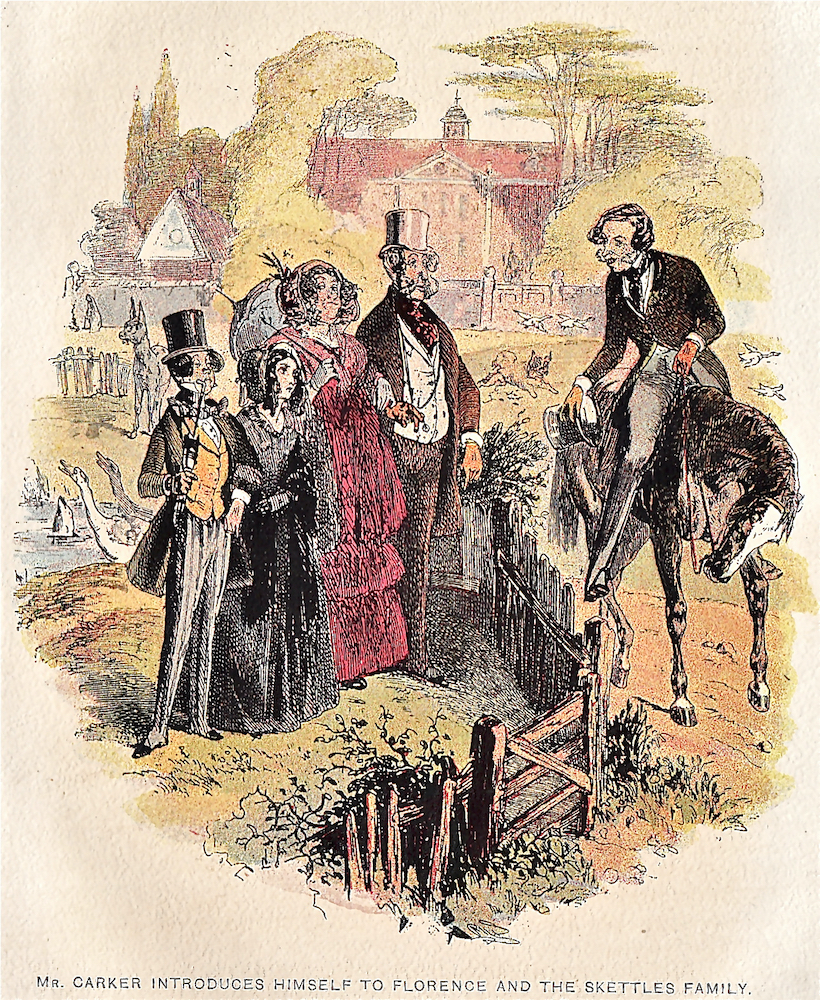 Mr. Carker Introduces Himself to Florence and the Skettles Family in Chapter 24, "The Study of a Loving Heart," eighth serial instalment (May 1847), facing p. 420. The colourized version of this illustration comes from the Caxton, Ballantyne, and Hanson edition (1910), facing p. 270. 13.5 cm high by 11.7 cm wide (5 ⅜ x 4 ½ inches. [Click on the images to enlarge them.]
Passage Illustrated: The Suave and Ever-smiling Mr. Carker
Florence had almost succeeded in overruling the present objections of Skettles Junior to his destiny, when a gentleman on horseback came riding by, looked at them earnestly as he passed, drew in his rein, wheeled round, and came riding back again, hat in hand.
The gentleman had looked particularly at Florence; and when the little party stopped, on his riding back, he bowed to her, before saluting Sir Barnet and his lady. Florence had no remembrance of having ever seen him, but she started involuntarily when he came near her, and drew back.
"My horse is perfectly quiet, I assure you," said the gentleman.
It was not that, but something in the gentleman himself — Florence could not have said what — that made her recoil as if she had been stung.
"I have the honour to address Miss Dombey, I believe?" said the gentleman, with a most persuasive smile. On Florence inclining her head, he added, "My name is Carker. I can hardly hope to be remembered by Miss Dombey, except by name. Carker."
Florence, sensible of a strange inclination to shiver, though the day was hot, presented him to her host and hostess; by whom he was very graciously received.
"I beg pardon," said Mr. Carker, "a thousand times! But I am going down tomorrow morning to Mr. Dombey, at Leamington, and if Miss Dombey can entrust me with any commission, need I say how very happy I shall be?" [Chapter 24, "The Study of a Loving Heart," 421 in the 1880 edition]
Michael Steig's Commentary: Phiz's reaction to Carker's evil slyness
From Part VIII to Part X, a further sequence of five plates develops the theme of sexual conflict along the Dombey-Edith-Carker axis of the novel. In Mr. Carker introduces himself to Florence and the Skettles family (ch. 24), the novel's most sinister villain shows his teeth to Florence and, graphically, to us for the first time. Browne could never have incorporated most of the text's details into his illustration: Carker whispering to Florencethat Walter's ship has not been heard of yet (and the insinuation that Carker is thinking about Florence as a possible wife for himself) and the unspoken communication between them about Florence's complex feelings toward her father, whom she loves but knows would not be pleased to hear from her. Instead, Browne stresses general things about Mr. Dombey's confidential agent not mentioned explicitly in chapter 24. Carker holds a close rein on his horse so that the animal is totally dominated, as Carker will dominate both Dombey and Edith. Carker's nastiness is also alluded to comically. In chapter 22, Dickens had referred to the naturalness of Diogenes' antagonism to Carker: "You have a good scent, Di, — cats, boy, cats!" (p. 224). In the etching, the natural world's instinctive reaction to Carker's evil slyness is brought out not only by the little dog runningtoward him, but also by the ducks flying away and the donkey raising his ears in terror. The geese, with their upright necks, also parody the dreadfully snobbish and stiff-necked Skettleses in this illustration. In the companion etching, "Solemn reference is made to Mr. Bunsby" (ch. 23), Florence is almost an exact mirror-image of herself, even linking her arm in someone else's in both plates; in both she also listens to a man speak of Walter's fate at sea. [94-5]
Related Material, including Other Illustrated Editions of
Dombey and Son
Scanned image and text by Philip V. Allingham. [You may use this image without prior permission for any scholarly or educational purpose as long as you (1) credit the person who scanned the image and (2) link your document to this URL in a web document or cite the Victorian Web in a print one.]
Bibliography
Dickens, Charles. Dombey and Son. Illustrated by Hablot Knight Browne ("Phiz"). The London Edition, Volume 4. London: Caxton & Ballantyne, 1901.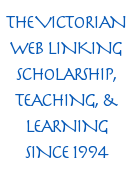 __________. Dombey and Son. Illustrated by Hablot K. Browne ("Phiz"). 8 coloured plates. London and Edinburgh: Caxton and Ballantyne, Hanson, 1910.
__________. Dombey and Son. Illustrated by Hablot K. Browne ("Phiz"). The Clarendon Edition, ed. Alan Horsman. Oxford: Clarendon, 1974.
__________. Dombey and Son. Illustrated by Sol Eytinge, Jr., and engraved by A. V. S. Anthony. 14 vols. Boston: Ticknor & Fields, 1867. III.
__________. Dombey and Son. Illustrated by Fred Barnard. 61 wood-engravings. The Household Edition. 22 vols. London: Chapman and Hall, 1877. XV.
_________. Dealings with the Firm of Dombey and Son: Wholesale, Retail, and for Exportation. Illustrated by Harry Furniss. The Charles Dickens Library Edition. London: Educational Book Company, 1910. IX.
Hammerton, J. A. "Chapter 16: Dombey and Son."The Dickens Picture-Book. The Charles Dickens Library Edition.Illustrated by Harry Furniss. 18 vols. London: Educational Book Co., 1910. Vol. 17, 294-337.
Kitton, Frederic George. Dickens and His Illustrators: Cruikshank, Seymour, Buss, "Phiz," Cattermole, Leech, Doyle, Stanfield, Maclise, Tenniel, Frank Stone, Landseer, Palmer, Topham, Marcus Stone, and Luke Fildes. Amsterdam: S. Emmering, 1972. Re-print of the London (1899) edition.
Lester, Valerie Browne. Ch. 12, "Work, Work, Work." Phiz: The Man Who Drew Dickens. London: Chatto and Windus, 2004, pp. 128-160.
Steig, Michael. Chapter 4. "Dombey and Son: Iconography of Social and Sexual Satire." Dickens and Phiz. Bloomington & London: Indiana U. P., 1978. 86-112.
Vann, J. Don. Chapter 4."Dombey and Son, twenty parts in nineteen monthly installments, October 1846-April 1848." Victorian Novels in Serial. New York: Modern Language Association, 1985. 67-68.
---
Created 30 December 2019 Last modified 2 February 2021