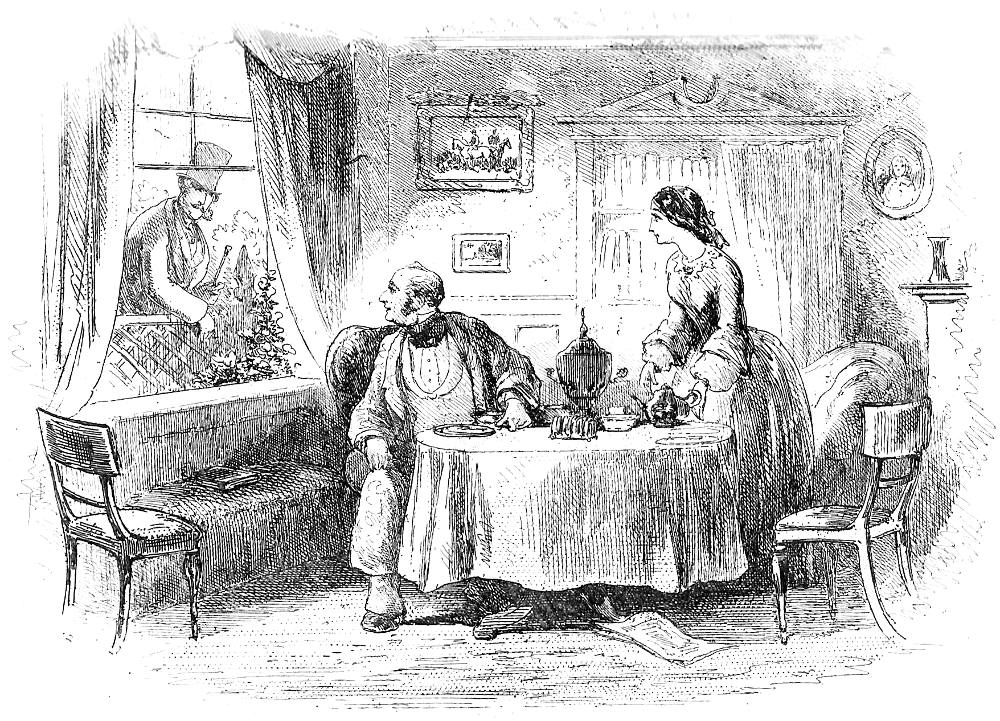 Mr. Beecher by Phiz (Hablot K. Browne), third serial illustration for Charles Lever's Davenport Dunn: A Man of Our Time, Part 2 (August 1857), Chapter 4, "One who would be a 'Sharp Fellow'," facing page 34. Steel-plate etching, 3 ¾ by 5 ¼ inches (9.5 cm high by 13.3 cm wide), vignetted. Set in a middle-class parlour rather than a Renaissance palace, the third monthly illustration involves another three-way conversation, and involves a set of normative characters who will prove significant in the narrative. Phiz shows that Paul Kellet, a shabby-genteel aristocrat, and his daughter Bella belong to a social rank well below that of Viscount and Viscountess Lackington (depicted in the July illustrations). The petite-bourgeois breakfast scene in an outlying Dublin suburb contrasts the high society Lake Como scenes of plates one and two, and sets the stage for the initial appearance of the influential Irish upstart, Davenport Dunn. He once slept above a stable as a boy in Lord Glengariff's service, but now sleeps in palazzos and mansions.
Scanned image by Simon Cooke; colour correction, sizing, caption, and commentary by Philip V. Allingham. [You may use this image without prior permission for any scholarly or educational purpose, as long as you (1) credit the person who scanned the image, and (2) link your document to this URL in a web document or cite the Victorian Web in a print one.] Click on the image to enlarge it.
Passage Illustrated: Developing Dunn's Back-story in the Second Instalment
"There's Beecher already, by Jove!" cried Kellett, as he sprang up from the breakfast-table to open the little wicket which the other was vainly endeavoring to unhasp. "How early he is!"
Let us take the opportunity to present him to our readers, — a duty the more imperative, since, to all outward semblance at least, he would appear little to warrant the flattering estimate his friend so lately bestowed upon him. About four or five-and-thirty, somewhat above the middle size, and with all the air and bearing of a man of fashion, Beecher had the gay, easy, light-hearted look of one with whom the world went habitually well; and when it did not, more was the shame of the said world! since a better, nobler, more generous fellow than himself never existed; and this he k new, however others might ungraciously hold an opposite opinion. There was not the slightest detail in his dress that could warrant the supposition of narrow fortune: his coat and his waistcoat, of one color and stuff, were faultless in make; the massive watch-chain that festooned across his chest in the last mode; his thick walking-boots the perfection of that compromise between strength and elegance so popular in our day; even to his cane, whose head was of massive gold, with his arms embossed, — all bespoke a certain affluence and abundance, the more assured from the absence of ostentation. [Chapter IV, "One who would be a 'Sharp Fellow'," page 34]
Commentary: Socially Contrasting Figures Introduced — Beecher and Kellett
Although Kellett makes much of Beecher's gentlemanly background, the handsome, stylishly dressed, devil-may-care retired Guardsman had gone through his inheritance by the time he reached the age of majority. Despite his social pretensions as the younger brother of Lord Lackington, his very slender fortune has not survived a profligate youth, and now he is merely keeping up appearances:
Bean Beecher, as he was called once, had been deemed the best-looking fellow about town, and when he entered the Life Guards, almost twenty years before the time we now present him, had been reckoned the handsomest man and best rider in the regiment. Brother of Lord Lackington, but not by the same mother, he had inaugurated that new school of dandyism which succeeded to the Brummell period, and sought fame and notoriety by splendor and extravagance rather than by the fastidious and personal elegance that characterized the former era. In this way Lord Lackington and his brother were constantly contrasted; and although each had their followers, it was generally admitted that they were both regarded as admirable types of style and fashion. Boodle's would have preferred the Peer, the Guards' Club and all Tattersall's have voted for the Honorable Annesley Beecher. [Chapter IV, p. 38]
Bella, in respectable, middle-class garb which is a far cry from the fashionable gowns of Lady Lackington and Lady Grace in the July illustration, looks up from pouring her father's tea as he draws attention to Beecher's arrival at their garden gate. Despite his much reduced circumstances and limited civil service income, Kellett wears a fashionable silk dressing-gown, and has a considerable private library (seen lining the shelves behind Bella). A family portrait to one side of the archway complements the hunting scene to the left, implying that this Irishman, too, once road to the hunt. The Trumpet of Liberty, the newspaper from which Bella was recently reading now lies discarded on the floor, but for the reader serves as a reminder of the Kelletts' discussion of Davenport Dunn's less-than-aristocratic background in the previous chapter.
Related Materials
Reference
Lever, Charles. Davenport Dunn: A Man of Our Day. Illustrated by "Phiz" (Hablot Knight Browne). London: Chapman and Hall, 1859.
---
Last modified 10 July 2019