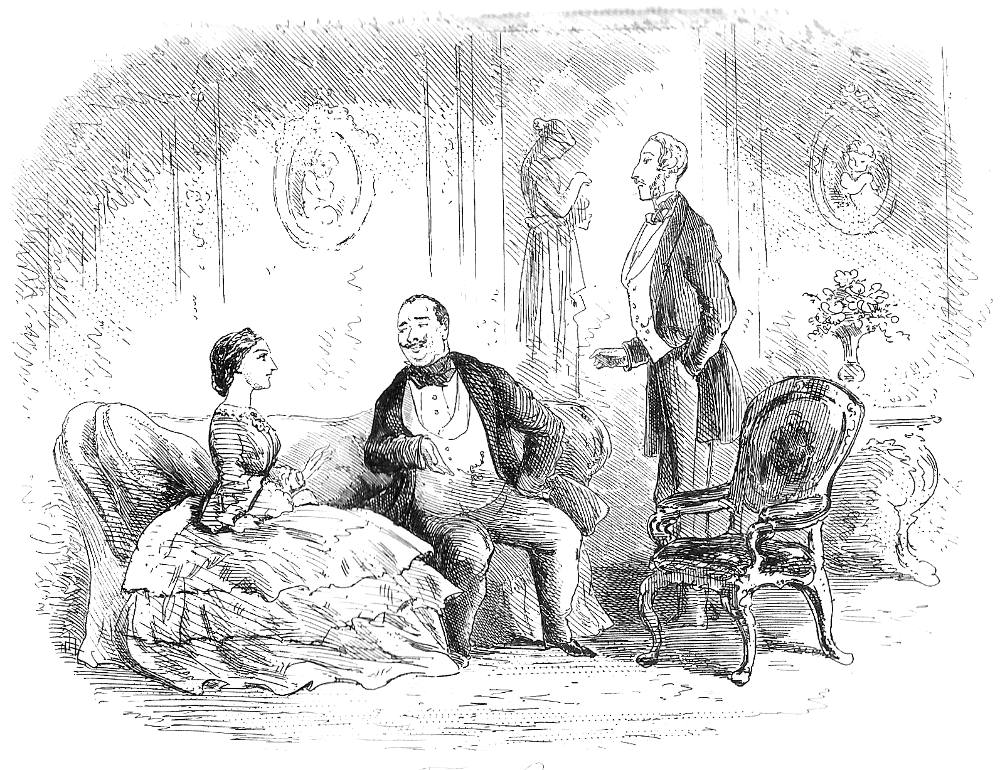 The Count by Phiz (Hablot K. Browne), seventeenth serial illustration for Charles Lever's Davenport Dunn: A Man of Our Time, Part 8 (March 1858), Chapter 34, "Aix-la-Chapelle," facing 280.
Bibliographical Note
This appeared as the seventeenth serial illustration for Charles Lever's Davenport Dunn: A Man of Our Time, steel-plate etching; 3 ⅞ by 5 ⅛ inches (9.8 cm high by 13 cm wide), vignetted. The story was serialised by Chapman and Hall in monthly parts, from July 1857 through April 1859. The nineteenth and twentieth illustrations in the volume initially appeared in reverse order at the very beginning of the ninth monthly instalment, which went on sale on 1 March 1858. This number included Chapters XXXI through XXXV, and ran from 257 through 288.
Passage Illustrated: Grog Davis's aristocratic messenger
"Come, I 'll not torture you any longer," said Lizzy, laughing; "read that." And she handed him the card, whereon, in her father's writing, there was, "See the Count; he'll tell you everything. — C. D."
"I have heard the name before. — Count Lienstahl," said Beecher to himself. "Has he seen your father? Where is he?" asked he, eagerly.
"He'll inform me on all, if you'll just give him time," said she; while the Count, with an easy volubility, was pouring out a flow of words perfectly unintelligible to poor Beecher.
Whether it was the pleasure of the tidings he brought, or the delicious enjoyment of once more hearing and replying in that charming tongue that she loved so dearly, but Lizzy ceased even to look at Beecher, and only occupied herself with her new acquaintance.
Now, while we leave her thus pleasantly engaged, let us present the visitor to our reader.
Nothing could be less like the traditional "Continental Count" than the plump, close-shaven, blue-eyed gentlemen who sat beside Lizzy Davis, with an expression of bonhomie in his face that might have graced a squire of Devon. He was neither frogged nor moustached; his countenance neither boded ill to the Holy Alliance, nor any close intimacy with billiards or dice-boxes. A pleasant, easy-tempered, soft-natured man he seemed, with a ready smile and a happy laugh, and an air of yielding good-humour about him that appeared to vouch for his being one none need ever dispute with. If there were few men less generally known throughout Europe, there was not one whose origin, family, fortune, and belonging were wrapped in more complete obscurity. Some said he was a Pomeranian, others called him a Swede; many believed him Russian, and a few, affecting deeper knowledge, declared he was from Dalmatia. He was a Count, however, of somewhere, and as certainly was he one who had the entrée to all the best circles of the Continent, member of its most exclusive clubs, and the intimate of those who prided themselves on being careful in their friendships. While his manners were sufficiently good to pass muster anywhere, there was about him a genial kindliness, a sort of perennial pleasantry, that was welcome everywhere; he brought to society that inestimable gift of adhesiveness by which cold people and stiff people are ultimately enabled to approximate and understand each other. No matter how dull and ungenial the salon, he was scarcely across the doorway when you saw that an element of social kindliness had just been added, and in his little caressing ways and coaxing inquiries you recognized one who would not let condescension crush nor coldness chill him. If young people were delighted to see one so much their senior indulging in all the gay and light frivolities of life, older folk were gratified to find themselves so favourably represented by one able to dance, sing, and play like the youngest in company. So artfully, too, did he contribute his talent to society, that no thought of personal display could ever attach to him. It was all good-nature; he played to amuse you, — he danced to gratify some one else; he was full of little attentions of a thousand kinds, and you no more thought of repayment than you'd have dreamed of thanking the blessed sun for his warmth or his daylight. Such men are the bonbons of humanity, and even they who do not care for sweet things are pleased to see them.
If his birth and origin were mysterious, far more so were his means of life. Nobody ever heard of his agent or his banker. [Chapter XXXIV: "Aix-la-Chapelle," "The Count," 279-81]
Commentary: Beecher escorts "The Princess" from Brussels to Aix-la-Chapelle
Phiz introduces a new character in the midst of the narrative, a suave count whose background is somewhat dubious. Lizzy's father has strongly suggested that, once she arrives in Aix-la-Chapelle, across the border from the Low Countries, she and her escort, Annesley Beecher, contact the Count for assistance. Grog Davis, meantime, has yet to arrive as he is having to take a circuitous route to avoid the Belgian authorities after shooting young Captain Hamilton in a duel just outside the Brussels suburb of Boitsfort. Today the journey would be about 70 minutes by rail; however, prior to the construction of the railway from the Belgian capital to Aachen, West Prussia, in 1838, travellers by carriage could easily make their way from the Low Countries to the westernmost city in the Rhineland over direct roads, approximately 75 miles or 120 kilometers. Annesley Beecher and Lizzy Davis have arrived by train from Brussels with the French-Swiss maid and Grog's prize racehorse, Klepper, and have already been staying at the fashionable Hotel of the Four Nations three days. But still her father, riding on horseback, has not caught up with them, and Beecher begins to fear that Grog has encountered some difficulty:
Neither telegraph nor letter came from Davis, and Beecher's anxiety grew hourly greater. There was scarcely an eventuality his mind had not pictured. Davis was arrested and carried off to prison in Brussels, — was waylaid and murdered in the Ardennes, — was ill, dying in some unheard-of village, — involved in some other row, and obliged to keep secret, — arrested on some old charge; in fact, every mishap that a fertile fancy could devise had befallen him, and now only remained the question what was he himself to do with Lizzy Davis. [274]
However, Phiz's portrait of Beecher offers no suggestion of such apprehensions. He should, of course, be concerned about why Grog gave Lizzy the message on the back of his visiting-card, as well as whether Grog has been apprehended or has had some misadventure on his way to Aix-la-Chapelle. In fact, the Count, a speculative financier or venture capitalist like Grog (albeit far more successful, except in backing winners at horse-races), has just left the Irish rascal at Trèves with the message (to be delivered in French, since he speaks no English) that Lizzy and Annesley are to join him at Carlsruhe:
The Count was charged to explain, in some light easy way of his own, why her father had left Brussels so abruptly; and he was also instructed to take Annesley Beecher into his holy keeping, and not suffer him to fall into indiscretions, or adventure upon speculations of his own devising. [281]
The illustration, then, merely serves to introduce this interesting personage and communicate nineteen-year-old Lizzy's savoir faire. She expresses in her form and countenance no anxiety about her father's having failed to join them, and enjoys wearing gowns that would have frowned upon at the Pensionnat Godarde as she sits at ease in a well-appointed suite in the best hotel in the town. Phiz has taken pains with the fashionably-dressed figures of the Count and Lizzy, as well as with the furnishings and decorations of the continental sitting-room, with its ornate wallpaper, Rococo oil-paintings, and neoclassical statue of a juvenile goddess. The masterful touch is the empty brocaded armchair, implying that a significant member of the party is absent. Phiz intersperses conventional engravings with more sombre dark plates to provide tonal differences, but the former are generally inferior to the latter in engaging the reader. Here, the plate adds little to Lever's letterpress, other than to demonstrate Lizzy's enjoyment of adult liberty now that she is free of the Pensionnat Godarde in Brussels.
Scanned image by Simon Cooke; colour correction, sizing, caption, and commentary by Philip V. Allingham. [You may use this image without prior permission for any scholarly or educational purpose, as long as you (1) credit the person who scanned the image, and (2) link your document to this URL in a web document or cite the Victorian Web in a print one.] Click on the image to enlarge it.
Bibliography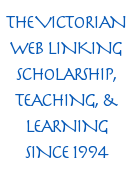 Harvey, John R. "Conditions of Illustration in Serial Fiction." Victorian Novelists and Their Illustrators. London: Sidgwick and Jackson, 1970. Pp. 182-198.
Lever, Charles. Davenport Dunn: A Man of Our Day. Illustrated by "Phiz" (Hablot Knight Browne). London: Chapman and Hall, 1859.
Lever, Charles. Davenport Dunn: The Man of The Day. Illustrated by "Phiz" (Hablot Knight Browne). London: Chapman and Hall, February 1858 (Part VIII).
---
Created 6 March 2019

Last modified 6 July 2020