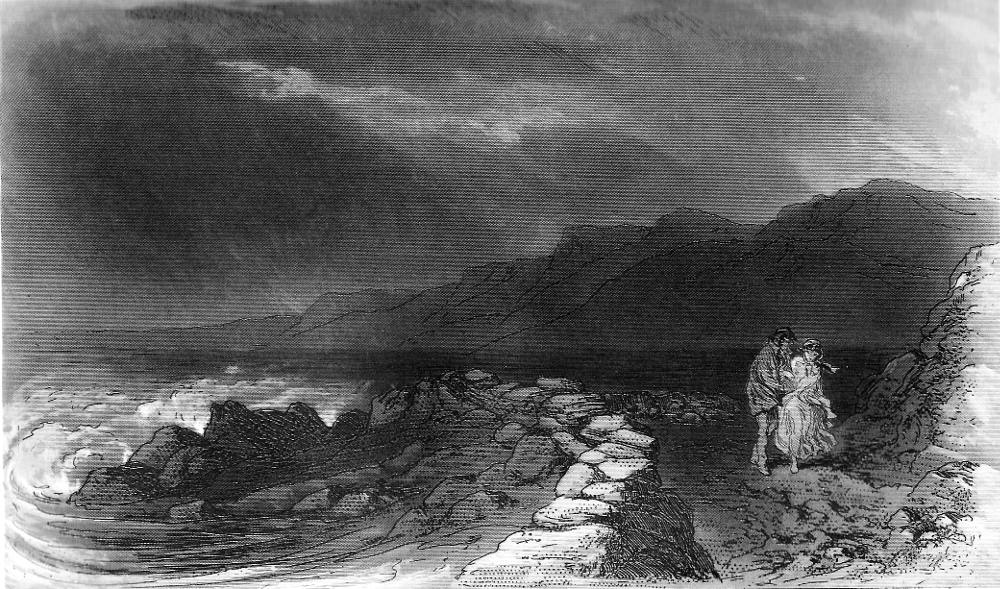 Conway on Escort Duty by Phiz (Hablot K. Browne), twelfth serial illustration and fourth dark plate for Charles Lever's Davenport Dunn: A Man of Our Time, Part 5 (December 1857), Chapter 21, "A Dark Day," facing 182. Steel-plate etching; 4 ⅛ by 6 ⅞ inches (10.3 cm high by 17.3 cm wide), framed. Phiz exploits his novel engraving technique in this fourth dark plate not merely as an ominous complement to the chapter title, but also to imply Bella's brooding apprehension about her father, who has not returned home after the auctioning off of Kellett's Court earlier that day.
Bibliographical Note: The Missing Illustrations
The established pattern of each monthly number providing two monthly illustrations in reverse order at the beginning was disrupted at the beginning of December (monthly part no. 6, Chapters XX-XXIII, pages 161-192) because the illustrator was late in delivering his work. Chapman and Hall inserted the following notice where the plates should have been: "The illustrations for the present Number not being ready in time, Four Illustrations will be given in the next Number" (i. e., Part VII, January 1858). And indeed they were, the order being Conway on Escort Duty, Paul Kellett's Warning, A Breakfast-table, and Grog Davis Practising the Mississippi Dodge.
Although one may speculate why Phiz's failed to deliver the 1 December 1857 illustrations in a timely manner, a failure perhaps simply attributable to illness, the serial part for the previous month contained an insert advertising Chapman and Hall's forthcoming publication of the fourth serial number of William Harrison Ainsworth's Mervyn Clitheroe with illustrations by Phiz — after an hiatus of four years and eight months. In due course, the next instalment of the new bildugsroman appeared in December 1857. One might reasonably suppose that this resumed Ainsworth commission interfered with Phiz's preparation of the plates for Part VI of the Lever novel, one of which was a dark plate, the process of engraving for which would have been quite time-consuming.
Passage Illustrated: Bella asks Conway to help her find her father
"What a night for you to venture out," said Conway; "and I have got no carriage of any kind."
"I am well accustomed to brave bad weather, and care nothing for it."
"It is raining fearfully, and the waves are washing clear over the low sea-wall," said he, trying to dissuade her.
"I have come out here on many such nights, and never the worse for it. Can't you fancy Jack Kellett's sister equal to more than this?" said she, smiling through all her sadness, as she led the way to the door.
And now they were upon the road, the wild rain and the gusty wind beating against them, and almost driving them back. So loud the storm that they did not try to speak, but with her arm close locked within his own, Conway breasted the hurricane with a strange sensation of delight he had never known before.
Scarcely a word passed between them as they went; as the rain beat heavily against her he would try as well as he could to shelter her; when the cutting wind blew more severely, he would draw her arm closer within his own; and yet, thus in silence, they grew to each other like friends of many a year. A sense of trustfulness, a feeling of a common object too, sufficed to establish between them a sentiment to be moulded by the events of after-life into anything. Ay, so is it! Out of these chance affinities grow sometimes the passion of a life, and sometimes the disappointments that embitter existence!
"What a good fortune it was that brought you to my aid to-night," said she; "I had not dared to have come this long road alone."
"What a good fortune mine to have even so humble a service to render you! Jack used to talk to me of you for hours long. Nights just like this have we passed together; he telling me about your habits and your ways, so that this very incident seems to fit into the story of your life as an every-day occurrence. I know," continued he, as she seemed to listen attentively, "how you used to ride over the mountains at home, visiting wild and out-of-the-way spots; how you joined him in his long fishing excursions, exploring the deep mountain gorges while he lingered by the riverside. The very names you gave these desolate places — taken from old books of travel — showed me how a spirit of enterprise was in your heart." [Chapter XXI, "A Dark Day," 182]
Commentary: Paul Kellett Fails to Appear after the Auction
Phiz uses the gloomy atmosphere of the seashore near the Kelletts' cottage in a Dublin suburb to underscore Paul Kellett's disturbed and despondent mental state after the auction to clear the encumbrances on his ancestral estate, Kelletts' Court, which Davenport Dunn has purchased for a fraction of its value. Bella's father has gone into town, but has failed to return home by dusk. Concerned that Bella will be anxious, Conway arrives to be of assistance, first offering to go into town, and then to accompany her to Dunn's mansion on Merrien Square to help her find her father. The gloomy atmosphere and bleak setting portend no good outcome for Conway and Bella's search for her feckless parent who has recently been discharged from his post at the Customs House. Technically, Phiz has utilised the "darkness visible" to heighten the suspense as the chapter draws to a close with the young couple entering the deserted streets of Dublin: "all was darkness and gloom" (201). The same light (presumably the moon, which, however, Phiz has not shown) that picks up the crests of the waves to the right and the rocks of the seawall (centre) illuminates the wind-swept dress of Bella to the right.
Working methods
Scanned image by Simon Cooke; colour correction, sizing, caption, and commentary by Philip V. Allingham. [You may use this image without prior permission for any scholarly or educational purpose, as long as you (1) credit the person who scanned the image, and (2) link your document to this URL in a web document or cite the Victorian Web in a print one.] Click on the image to enlarge it.
Bibliography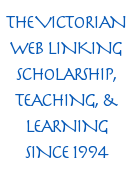 Harvey, John R. "Conditions of Illustration in Serial Fiction." Victorian Novelists and Their Illustrators. London: Sidgwick and Jackson, 1970. 182-198.
Lever, Charles. Davenport Dunn: A Man of Our Day. Illustrated by "Phiz" (Hablot Knight Browne). London: Chapman and Hall, 1859.
Lever, Charles. Davenport Dunn: The Man of The Day. Illustrated by "Phiz" (Hablot Knight Browne). London: Chapman and Hall, December 1857 (Part VI) and January 1858 (Part VII).
---
Created 29 July 2019

Last modified 5 July 2020