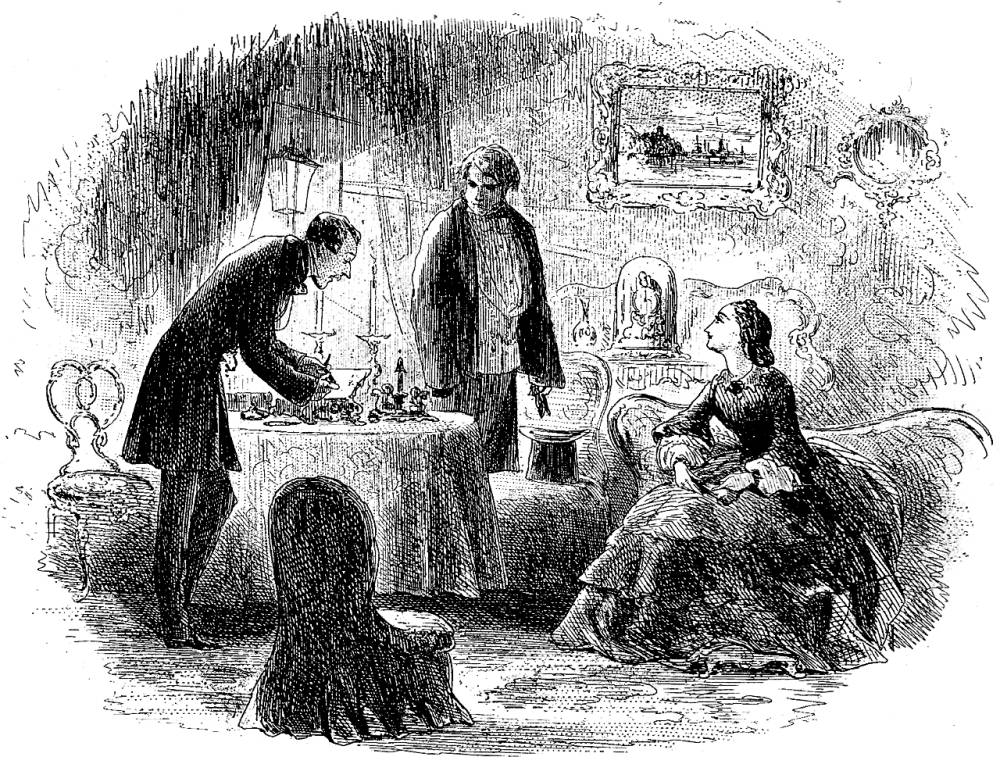 Mr. Merdle becomes a Borrower by Phiz (Hablot K. Browne) from Dickens's Little Dorrit, Book the Second, "Riches," Chapter 24, "The Evening of a Long Day" (April 1857: Part Seventeen), facing p. 602. 10.5 cm high by 13.9 cm wide, vignetted. [Click on image to enlarge it.]
Image scan and text by Philip V. Allingham. [You may use this image without prior permission for any scholarly or educational purpose as long as you (1) credit the person who scanned the image and (2) link your document to this URL in a web document or cite the Victorian Web in a print one.]
Passage Illustrated
There was then a long silence; during which, Mrs. Sparkler, lying back on her sofa again, shut her eyes and raised her eyebrows in her former retirement from mundane affairs.
"But, however," said Mr. Merdle, "I am equally detaining you and myself. I thought I'd give you a call, you know."
"Charmed, I am sure," said Fanny.
"So I am off," added Mr. Merdle, getting up. "Could you lend me a penknife?"
It was an odd thing, Fanny smilingly observed, for her who could seldom prevail upon herself even to write a letter, to lend to a man of such vast business as Mr. Merdle.
"Isn't it?" Mr. Merdle acquiesced; "but I want one; and I know you have got several little wedding keepsakes about, with scissors and tweezers and such things in them. You shall have it back to-morrow."
"Edmund," said Mrs. Sparkler, "open (now, very carefully, I beg and beseech, for you are so very awkward) the mother of pearl box on my little table there, and give Mr. Merdle the mother of pearl penknife."
"Thank you," said Mr. Merdle; "but if you have got one with a darker handle, I think I should prefer one with a darker handle."
"Tortoise-shell?"
"Thank you," said Mr. Merdle; "yes. I think I should prefer tortoise-shell."
Edmund accordingly received instructions to open the tortoise-shell box, and give Mr. Merdle the tortoise-shell knife. On his doing so, his wife said to the master-spirit graciously: "I will forgive you, if you ink it."
"I'll undertake not to ink it," said Mr. Merdle.
The illustrious visitor then put out his coat-cuff, and for a moment entombed Mrs. Sparkler's hand: wrist, bracelet, and all. Where his own hand had shrunk to, was not made manifest, but it was as remote from Mrs. Sparkler's sense of touch as if he had been a highly meritorious Chelsea Veteran or Greenwich Pensioner. — Book the Second, "Riches," Chapter 24, "The Evening of a Long Day," p. 603-604.
Commentary
Michael Steig in Dickens and Phiz regards the financier and banker Merdle, his name suggestive of the French for "excrement," as one of the book's "chief embodiments of evil" (168), the other being the wife-murderer and would-be extortionist Rigaud-Blandois, who derive from very different literary traditions: whereas Rigaud is a melodramatic villain, with foreign accent, a nutcracker visage, and predatory intentions expressed in suave but excessive gesticulation, Merdle epitomizes Thomas Carlyle's cash nexus — it is as if he is a mere cipher, nothing in himself, and quite ill-at-ease with himself:
In the text, Merdle is a special kind of grotesque with largely symbolic qualities. He is always "taking himself into custody" (a hint of the criminal nature of his business); he is tyrannized over by the chief butler, suggesting his nouveau riche status as a financial manipulator who has risen to power almost overnight; and his relation to his wife is consistent with the limiting of his identity to the world of finance, for she is purchased as a "bosom" upon which to hang jewels. Even his name, suggesting merde, emblematically conveys the idea of a low, filthy substance, brought into unseemly contact with the highest of the land. Yet Dickens at the same time manages to evoke a degree of pity for Merdle as someone who is basically out of sympathy with the shallow society world in which he has risen so high, someone who doesn't know what to do with his success arid would be more comfortable as a private man. He is not a monster like such earlier characters who epitomize the cash-nexus values of Dickens' society — Pecksniff, Dombey, Heep, or Bounderby. — Michael Steig, p. 168.
The Merdle subplot once again demonstrates the shakiness and instability of British society, and Merdle's suicide and financial collapse parallel the fate of Mrs. Clennam and her mansion, which is also her house of business. The timing of the chapter is significant: three months after the deaths of the Dorrit brothers in Italy, and after the marriage of Fanny Dorrit to the obtuse Edmund Sparkler, son of Mrs. Merdle by her first marriage. Self-assured, convinced of her place in London's social hierarchy, Fanny is pregnant. She and her husband receive an unexpected visitor, the somewhat distracted banker, Mr. Merdle, who (oddly enough) asks to borrow a pen-knife without any explanation. Although Dickens's is a portrait of a man on the verge of ruin and suicide, Phiz's interpretation of the financier is unvarnished and totally lacking in caricature, although like Blandois he is a forger and swindler: "He was a reserved man, with a broad, overhanging, watchful head, . . . and a somewhat uneasy expression about his coat-cuffs, as if they were in his confidence, and reasons for being anxious to hide his hands" (I: 21, "Mr. Merdle's Complaint," p. 212). Having previously done much for society but (supposedly) little for himself, he now takes decisive and overt action. Assuming the role of his own physician and psychiatrist, Merdle addresses his undiagnosed "complaint" by slitting his throat in a Turkish bath to escape the opprobrium of the failure of his house-of-cards financial empire in the succeeding chapter.
How much of his mental instability is evident in the intense gaze he directs towards his step-son as Edmund finds him an appropriate penknife from the box of writing materials? And has Phiz embedded emblems that comment upon his "complaint"? The original of Merdle was a financier named John Sadleir (1814-1856), Dickens's near contemporary and a member of Parliament whose multiple, fraudulent schemes collapsed in the insolvency of the Tipperary Bank early in 1856, as Dickens was beginning the novel. Is there anything in this substantial bourgeois (without Sadleir's mutton-chop whiskers) with kid gloves and silk hat that suggests the swindler who sat for the portrait? The Italian scenic painting and ornately framed mirror mirror suggests Fanny's nouveau riche tendency to show off her affluence and sophistication in conspicuous display, and the hermetically-sealed clock merely suggests the lifestyle to which Fanny has aspired. However, the guttering candle between Merdle and Edmund Sparkler may imply his impending suicide. In the final analysis, Phiz's portraits of Merdle fall far short of Dickens's own in Book One, Chapter 21 and Book Two, Chapter 24. Sadlier's self-poisoning at Jack Straw's Castle, a Dickens haunt, on the night of 16 February 1856 hardly evoked popular sympathy, but Dickens allows the reader to penetrate the bland surface in "Mrs. Merdle's Complaint" (Book One, Chapter 33) to hear the plaintiff voice of a desperate husband:
"Pray don't be violent, Mr. Merdle," said Mrs. Merdle.
"Violent?" said Mr, Merdle. "You are enough to make me desperate. You don't know half of what I do to accommodate Society. You don't know anything of the sacrifices I make for it." [340]
A benefactor of high society without being an ornament to society, Merdle sacrifices himself after his wife's stinging rebuke that he has no right to mix with it. Significantly, in the Household Edition volume of 1873 James Mahoney does not even bother to offer his own interpretation of that "dull red and yellow face" (341), whereas Harry Furniss offers merely a desiccated, balding man in an oversized topcoat who will now take "the shortest way," a desperate man, a mere shell, who seems to have had the life-force sucked out of him.
Pertinent illustrations in two other editions, 1867 and 1910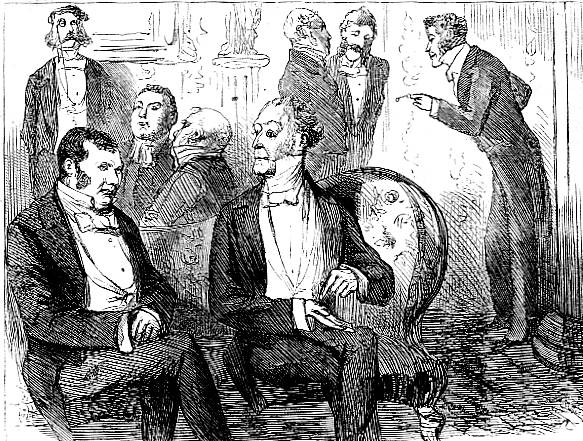 Above: Eytinge, Junior's dual study of the proud aristocrat Mr. Tite Barnacle and the undistinguished Member of Parliament, Mr. Merdle, in Book One, Chapter 12, The Merdle Party (1867). [Click on the image to enlarge it.]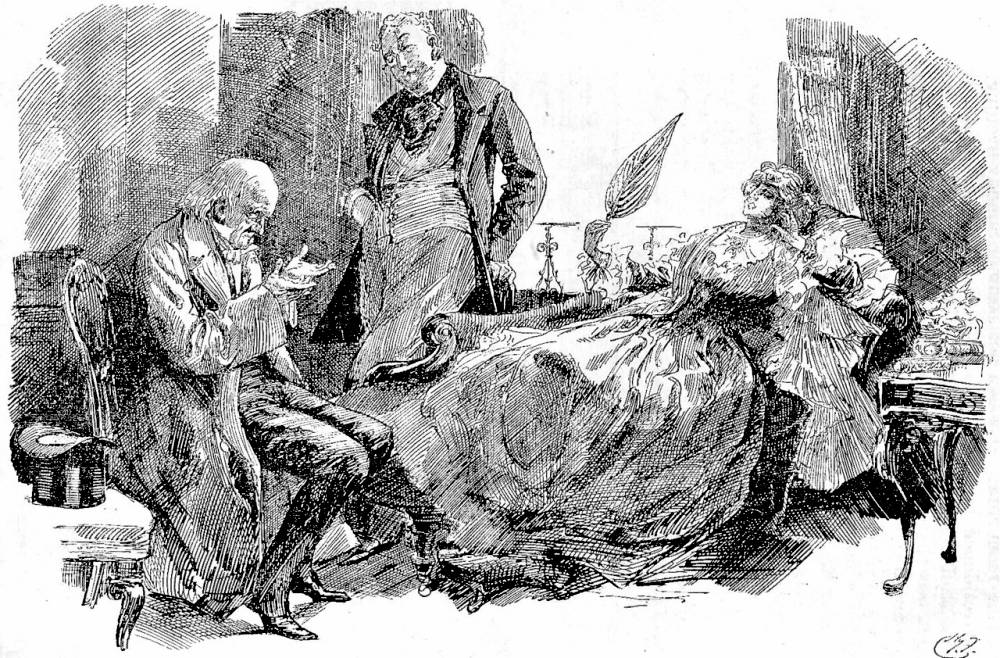 Above: Harry Furniss's portrait of a broken man, Mr. Merdle gives the Sparklers a call (1910). [Click on the image to enlarge it.]
References
Bentley, Nicolas, Michael Slater, and Nina Burgis. The Dickens Index. New York and Oxford: Oxford U. P., 1990.
Cohen, Jane Rabb. Charles Dickens and His Original Illustrators. Columbus: Ohio State U. P., 1980.
Davis, Paul. Charles Dickens A to Z: The Essential Reference to His Life and Work. New York: Checkmark and Facts On File, 1999.
Dickens, Charles. Little Dorrit. Illustrated by Phiz. The Authentic Edition. London:Chapman and Hall, 1901. (rpt. of the 1868 edition).
Dickens, Charles. Little Dorrit. Illustrated by Sol Eytinge, Jr. The Diamond Edition. Boston: Ticknor & Fields, 1867. 14 vols.
Dickens, Charles. Little Dorrit. Illustrated by James Mahoney. The Household Edition. 22 vols. London: Chapman and Hall, 1873. Vol. 5.
Dickens, Charles. Little Dorrit. Illustrated by Harry Furniss. The Charles Dickens Library Edition. 18 vols. London: Educational Book, 1910. Vol. 12.
Hammerton, J. A. "Chapter 19: Little Dorrit." The Dickens Picture-Book. The Charles Dickens Library Edition. Illustrated by Harry Furniss. 18 vols. London: Educational Book Co., 1910. Vol. 17. Pp. 398-427.
Kitton, Frederic George. Dickens and His Illustrators: Cruikshank, Seymour, Buss, "Phiz," Cattermole, Leech, Doyle, Stanfield, Maclise, Tenniel, Frank Stone, Landseer, Palmer, Topham, Marcus Stone, and Luke Fildes. Amsterdam: S. Emmering, 1972. Re-print of the London 1899 edition.
Lester, Valerie Browne. Phiz: The Man Who Drew Dickens. London: Chatto and Windus, 2004.
Schlicke, Paul, ed. The Oxford Reader's Companion to Dickens. Oxford and New York: Oxford U. P., 1999.
Steig, Michael. "Chapter 6: Bleak House and Little Dorrit: Iconography of Darkness." Dickens and Phiz. Bloomington: Indiana University Press, 1978.
Vann, J. Don. Victorian Novels in Serial. New York: The Modern Language Association, 1985.
---
Last modified 6 May 2016