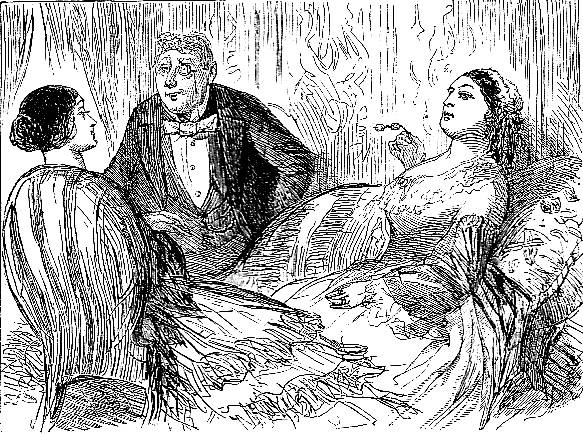 "Mrs. Merdle, Mr. Sparkler, and Fanny," the fourteenth full-page illustration for the volume by Sol Eytinge, Jr. 1871. 7.4 cm high by 9.9 cm wide. The Diamond Edition of Dickens's Little Dorrit (Boston: James R. Osgood, 1871), facing page 344. Scanned image and text by Philip V. Allingham. [You may use this image without prior permission for any scholarly or educational purpose as long as you (1) credit the person who scanned the image and (2) link your document to this URL in a web document or cite the Victorian Web in a print one.]
Initially, Mrs. Merdle had objected to a match between her dissolute son and the daughter of an insolvent debtor (indeed, in chapter 20 of the first book she had actually bribed the young dancer to discourage her son's attentions), but in the next chapter withdraws her objection since the Dorrit family has come into a fortune. Shortly, Fanny's father will commit the social blunder of addressing his fellow-guests at Mrs. Merdle's dinner party as if they were mere Marshalsea inmates, and the Dorrit fortune will be engulfed in the Merdle crash. Fanny treats her imbecilic husband with contempt, despite his elevated post in the Circumlocution Office. The passage reflected rather than absolutely realised in Eytinge's fourteenth illustration is likely this:
Amy observed Mr. Sparkler's treatment by his enslaver, with new reasons for attaching importance to all that passed between them. There were times when Fanny appeared quite unable to endure his mental feebleness, and when she became so sharply impatient of it that she would all but dismiss him for good. There were other times when she got on much better with him; when he amused her, and when her sense of superiority seemed to counterbalance that opposite side of the scale. If Mr. Sparkler had been other than the faithfullest and most submissive of swains, he was sufficiently hard pressed to have fled from the scene of his trials, and have set at least the whole distance from Rome to London between himself and his enchantress. But he had no greater will of his own than a boat has when it is towed by a steam-ship; and he followed his cruel mistress through rough and smooth, on equally strong compulsion.
Mrs. Merdle, during these passages, said little to Fanny, but said more about her. She was, as it were, forced to look at her through her eye-glass, and in general conversation to allow commendations of her beauty to be wrung from her by its irresistible demands. The defiant character it assumed when Fanny heard these extollings (as it generally happened that she did), was not expressive of concessions to the impartial bosom; but the utmost revenge the bosom took was, to say audibly, "A spoilt beauty — but with that face and shape, who could wonder?" [344, facing the illustration]
The drawing-room scene, then, is one which Eytinge has imagined as having transpired when — off stage, so to speak — Mrs. Merdle had agreed to the union and Edmund had started to think of Amy Dorrit as a sister. Eytinge gives us Mrs. Merdle's ample bosom and eye-glass from the text, but must invent the rest.
Bibliography
Bentley, Nicolas, Michael Slater, and Nina Burgis. The Dickens Index. Oxford and New York: Oxford U P, 1990.
Davis, Paul. Dickens A to Z: The Essential Reference to His Life and Work. New York: Checkmark and Facts On File, 1999.
Dickens, Charles. Little Dorrit, il. Sol Eytinge, Junior. The Diamond Edition. Boston: James R. Osgood, 1871.
---
Last modified 27 May 2011