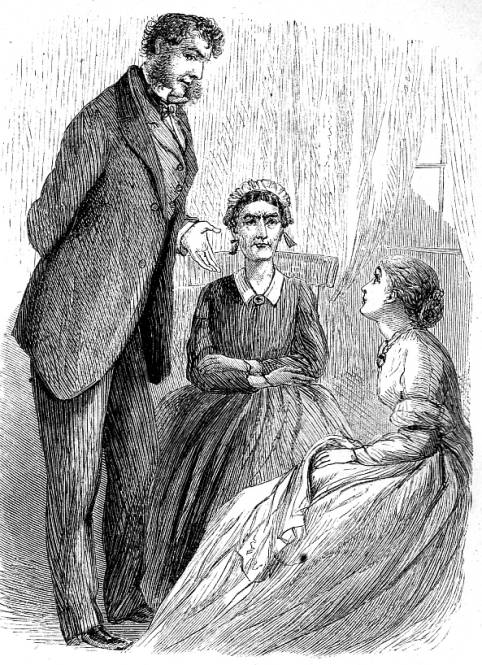 William Winter in his autobiography recalls that Sol Eytinge, Jr.'s illustrations for Dickens's works "gained the emphatic approval of the novelist" (318), although of course the pair did not actively collaborate on this series, as did Hablot Knight Browne and Dickens for the 1849-50 forty serial illustrations for Chapman and Hall. Nevertheless, as one regards this series of sixteen individual and group character studies for The Personal History of David Copperfield and appreciates them as exemplars of the new realism of the the sixties' manner of book and magazine illustration, one is tempted to agree with Winter that
The most appropriate pictures that have been made for illustration of the novels of Dickens, — pictures that are truly representative and free from the element of caricature, — are those made by Eytinge. . . . [317-318]
Eytinge's illustrations were undoubtedly inspected by Dickens when he arrived in Boston for his second American reading tour (1867-68). He would have noted that, although Eytinge had included studies of all the main characters and had even realized one of the key moments in David's turbulent childhood — "David's Bargain" — he has no adult study of the protagonist in his views of thirty-nine characters, including very fine individual studies of Little Em'ly, Steerforth, and Martha, and a wonderful group study of the Micawbers, nowhere does he depict the adult protagonist.
Frontispiece, "Little Em'ly" [David Copperfield]
Related Resources
Bibliography
Schlicke, Paul, ed. The Oxford Reader's Companion to Dickens. Oxford and New York: Oxford U. P., 1999.
Dickens, Charles. The Personal History of David Copperfield. Illustrated by Sol Eytinge, Jr. The Diamond Edition. Boston: Ticknor & Fields, 1867. Vol. V.
Kitton, Frederic George. Dickens and His Illustrators: Cruikshank, Seymour, Buss, "Phiz," Cattermole, Leech, Doyle, Stanfield, Maclise, Tenniel, Frank Stone, Landseer, Palmer, Topham, Marcus Stone, and Luke Fildes. Amsterdam: S. Emmering, 1972. Re-print of the London 1899 edition.
Winter, William. "Charles Dickens" and "Sol Eytinge." Old Friends: Being Literary Recollections of Other Days. New York: Moffat, Yard, & Co., 1909. Pp. 181-202, 317-319.
---
Created 22 August 2014 Last modified 19 March 2022