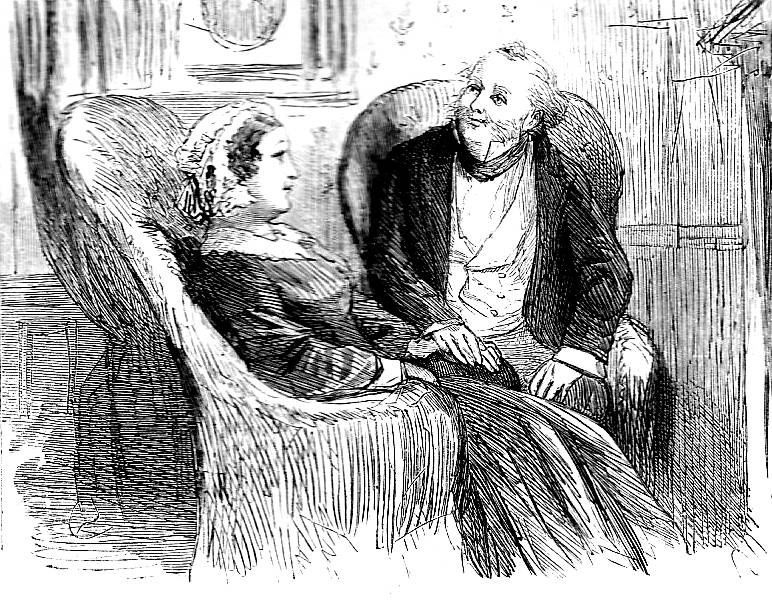 "Mr. and Mrs. Meagles," the ninth full-page illustration for the volume by Sol Eytinge, Jr. 1871. 7.4 cm high by 9.9 cm wide. The Diamond Edition of Dickens's Little Dorrit (Boston: James R. Osgood, 1871), facing page 192. Scanned image and text by Philip V. Allingham. [You may use this image without prior permission for any scholarly or educational purpose as long as you (1) credit the person who scanned the image and (2) link your document to this URL in a web document or cite the Victorian Web in a print one.]
The seventh paired character study to complement Dickens's narrative, Eytinge's "Mr. and Mrs. Meagles," characterizes the eminently practical but kindly upper-middle-class couple whom Arthur Clennam met at the quarantine station in Marseilles as comfortable and congenial with one another. Their picture, situated in their retirement cottage at Twickenham but juxtaposed against the opening of Chapter 28, "Nobody's Disappearance," is more likely associated with the domestic scene in the previous chapter, "Five and Twenty" (as in the number to which Tattycoram is to count in order to keep her temper at the latest instance of her young mistress's insensitivity).
Eytinge is perhaps exploiting the superficial "comfort" of the figures since the subject of their amiable conversation is in fact their maid's decamping. The young woman, nicknamed "Tattycoram" after a diminutive of her Christian name (Harriet) and the Coram Foundling Hospital (the realisation of the philanthropic vision of sea captain Thomas Coram (1668-1751), was founded in 1739, although the cornerstone of the Bloomsbury institution was not laid until September 1742), has fled to Miss Wade, feeling exploited and put upon by Mr. Meagles' insensitively demanding that she count up to five-and-twenty before saying precisely what she thinks of "Pet" Meagles's behaviour and petulant demands. As complacent bourgeoisie, the Meagleses have several blind spots in their appraisals of themselves and their motivations. This would seem to be the relevant passage:
"I said to mother (not that it was necessary, for she would have thought it all for herself), we are practical people, my dear, and we know her [Tattycoram's] story; we see, in this unhappy girl, some reflection of what was raging in her mother's heart before ever such a creature as this poor thing was in the world; we'll gloss her temper over, mother, we won't notice it at present, my dear, we'll take advantage of some better disposition in her, another time. [187]
Eytinge communicates the couple's well-matched, cheerful, and "comfortable" dispositions through the matching stuffed chairs the respectably-dressed upper- middle-class, middle-aged couple are occupying in their sitting-room. However, the flaw in Eytinge's method of dual "characterisation" rather than "realisation" of a specific moment in the narrative is evident here since his subject ought to be the Meagleses family in total, and their relationship with Tattycoram ought to be the subject of the illustration; however, limiting himself to visual character studies of no more than two characters at a time, Eytinge has had to reserve Pet for his dual study of the Gowans, and Tattycoram for a pairing with Miss Wade.
Bibliography
Dickens, Charles. Little Dorrit, il. Sol Eytinge, Junior. The Diamond Edition. Boston: James R. Osgood, 1871.
---
Last modified 28 April 2011